Carmel restaurant owner Jami Santos expected to lose customers when U.S. 31 closed for construction this spring, diverting the 50,000-plus motorists who drove by her place daily and creating traffic woes for countless others.

Santos
Two months into the eight-month project, sales at Bellacino's Pizza & Grinders—west of the highway just south of Carmel Drive—are down about 25 percent, she said. And that's an improvement from early April, when the barricades went up from Old Meridian Street to 136th Street.
"The first couple weeks were bad," she said. "Everyone avoided the whole area."
Business picked up as locals found their way through the construction mess. But Santos and other retailers along U.S. 31 said they've had to work harder to keep their cash registers ringing.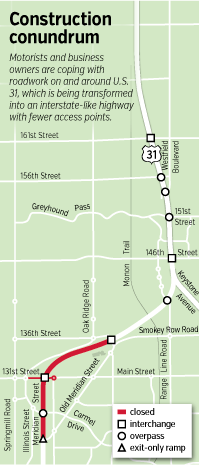 Many have increased promotions, reminding customers that they're open and accessible. Most are keeping a close eye on expenses, including staffing. And nearly everyone is looking forward to fall, when the highway is expected to reopen.
"I'm hoping [road crews] are enticed by their bonus and get it done before Thanksgiving," Santos said.
In the meantime, she wants to collaborate with neighboring business owners on a summer event that would draw attention to the retail hub at Carmel Drive. Motorists are surprised that the cross-town route is still open, Santos said.
A stoplight at the intersection is gone for good as the Indiana Department of Transportation carries out its $350 million plan to transform U.S. 31 through Hamilton County into a limited-access freeway with overpasses and interchanges. Carmel Drive is slated to become an overpass, delivering vehicles from one side of the highway to the other.
Santos sees that as a positive, expecting her business to be more visible. A few doors down at Amber Indian restaurant, Managing Partner Sukhi Mann worries that drivers won't notice anything if they don't have to stop.
|
"I think a light is better than a flyover," he said. "It gives people a chance to look around."
Weekday lunches have stayed strong at Amber Indian and Bellacino's, thanks to their quick-service formats and loyal customers from nearby office buildings. It has been harder for them to draw crowds for dinner.
The opposite is true across the street at J. Razzo's Italian Restaurant & Wine Bar. Owner John Perazzo said lunch business dropped by at least half when the roadwork started. Dinner is off a more modest 10 percent to 20 percent.
He blames construction-related congestion on Pennsylvania and Old Meridian streets, which makes it difficult for workers to head out for a leisurely meal and get back to the office within an hour.
"Hopefully, it's just temporary," Perazzo said. The veteran restaurateur has been promoting J. Razzo's fresh fish and other specialties that set the local eatery apart.
Brunchies owner Larry Hoover hasn't had to do as much to draw diners to his breakfast-and-lunch spot in the Meridian Village shopping center north of 136th Street, where the highway closure begins. The vast majority of his customers are regulars, he said, and two nearby competitors closed around the time construction started. (One of them, Lincoln Square Pancake House, plans to reopen on State Road 32 in Westfield.)
"It hasn't affected me at all," Hoover said, though he was concerned enough to hold off on hiring until he saw how things played out. He recently added to his staff.
The U.S. 31 project has been in the works for decades, but the state accelerated construction of the Carmel stretch, closing the highway a year sooner than expected.
INDOT helped resolve some initial confusion by adding signs directing motorists to businesses off Carmel's Main Street, said Nancy Heck, director of community relations and economic development for the city. Her office hasn't received complaints since then.
"This is the biggest road construction project in the city to date, and it stands to reason there would be some adjustments necessary early on," she said.
The current schedule has the road project through Hamilton County wrapping up by the end of 2015.
 
Please enable JavaScript to view this content.