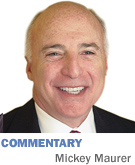 Would you choose to overcome societal challenges through incentivized private industry or cede that responsibility to our federal government?
In most situations, a clear-eyed, results-oriented business approach is preferable to Uncle Sam. But few opportunities have existed for private enterprise to create wealth while providing a public benefit since the federally subsidized housing programs for moderate- to low-income families were torpedoed one night by President Nixon. How do we get the entrepreneurial spirit back in the game?
Todd Young has an idea.
Young is Indiana's 9th District Congressional representative. He represents all or part of 13 counties that stretch from greater Indianapolis to the Kentucky border. Rising above that decade-long scrap between congressmen Baron Hill and Mike Sodrel, the newly constituted 9th has produced an impressive leader.
After graduating from the United States Naval Academy with honors, Young accepted a commission in the United States Marine Corps. While serving his country, he earned an MBA at the University of Chicago. He picked up an MA from the School of Advanced Study at the University of London and rounded out his education with a JD from Indiana University's Robert H. McKinney School of Law (the other one).
He looks good on paper and is every bit that bright and engaging in person. Barely 40 and only in his second term, Young landed a coveted appointment to the House Ways and Means Committee.
No doubt he's earned his conservative chops, but he is not outrageous. Young will not invoke the specter of Adolph Hitler on the floor of a political convention, ala Richard Mourdock, nor will he proclaim, like state legislator Mike Delph, that Earth was created 5,000 years ago (I have accounts receivable older than 5,000 years).
Young proposes widespread use of so-called social impact bonds. His plan works like this: An entity identifies societal problems it hopes to address and submits a feasibility study to the Department of Treasury for approval and issuance of the bonds. Goals might include helping the unemployed find work, improving high school graduation rates or increasing efforts to reduce child abuse.
If the entity meets the predetermined goal efficiently—as determined by an independent evaluator—its investment would be repaid, plus an agreed-upon bonus. Taxpayer dollars would be saved by limiting funding to programs that work and generate cost savings.
Investors in social impact bonds could include governmental and philanthropic organizations and any interested party that would save the federal government money.
Social impact bonds have enjoyed success in the United Kingdom and have been used in limited applications in the United States. Young has authored legislation that will enable this program to be rolled out to scale. He believes his is the first proposal of its kind to incentivize the realization of savings across multiple layers of government.
Like most sound businessmen, Young focuses his legislation on results. Perhaps that orientation was learned during the several years he worked as a management consultant, advising public and private organizations how they could implement business practices to provide their constituents and customers with more value, often by investing fewer resources.
While we wait for Young's bill to wend its way through the labyrinth of federal bureaucracy, this idea could see light in Indiana. Suppose we form a fund to invest in social impact bonds to reduce adult recidivism rates in Marion County, where more than half of those released from prison return within three years. Perhaps the investment would be made in partnership with Gregg Keesling, whose social enterprise RecycleForce has an enviable record in this space.
According to G. Roger Jarjoura, an associate professor in the School of Public and Environmental Affairs at IUPUI, for every 1 percent reduction in the rate of recidivism, Marion County saves $1.55 million in incarceration costs. By applying entrepreneurial skills, we could reduce recidivism and be rewarded with a portion of the savings—a tidy return.
Can you imagine turning our best business brains loose on problems the federal government has found impossible to solve efficiently? Congressman Young's idea is a winner—and so is Congressman Young.•
__________
Maurer is a shareholder in IBJ Corp., which owns Indianapolis Business Journal.  His column appears every other week. To comment on this column, send e-mail to [email protected]
 
Please enable JavaScript to view this content.