After being won over by the Phoenix Theatre's production of "The Cock Fight Play" (running through July 6), I couldn't help but wonder if playwright Mike Bartlett wrote the core text and then came up with the title/design concept or vice versa. In other words, which came first, the rooster or the play?

Let's talk about the play itself, first. It's an intimate, no-intermission piece about the question marks in a relationship. John (Chris Roe), on a hiatus from his partner M (Scot Greenwell), has an intimate relationship with W (Sarah McGee, in a Phoenix debut that promises an interesting future here).

Does that mean he's bisexual? Born-again straight? Just open to experimentation? He isn't sure—and when he finds himself in a pick-a-team position, he begins to wonder if the next step in liberation is getting rid of labels.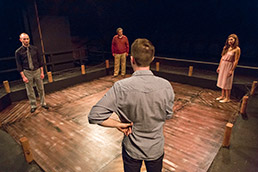 Minimal staging starkly contrast with rich characters in the Phoenix Theatre's "The Cock Fight Play." (Photo Courtesy of Zach Rosing)
Beyond the pretense of denying full names to John's partners, these are all full-blooded humans, complicated, occasionally annoying, and mercifully short of tacked-on traits that many a playwright grafts with the theory that they make characters more interesting. There's a fourth character, who proved a low-key, out-of-left-field, unexpected choice that's rare in theater.

Now, about the title and set. The original title of the play does not include "The" "Fight" and "Play." And the set is a barbed-wire-surrounded arena suited for the brutal gaming of the adjusted title. I don't question Bartlett's desire to garner attention for what could be perceived as yet another young-man-tries-to-find-his-sexual-identity play. But while the title might draw curiosity from producers and theatergoers—and while the set garners attention, especially from those used to seeing the Phoenix mainstage in its conventional format—neither is really needed. "The Cock Fight Play" stands strongly enough on its own … especially when given the kind of exemplary production that director Bryan Fonseca has pulled off here.•

__________

This column appears weekly. Send information on upcoming arts and entertainment events to lharry@ibj.com.