Indiana companies are lining up for private investments in record numbers—a trend driven by the growth of dozens of Indianapolis technology companies that have left the startup stage and want to quickly hire and expand.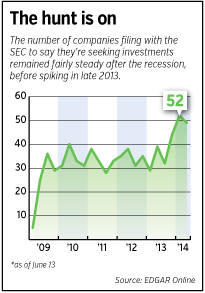 More than 100 Indiana firms since January have told federal regulators they plan to offer up ownership stakes or take on debt. That's approaching a year's worth of activity in less than six months, based on the state's performance the past few years.

"We've definitely seen an uptick in activity in 2014, really, starting right out of the gate in January," said Christopher Day, managing principal at Navidar Group, an investment bank with an office in Carmel.

Elevate Ventures spoke with 41 percent more companies about potential investments between January and May than it did in the same period last year, said Ting Gootee, the Indianapolis firm's chief investment officer. Investment commitments increased 33.3 percent.

Allos Ventures, which has a Carmel office, has seen a similar increase, with deal prospects rising about 30 percent, said Don Aquilano, the managing director.

And the Indiana Economic Development Corp. reports more companies are seeking out tax credits for their investors. The IEDC approved credits for 31 firms so far this year. The pace puts the activity to surpass 54 approvals for all of 2013.

Whether companies are succeeding in raising money is unclear. The law only requires firms to disclose how much equity they intend to sell or how much debt they plan to take on—not how much they actually do. It is up to the company to decide whether it wants to publicly reveal how much it raised, which often does not happen.

For those who did publicly announce investments, funding picked up slightly in the first quarter. Five firms received a total $14 million, according to consultant and researcher PricewaterhouseCoopers. Three investments pulled in $5 million the previous quarter.

Regardless of whether they're succeeding, more Indiana companies are searching for funding.

No single reason caused the spike, investors and tech executives say. A few recurring themes: the startup-heavy technology sector is maturing and firms are ready for venture capital, investors are opening back up to risk after the recession, and broader economics are improving.
Allos Ventures' Don Aquilano has seen a 30-percent rise in deal prospects.
"Anytime you see activity like this, it's really, sort of, activity from years prior that's leading up to that financing," Aquilano said.

"We're certainly seeing growth," he later added. "[But] it's not like something magical has happened in the last six to nine months."

Tech emerges, deals shrink

Almost half the offerings sought less than $1 million, a figure that has not changed much since the recession.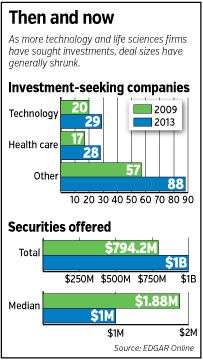 The typical deal size has decreased over the past few years as more companies search for smaller amounts. The median offering disclosed so far this year is $1 million, compared to $1.88 million in 2009.

Average investment sizes dropped off largely because ExactTarget Inc. and Angie's List Inc. attracted massive amounts as they prepared for their initial public offerings in 2012. The companies collectively raked in almost $300 million from 2009 to 2011.

The emergence of Indianapolis' technology sector since then has produced droves of small firms that are more apt to seek venture capital, but for smaller amounts, than businesses in other industries.

Today's situation appears more sustainable, said Nick Mathioudakis, a partner at Faegre Baker Daniels who co-leads the law firm's emerging companies and venture capital practice.

"It is a spike," he said of the increase in companies seeking funding, "but I don't think we'll fall down to historical [low] levels."

Rather than one or two major deals, several more companies have reached the point where they need modest amounts to quickly ramp up.

"There was this tremendous flowering of startup businesses in Indiana, much more than I think we've seen in the past," said John McDonald, CEO of CloudOne, which secured $2.8 million in February. "Many of them would now be seeking some sort of growth capital or something to really ignite their business."

'Mash the pedal'

Companies such as CloudOne or Salesvue LLC are becoming common stories: An experienced technology executive launches a firm, lands some startup funding from angels, develops a product, then turns to institutional investors for more funding to grow the business.

For instance, Bill Johnson, a former vice president of sales for marketing software developer Aprimo, started what is now Salesvue in 2006.

Small private investments fueled development of the company's sales software. In 2013, the firm landed a contract with Angie's List Inc., but it needed money to rewrite its program to meet its new client's needs, as well as grow the sales and marketing departments.

Salesvue netted $3 million in investments led by Cultivation Capital, based in St. Louis.

Several other Indianapolis-area companies have followed similar patterns.

They started five to 10 years ago, have already taken in some investments to get going, and now need venture capital to expand. Blue Pillar, RepuCare, Scale Computing, HC1.com, Indigo BioSystems, SonarMed, TinderBox, DuraMark and CloudOne all fit the pattern and raised money in the past few months, noted Allos Venture's Aquilano.

Indigo CEO Randy Julian boiled his firm's investment timing down to, "It was time to mash the pedal to the floor and go."

The 47-employee company, which develops software for medical laboratories, secured $8.5 million earlier this month. The infusion will let Indigo tweak its product, reach customers in new markets, and prepare for quick growth.

"I do think if you look around," Julian continued, "the other companies that have raised money have had some component of that story that's the same."

Broader climate warms

Indiana's recent spree in fundraising follows years of post-recession frigidness from investors.

Private equity firms and other investors closed their wallets once the economy crashed, but they started turning around in 2012, said Day, of Navidar Group.

"These things tend to have a life of their own—the ebbs and flows," he said. "… Investors' temperatures, their appetite for investments, sometimes follows the stock market."

The Standard and Poor's Index shot up 30 percent in 2013 to its highest point since 1999, brightening investors' attitudes and encouraging them to take on more risk, on and off the public stock exchanges.

The total value of private investments picked up 8 percent nationally, according to PwC's quarterly MoneyTree Report.

Challenges remain

Companies that secured investments are already discussing their next rounds. Salesvue is targeting $10 million later this year, said Johnson, the CEO.

"If you have a good solution and a good story, it's becoming easier and easier," he said.

However, he admitted a lot of coastal investment firms have little interest in a company unless it is trying to raise $10 million or more.

Executives and local investors continue to express concerns that the state needs more investors based in the state—a problem they've battled for years.

"It's not as easy as places where the infrastructure has been there for a long time," said CloudOne's McDonald, who questioned what the increase in investment seekers would mean for competition.

Other industries continue to struggle to find investors, especially life sciences, which has steeper capital expenses and has to work around strict regulations, said Navidar's Day.

Companies can usually find the funding, he said, but it takes longer in Indiana.

"They have to spend more time beating the bushes looking for investors who, on the whole," he said, "have less money to invest than in other markets."•