Despite an up-and-down last half of the season on the court, things are looking up for the Indiana Pacers sales staff.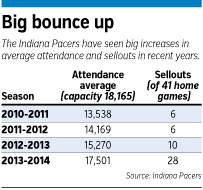 The season-ticket renewal rate for next season is around 93 percent, and season-ticket sales are 15 percent ahead of last season, said Todd Taylor, the team's chief marketing and sales officer.

The first seven rows of the lower bowl are already filled with full- and half-season ticket holders—the first time in a decade—and Taylor expects only a limited number of 11-game lower-bowl ticket packages to be available behind the basket and in the corners.

"The 11-game plan is not something we have to have as our core now," Taylor said, adding that those packages remain popular and some will be available in the balcony, too.

Taylor
Ticket sales aren't the only things trending up. Sponsorship sales are up 10 percent from a year ago. Last season, Taylor's staff saw a 10-percent gain in sponsorship sales and he expects a gain of at least that much from the 2014-2015 season.

Overall merchandise sales during the 2013-2014 season were up 52 percent compared to the previous year, Taylor said, with the top-selling items being player name and numbered T-shirts and headwear.

The Pacers are making gains at a time they're facing an unprecedented challenge.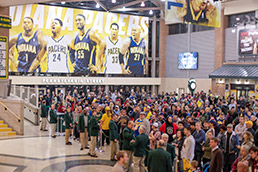 Average attendance has grown by 4,000 fans over the last three seasons, and game sellouts have grown from six to 28 over the same time frame. (IBJ file photo)
"Both the Pacers and [Indianapolis] Colts are not only competitive, but are among the best in their respective leagues," said local sports marketing consultant David Morton. "That's the first time those teams have been in that position simultaneously, and that could present a challenge for both teams in this midsize market with limited resources and spending power."

The Pacers' financial fortunes all start with ticket sales, Taylor said, and now that the bar has been raised, team owner Herb Simon has set lofty goals.

It's still about a month before Taylor will see the first draft of the 2014-2015 NBA schedule, but he's already thinking about his next move in his effort to fill Bankers Life Fieldhouse.

"One of the first things we'll look at are November and December games that will be difficult to sell out," Taylor said.

Taylor knows if he and his staff are going to reach their ultimate goal next season—41 sellouts—they can't afford an early-season slip-up.

The Pacers have been on a tear since Taylor left Major League Baseball's Texas Rangers to head up sales here three years ago.

The team's average attendance grew from 14,169 during the 2011-2012 season to 15,270 in 2012-2013 to 17,501 last year. During the same period, the team's number of sellouts at its home venue grew from six to 10 to 28 last year.

Now that Taylor's staff has climbed this high, he knows the extra few steps to get to a capacity 18,165 average won't be easy. Still, that's what Simon is pushing for.

The team's up-and-down playoff performance seems to have done little to dampen surging ticket demand. Taylor used the team's run to the Eastern Conference Finals as a key period to sell season tickets for next year.

The 11-game packages will go on sale around July 5, Taylor said, and the NBA will release its schedule to the public in early August. From there, the Pacers sales department will throw it into overdrive.

To bolster the effort, the Pacers launched an ad campaign June 16 featuring President of Basketball Operations Larry Bird, touting the accomplishments of this season and promising to do better next year.

Morton thinks the Pacers are making a smart early marketing push.

"Some might be asking, 'Why are they messaging to their fans now?'" said Morton, president of Sunrise Sports Group. "But it's good for them to maintain the momentum they've built before we get too far removed from this season."

Morton also thinks the message is coming from the right guy.

"The message is kind of in-your-face. It says, 'C'mon, follow me,' and [Bird] delivers it with credibility," Morton said. "There's a reason why he's known as Larry Legend, and he has special credibility in this market."

Taylor isn't too concerned about some of the complaints about the team's spotty play on the court late in the season.

"The fans are showing they're engaged, and they care," Taylor said. "That's a huge change from where it was five to 10 years ago."

Ticket revenue was up a high-single-digit percentage during the 2014 playoff run compared with the previous year's home playoff games, Taylor said. The Pacers had one more home playoff game this year, but Taylor said per-game ticket revenue was also up in the first-round and third-round matchups as the team pre-sold more tickets at full price this year than last.

Second-round playoff ticket revenue edged down a bit from 2013 because last year the Pacers faced the Chicago Bulls in that round, and Windy City fans pushed up demand.

While Pacers officials are eager to increase revenue, Taylor said there are no plans to use their flexible pricing strategy to boost ticket prices dramatically—despite the expectations that the team will be one of the best in the NBA next season. Overall, he expects a 5-percent price increase.

"It doesn't make sense to try for a premium price," Taylor said. "In a market like ours, I believe we need to have slow, sustained growth."

The team will continue to offer discounted tickets, including Two for Tuesdays and Family Night Specials, and Taylor emphasized that customer service is as important as ever.

"We've got newfound popularity, but we have to remain the same nice person we've always been," he said. "At some point, we're going to be less attractive again, and we'd better have a good personality."•