It took two decades for David and Alice Berger to acquire their dream home, then several more years to get it just the way they wanted it.
"We said this was going to be a five-year project, and that was spot on," David said.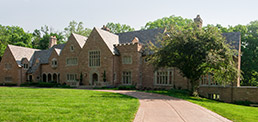 The Berger's home was built by cardboard box manufacturer Howard J. Lacy. (IBJ Photo/Eric Learned)
It took so long because the home, at 4333 Sylvan Road in the Northern Estates neighborhood, is vast. It's a 20,000-square-foot English country manor built in 1933 by corrugated-box maker Howard J. Lacy.
Set on seven acres, it's an artful melding of old and new. Its plaster crown molding, leaded glass windows, wood-paneled rooms and richly tiled bathrooms all were created by Old World craftsmen. But its internal structure owes much to American industrial building techniques—and to the original owner's fear of fire.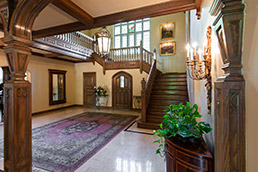 A oak-paneled, marble-floored entry anchors the home. (IBJ Photo/Eric Learned)
When one of his commercial buildings burned down, Lacy, whose company endures locally as holding company LDI Ltd., made sure it could never happen to his home. He built the interior walls of concrete, with steel support beams. There are even tiny alcoves around the house that conceal full-size fire hoses.
David and Alice, CEO and president, respectively, of Berger's Table Pad Factory, had admired the house from afar for more than 20 years, ever since they bought their first home just down the block from the Lacy estate. Over the years, they approached the owners repeatedly about selling. They didn't get a yes until 2008.
The Bergers retained period fixtures where possible. (IBJ Photo/Eric Learned)
"One night I had a dream about it and the next day I spoke to David," Alice recalled. "I said, 'I had a dream about my favorite house. Maybe you could call and see if they're ready to sell.' He called and it turned out they were just about to put it on the market."
But the property wasn't exactly in move-in condition. Roof leaks had damaged the plaster walls and played havoc with the elaborate moldings. And the luxurious appointments hadn't exactly been babied by the post-Lacy owners. Among a great many other things, the home's 265 windows had to be scraped, painted and sealed; 7,000 square feet of wood flooring sanded and stained; and the building's dingy limestone exterior cleaned.
Crews worked day and night for years, under the Bergers' supervision.
"I moved in because I was the job manager," Alice said. "We had to climb under scaffolding to get to bed at night."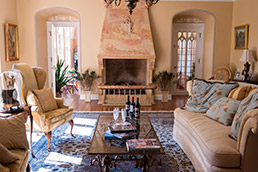 The massive fireplace was subjected to a thorough cleaning. (IBJ Photo/Eric Learned)
What emerged after the floors were fixed, the fireplaces cleaned and the plaster repaired was a home of unusual grandeur. The first floor is centered on a two-story, oak-paneled, marble-floored entry hall. The public spaces include a walnut-lined library with a 17th-century Italian marble fireplace. Down the hall sits a conservatory with arched palladium leaded glass windows and a custom crystal chandelier with a bird motif.
It also once contained an elaborate fountain that someone saw fit to destroy and replace with a wet bar (since removed). The Bergers are looking for pictures of the old fountain so they can create a replacement.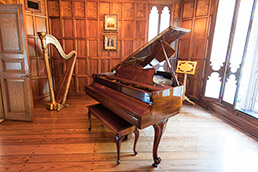 Wood paneling, some of it damaged by roof leaks had to be restored. (IBJ Photo/Eric Learned)
The only room that received a full redesign was the kitchen, which was formerly a claustrophobic warren of three tiny spaces. The Bergers removed the concrete walls (no small task) and installed built-in walnut cabinetry, marble floors and two large islands that, in their former lives, were English library tables
The upstairs is given over to six large bedrooms, each with its own bathroom—an unusual extravagance for the time. The oak plank floors in the Bergers' master suite almost had to be scrapped, because for some reason they'd been coated with white primer. Careful restoration work saved them.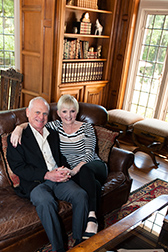 Alice Berger's dream about the house prompted the couple to make an offer to the prior owner. (IBJ Photo/Eric Learned)
After years of labor, the couple figures they're about 90-percent done. The biggest remaining job is the basement. The immense space is lined with wide planks of distressed, worm-eaten cypress fished from rivers or ponds. Today, such wood, if it can be found, is nosebleed expensive. The contractors half-jokingly told the Bergers they could pay for a big chunk of the restoration if they removed and sold the paneling.
But that wasn't what the couple wanted. Especially Alice, a historic preservation devotee.
"We're really trying to share the house," she said. "I really want people to appreciate that this is a historic home."•
Please enable JavaScript to view this content.