Indianapolis doesn't have a long-term street paving plan, and as political leaders look to spend at least $300 million more on infrastructure, the city appears more vulnerable than its peers to partisan bickering.
If a crumbling road wasn't repaved under Mayor Greg Ballard's Rebuild Indy program, the next best chance will be the follow-up program floated by Ballard, Rebuild Indy 2, or the City-County Council Democrats' answer, Fix Our Neighborhoods Now!
With the Republican mayor and Democrat-majority council each offering to spend at least $300 million more on infrastructure, the next political battle will be over allocating those dollars.
Council Democrats want to guarantee equal spending in each of the 25 districts, and they want the ability to sign off on each project. Republicans also are promising equitable spending across the city, but Department of Public Works Director Lori Miser said the city already considers council input, along with the opinions of professional engineers.
Democrats say DPW needs more oversight to ensure the administration's pet projects don't trump neighborhood needs.

Council President Maggie Lewis says the Democrats' plan provides more transparency.
"It's about sitting down and diving deep on what those priorities are," Council President Maggie Lewis said of the Democrats' plan.
Republican Councilor Jack Sandlin, a member of the Public Works Committee, said councilors should leave the details to professionals and not try to throw their weight around.
"We beat Public Works up over the last four years about coming up with measurable criteria to grade the infrastructure, and now we want to boil all that out of the water and go back to the old-boy way of doing things," he said.
Ballard spokesman Marc Lotter said the mayor will consider the Democratic plan if it passes the council, where Democrats have a majority by a single seat.
What other cities do
Indianapolis isn't the only large city where elected officials influence street-maintenance decisions, but officials in other cities say they don't have partisan politics playing out over specific projects.
Denver is in the midst of spending more than $30 million to address a backlog of street repairs. Voters approved the extra tax money knowing only that the city would pave 300 lane-miles of road over four years, spokeswoman Nancy Kuhn said. As for which streets to pave, that was the decision of street-maintenance division engineers, she said.
City council members could persuade public works to fix a particular street sooner, Kuhn said, but they aren't adding or removing streets from the list.
"They don't always hear what they want to hear, but there's not a lot of butting of heads," Kuhn said.
Fort Wayne is spending a record amount of road-repair money for that city, $23 million this year, to catch up on a backlog, spokesman Frank Suarez said.
Fort Wayne's public works department will submit a five-year schedule as part of the budget process this year, Public Works Director Bob Kennedy said. Most of what goes on the list will be determined by its condition rating and traffic count.
The city also invites each neighborhood association president to submit three projects for consideration. City officials then sit down with the district council members and decide what makes the final cut, Suarez said. "We try to do things evenly in all the districts every year."
City council members in Columbus, Ohio, have plenty of opportunity to weigh in on street repairs, but they haven't made any changes to the mayor's capital-projects plan in recent years, spokesman Rick Tilton said.
Columbus is spending more money on roads after voters agreed to raise their local income-tax from 2 percent to 2.5 percent. Like Fort Wayne and Indianapolis, Columbus chooses projects based on engineers' technical expertise and council suggestions, Tilton said.
All the council members are elected at-large, so Columbus doesn't try to spread money around council districts, but officials still strive for geographic balance, Tilton said. "It's an inexact science."
Decisions, decisions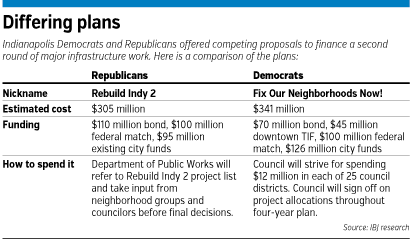 When the city started repaving streets in the Glendale neighborhood, resident Steve Dekater assumed the crews would eventually make their way to the 5900 block of Oxford Street, where he lives.
They didn't. Then he noticed that the city had resurfaced the 2300 block of Oxford in Martindale-Brightwood, a decision he questioned, given the number of vacant houses in the neighborhood.
"You wonder, what's the criteria?" Dekater said. "How do they decide this stuff?"
City-county councilors and Miser both said residents often question the rationale for projects completed under Rebuild Indy.
The nearly $400 million program was funded by the 2010 sale of the water utility to Citizens Energy. Most of the money went into resurfacing, but it was also spent on bridge repairs, bike lanes, sidewalks and parks.
After the city created bike lanes on Lafayette Road, Lewis said she received numerous calls from residents in her district who said money should have been spent on sidewalks instead.
Lewis said that, under the council's infrastructure plan, the decision-making process would be more transparent.
Miser said answers about Rebuild Indy projects are readily available from DPW and the mayor's neighborhood liaisons.
In general, Miser said, DPW looks to remedy the "worst-of-the-worst" infrastructure; connect major destinations, such as schools and places of employment; link missing sidewalks to transportation; and accommodate bicyclists and pedestrians.
"We have a $1.1 billion need. It's hard to address everything," she said.
Starting point
Whichever spending plan is finally approved, the Rebuild Indy 2 project list is the likely starting point for allocation decisions.
Ballard's original pitch called for $350 million, funded by a $150 million bond issue, federal matching funds and still-unspent Rebuild Indy funds.
The original plan was enough to repave all streets ranked first or second in priority. But Ballard and council Republicans recently scaled back the proposed bond issue to about $110 million, which means there will be some tough decisions to make about which top-priority streets to repave, Miser said.
DPW engineers rank streets as priority one, two or three, based on a combination of the pavement condition rating, traffic count, proximity to workplaces or schools, and in-person assessments, Miser said.
Even with those rankings, she said, there might be several streets in an area that are very similar, but limited funds to fix them. That's where DPW defers to council members.
Council Democrats have recently accused DPW of ignoring Democratic districts and insisted upon seeing dollars spent equally in each district. Lewis admitted, however, that might not be possible, given that some districts cover excluded cities and towns.
"Nothing is etched in stone. I think it's a negotiating point," she said.
Lewis insisted, however, that the City-County Council must be able to sign off on projects.
"We are the fiscal body. We're responsible for how dollars are spent in our community," she said. "We've got to play a key role in this."
Council Democrats gathered at the city's $5.1 million World Sports Park on June 18 to announce their Fix Our Neighborhoods Now! plan and blast Ballard for using Rebuild Indy money on a pet project—building a cricket field to international standards.
Under the Democrats' plan, proceeds of a $70 million bond could be used only for sidewalks, curbs and bridges—items that will last the 20-year life of the bond. (Asphalt paving would not be allowed.)
But Ballard isn't the only one who steered Rebuild Indy money toward a special project. At-large Councilor John Barth, a Democrat, this year negotiated $5 million in improvements at Tarkington Park, and $3 million of that will come from Rebuild Indy.
Democrats also have proposed using $1 million of Rebuild Indy money to refurbish or construct rent-free housing for police and sheriff's deputies in high-crime areas.
Barth said he wouldn't call Tarkington Park a personal pet project, and said he would like to come up with a way that factors such as councilor input can be quantified in the decision-making process.
"There should be complete transparency, so neighbors and neighborhood groups don't sit there and wonder when something's getting done or not getting done," Barth said.•
Please enable JavaScript to view this content.