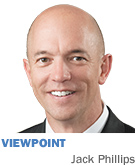 Indiana is in the midst of a revolution and it's not what you think. It's not politics, open-wheel racing or even basketball. This revolution is about creating a sustainable health care model for personal wellness and economic growth.
First, the obvious: From a personal health standpoint, we're in trouble. Public health measures such as obesity, smoking and exercise continue to reveal Indiana's lack of progress when it comes to individual health and wellness.
These shortfalls are especially vexing when you consider our state's leadership in the life sciences. Our nearly 2,000 companies with Hoosier ties place us second in the nation for life sciences exports. We are the envy of the Midwest and a powerful player nationally.
Therefore, in order to secure our state's public health and economic future, let's stop treating them as separate phenomena. After all, Indiana's economic prosperity is directly tied to the health of our workforce. We should begin by supporting and investing in some exciting new initiatives that confirm Indiana's status as a laboratory of innovation for the nation.
For example, the state's new Healthy Indiana Plan, or HIP 2.0, will provide hundreds of thousands of Hoosiers with the tools they need to improve their health. Instead of simply expanding Medicaid like some states did following the implementation of the Affordable Care Act, Gov. Mike Pence and his administration have crafted a solution that increases access to health insurance while building a culture of individual accountability.
This innovative solution can create a sustainable model for personal health improvements, which can pay huge dividends with a healthier workforce. It's why many corporations, including Roche, continue to examine and implement similar benefit plans that place more responsibility on the individual while rewarding and encouraging behavior change.
Another innovative way we're addressing public health is Jump IN for Healthy Kids, a new initiative targeting childhood obesity by connecting the entire community. Using a proven approach, Jump IN is employing evidence-based practices to improve our kids' health in measurable and sustainable ways with a focus on education, nutrition, physical activity and community-based health pilots.
Kids with healthy habits are more likely to become healthy adults, and more healthy adults are what our state needs to fuel the growth of sustainable high-technology industries, such as life sciences. Indiana is already a powerhouse, with more than 58,000 Hoosiers making up the 10th-largest life sciences workforce in the country. But we can and must do more.
That's why a group of corporate and research university partners launched the Indiana Biosciences Research Institute last year, the first industry-led life sciences research institute. Unlike other state-based research institutes, the institute is led by corporations with startup capital funded jointly through corporate and philanthropic donations and state government appropriations. Members are focused on tackling the biggest health problems facing our state, issues that threaten our long-term health.
We will measure our success by our ability to generate commercial opportunities our fellow Hoosiers can use to meet these challenges.
Revolutions can begin with a spark and then escalate quickly. We are witnessing this firsthand in Indiana. Corporations, government, research universities and not-for-profit organizations are working together to create a healthier state with more life sciences opportunities for generations to come. As a laboratory of health and life sciences innovation, we are positioning the Hoosier state to be flattered by imitation by 49 others for years to come.•
__________
Phillips is president and CEO of Roche Diagnostics Corp. in Indianapolis. Send comments on this column to ibjedit@ibj.com.
Please enable JavaScript to view this content.