Similarities between father-and-son duo George and Eddie Pillow don't immediately jump out.
The two relish their many differences, and speak of how well they complement each other and how well that will serve them in a few years when Eddie takes over their company, Pillow Logistics Inc.
They've been working out the details on the trickiest kind of succession plan in business—the hand-off between generations of family members. There are financial and operational matters to discuss, alongside the careful balance between mentorship and letting an up-and-comer learn from mistakes.
The elder Pillow started the courier and logistics service in 1988 and is grooming his son to take the helm soon so he can retire. The company today operates with 15 full-time employees working in a nondescript office park near West 86th Street and Michigan Road.
The broad-shouldered George, now 64, was a college basketball star who bulked up working at his father's moving business. He exudes an equally robust personality—at one point describing his management style by growling like a bear and flexing his arms like Hulk Hogan.
The younger Pillow is a financial and strategy wiz with an MBA from a private university. The clean-cut, bespectacled 38-year-old spoke with soft but energetic precision as he discussed the nuances of third-party logistics.
At first, Eddie sat upright with his hands folded in front, beaming smiles between breaths. His father leaned back
in his conference room chair, resting his right elbow and relaxing his cheek on his index and middle fingers.
Later, Eddie leaned back into his
conference room chair, rested his right elbow, and relaxed his cheek on his index and middle fingers.
Their similarities don't stop with mannerisms. They're both into fitness, have business degrees and work long hours.
The younger Pillow in 2010 left a pharmaceuticals sales job and moved home from California so he could work for his father. It was a career move intended to put Eddie in charge of the business in three to five years.
The many differences between the men and Eddie's work experiences will serve him well, he and his father believe, as he prepares to take over. He doesn't want to be just the boss's kid.
George was quick to chime in on his son's qualifications to succeed him: a business degree from Hampton University, an MBA from Pepperdine University, and sales experience with Eli Lilly and Co. and Sanofi-Aventis.
"Before he even came," George said, "I probably talked to five or six different family-owned business owners. And I asked them, 'How'd you integrate this? How did you bring your child into the business?' The stories varied from, 'It's simple' to, 'I kicked him out.'
"I tried to get as much information as I could on how a family-owned business runs because it's altogether different. He's an employee, but he's still my son. I want this brand to continue, and he is trying to make it continue. But it's going to be continued on his own terms."
Tension release
The company is in the early stages of speaking to attorneys about a formal succession plan. But George began easing back on his duties when he recruited Eddie four years ago.
George said he became much more relaxed when his son became his executive vice president.
"I don't want my personal life to be as tense as Pillow is," he said. "Here, I'm focused. At home, it's, 'Let's just go to the park,' me and my wife, and walk the dogs.
Does Eddie worry he will face those same stresses as he takes over?
"It's already here," Eddie quipped as he grinned and his father hollered with laughter. "It is a labor of love."
George started Pillow Logistics in 1988 after leaving a post in then-Gov. Bob Orr's cabinet, where he oversaw federal housing in the state.
A salesman for Xerox Corp. at the onset of his career, Pillow wanted to take the management skills he learned at the Fortune 500 company and apply them to a small business.
He was contemplating what kind of company it would be when a longtime friend, Sam Odle, gave him the idea for a courier service.
Odle was a vice president for Methodist Hospital, now part of Indiana University Health. The hospital was starting to expand, meaning it needed someone to transport lab work and other materials.
"I just suggested to George, 'Why don't you try something like that?'" Odle said, "and the rest is history."
Pillow secured a contract as a courier for the hospital, and IU Health remains one of its biggest customers today.
Tech-savvy
Courier service is a very different business than it was 20 years ago.
Email and texting—faxing before then—nearly eliminated the need for sending a letter carrier out to deliver notes business-to-business.
Pillow Logistics still pulls plenty of business from other types of same-day deliveries, such as lab samples for IU Health. But after Eddie's arrival, the company started stretching into other areas of logistics to keep the business going.
The company also became more tech-savvy and efficient, Odle said, such as adding a system that lets customers track their deliveries more easily.
"It's always been a good, solid company," he said, "but I think Eddie's moving it to the next level."
George credits his son with pushing the firm into areas such as warehousing, fulfillment and staffing—including a major staffing contract at Andrews Air Force Base in Maryland.
The duo would not share the company's revenue, but Eddie is eyeing a doubling of sales within five years, both internally and through acquisitions.
"I think we should be a little bit hungry, like wolves," he said. "We get letters and things every day about some of our competitors who have been gobbled up. And we need to be in that mode of being an acquirer."
Name equity
Eddie places a lot of his faith in the company's future in the "name equity" he will inherit from his father.
An Indianapolis native, George started carving out a reputation as early as high school, where he was lead scorer in 1967 for the Shortridge High School boys basketball team and took the team to a city championship. That talent carried into basketball at Indiana State University, which led to a 2002 induction into the Indiana Basketball Hall of Fame.
George has also put his stamp on the Indianapolis community, serving in such capacities as a trustee of The Children's Museum of Indianapolis, an executive board member for the Indianapolis Chamber of Commerce, a member of the organizing committee that brought the NCAA headquarters to Indianapolis, and a trustee for Indiana State University, among others.
"It's not about the bottom line, the dollars, every day," Eddie said. "Trust me, we talk about that, but it's also being civic- and community-minded and realizing that this city, Indianapolis—you have to be involved, you have to be out there."
That's where Eddie believes his father has already made massive headway.
But Eddie also has to do things his own way so he is seen as more than "George's son."
That's why George told Eddie to find work somewhere else after college—so he could gain business experience in a place where no one knew either of them.
Still, it took coaching when he came back to Pillow Logistics.
One person he turned to was Steve Walker, chairman and CEO of Walker Information Inc., a research firm Walker's grandfather started 70 years ago.
Each family business is different, but there are a few universal concerns when people take over company management from their parents, Walker told IBJ.
"Some of the things—'Is this kid going to get special treatment?' 'Is he there because of who he is?'—I think all those things are issues," Walker said.
The only thing people in situations like Eddie's can do is focus on what they can control—their own work, Walker said.
For George, it means remembering his son is still an employee and a manager and needs to be treated as such.
"I listen to him," George said. "If I didn't listen to him, we'd be arguing all the time. I am allowing him the opportunity to grow because that is the only way he is going to be able to take the reins of this company, to understand how this business works—be concerned about our payrolls, be concerned about our taxes, be concerned about our civic involvement, be concerned about our employees, who we value greatly.
"I've got to be able to let him do that, or I'm going to be running things until I'm 80. Well, that's not something I plan to do."•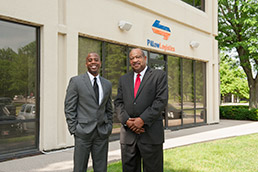 George Eddie Pillow and George E. Pillow Jr.(IBJ Photo/Eric Learned)
——————————————————–
George Eddie Pillow
Age: 38
Title: vice president
Family: single, no children
Hometown: Indianapolis
Education: bachelor's from Hampton University, MBA from Pepperdine University
Experience: Eli Lilly and Co., Sanofi Aventis, GE Capital
Hobbies: CrossFit training, half-marathons, travel
Career goal: "exceed sales of our competitors and offer a service level that is unmatched in the marketplace"
Personal goal: "grow as a business owner and not allow fear to dictate my decisions"
Pet peeves: lack of preparation
Management style: analytical, problem-solving
Personality type: relaxed with a hint of intensity
Primary motivation: retire very wealthy
Mentors: parents George Pillow Jr. and Diane Cargile
What I know now that I wish I knew then: "Never assume anything."
Best advice ever received: "Never assume anything."
Worst advice ever received: "Let's worry about it tomorrow."
Greatest hopes of changing management: "maintain underdog, entrepreneurial spirit and remain customer-focused"
Biggest concerns of changing management: "the X factor, the unknown or unexpected"
Proudest moment: "Seeing my 3-year-old nephew, Aidan Christopher Pillow, sit at the head of the conference room. I was proud to know my father started a family business and a legacy to pass down from generation to generation."
———————————————————
George E. Pillow Jr.
Age: 64
Title: president
Family: wife, Paula Pillow; children: sons George III (Eddie) and Christopher Allen, stepsons Marcus and Kenneth
Hometown: Indianapolis
Education: bachelor's degree from Indiana State University
Experience: Xerox Corp., and director of federal housing for Indiana under Gov. Robert D. Orr
Hobbies: golf
Career goal: continue to mentor sons and be a part of new startup opportunities
Personal goal: travel more
Pet peeves: "people who text while driving in front of me"
Management style: "motivate people to take ownership and leadership in their sphere of influence"
Personality type: A
Primary motivation: "the drive to overcome major obstacles"
Mentors: Mickey Maurer, Bill Mays, Tony Stuart, John Myrland
What I know now that I wish I knew then: "too many to list"
Best advice ever received: "Return all emails and voice mails. You may miss something or someone important."
Worst advice ever received: "If you last five years in business, it is all uphill from there."
Greatest hopes of changing management: continue to watch sons develop as managers
Proudest moment: witnessing sons' births
Most embarrassing moment: "Went to what I thought was a Halloween party; I was the only one with a costume on."
 
Please enable JavaScript to view this content.