It's sometimes best not to listen too closely to the lyrics of the music being played in an Irish pub.
Don't get me wrong: I love Irish music—and I like the atmosphere of the new Nine Irish Brothers (575 Massachusetts Ave., 964-0990). It's just that hearing "the crop of potatoes/was sorely infected/a third to a half of them bad" (Yes, that's actually a lyric from the tune "Kilkelly, Ireland.") three times in the course of my hour-and-a-half first meal here didn't exactly set the mood for culinary excellence. Still, I suppose "Danny Boy" isn't exactly upbeat, either, and its frequent rotation in such places hasn't diminished their draw.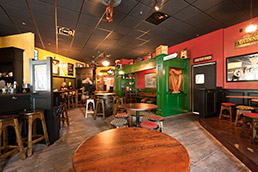 The Lafayette-based Nine Irish Brothers opened its first Indianapolis outpost in June. (IBJ Photos/ Eric Learned)
On another visit, the music was turned off at the handsome new eatery in favor of a World Cup match on the small-ish flat-screens. Then, the pleasure of such a congregating-friendly place—anchoring a new development on the avenue—was clear.
The food itself wasn't so easy a call. The appetizers we tried were a mixed bag. The raspberry vinaigrette added a welcome twist to the Goat Cheese Fritters ($8.49), and the Irish Nachos ($9.49, add spicy beef for $1.50), with potato discs instead of tortilla chips, were a tasty and more filling alternative to the standard. But the Pots of Gold ($8.49), an appetizer in which potato skin cups are filled with cheddar cheese, green onion and bacon, were over-fried.
Among the entrees we tried: Brother Jim's Shepherd's Pie ($10.49/$7.59 half order) promised a hearty mix of ground beef and pork, carrots, peas and onions topped with champ (mashed potatoes with onions, butter, and cheese). The pork seemed usurped by the ground beef in this soupy effort and the vegetables were few and far between. I was thankful the massive Side Salad ($5.49) helped pick up the slack.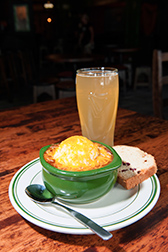 Shepherd's Pie is among the traditional Irish fare offered at the pub.
A half-portion of Tiger Mike's Fish and Chips ($17.49/$10.99 half order) featured a sizable whitefish filet whose crunchy casing trumped the flavor of the fish. Plenty of discs of fried potatoes filled out the plate.
As for Willie's Bangers and Mash ($13.49), this traditional dish—Irish pork banger sausages served on a bed of steaming champ mashed potatoes with a side of steamed vegetables—shouldn't have let the gravy on the potatoes be the highlight. Matters improved substantially with Traditional Bread Pudding ($5.99), which made good use of the house-made Irish Soda Bread.
There's always the option of going for a Black & Tan as a second dessert at this newest addition to Mass Ave, where the beverages and atmosphere, especially on live music nights, are likely to be the biggest draw.•
—Lou Harry
Please enable JavaScript to view this content.