Obamacare's tax credits are pumping nearly $400 million into the coffers of health insurers in Indiana this year, according to data released by the federal government and the insurance companies.
That windfall will grow in 2015 and beyond, as more Hoosiers sign up for coverage via the federal online exchange created by President Obama's 2010 health reform law.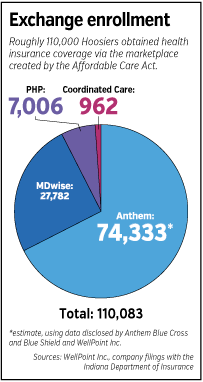 The four health insurers selling on the exchange in Indiana have counted about 110,000 paying customers, according to data the insurers recently disclosed in filings with the Indiana Department of Insurance. And that figure will grow 60 percent or more if all the health insurers' exchange enrollment projections for 2015 come true.
"We're definitely expecting strong membership growth this year," said Matt Kleymeyer, manager of the Indianapolis office of Tennessee-based Bernard Health, which advises individuals and small businesses on benefits. "People are more familiar with the exchange. I think there'll be a greater sense of urgency."
Anthem Blue Cross and Blue Shield, MDwise Inc. and the two other health insurers active on the Indiana exchange this year will see competition intensify heading into 2015. Five new insurers will sell individual policies on the exchange, including industry heavyweights UnitedHealthcare and Assurant.
A major draw for the insurers are Obamacare's tax subsidies, which flowed to 89 percent of the enrollees in exchange plans this year, according to data released by the U.S. Department of Health and Human Services.
Those tax credits, which the government pays to health insurers each month, averaged $336 per person, or $4,032 for the year. They reduced the average premium for Hoosiers buying in the exchange to just $1,056 for the year—or 79 percent off the true price of coverage.

Nefouse
"It's about tax credits," said Tony Nefouse, a health insurance broker who focuses on health insurance for individuals and small employers. "As more people understand how the tax credits work, I think more people are going to take advantage of them."
Obamacare offers tax credits for households with incomes of less than 400 percent of the federal poverty limit. That threshold is $46,680 for a single person and $95,400 for a family of four. The credits are especially large for households with incomes less than 250 percent of the poverty limit.
Exchange enrollment figures are a moving target, since Hoosiers with special circumstances have been allowed to enroll in health plans even after the end of the open enrollment period on March 31.
Coordinated Care, which sold only in northeast Indiana this year, signed 962 members on the exchange, according to its filing with the Department of Insurance.
Fort Wayne-based Physicians Health Plan of Northern Indiana signed up 7,006 members.
Indianapolis-based MDwise told the Insurance Department it had 27,782 members, although MDwise officials said in an interview that they now have 30,000 members.
Indianapolis-based Anthem signed up 106,000 individual members, with fewer than 20 percent of those not on the exchange and about 15 percent of those enrollees failing to pay their premiums. Multiplying those three numbers yields exchange-only enrollment of about 74,000 for Anthem.
Anthem expects healthy growth heading into 2015—about 26 percent for all individual insurance, according to its Insurance Department filing.
Physicians Health Plan expects to nearly double its enrollment in 2015.
Coordinated Care, which is controlled by St. Louis-based Centene Corp., will move into the Indianapolis area and several other new markets for 2015, which it expects to help rocket its membership to more than 12,000.
MDwise expects to add 10,000 new members to its health plans, for a growth rate of 33 percent.
In addition to the carrot of tax credits, Obamacare also uses a stick to encourage everyone to buy insurance. The law penalizes nearly everyone who goes without health insurance with a tax.
That tax will be small for 2014—just $95 per adult in a household or 1 percent of household income. But next year, the tax rises to $395 per adult, or 2 percent of income. And in 2016, the tax will reach $695 per adult, or 2.5 percent of income.

MacBeth
"The penalty will start to play a larger role in inducing more membership in 2015, although it is still too early to tell how much of an impact it will have on membership growth," MDwise CEO Charlotte MacBeth wrote in an email. "It also depends on IRS enforcement of the penalty."
Among the new entrants, New York-based Assurant expects to sign up 8,000 to 15,000 new customers.
Minnesota-based UnitedHealthcare, which has told local brokers it will go ahead selling exchange policies under its All Savers brand name, expects to sign up nearly 5,000 members.
Ohio-based CareSource expects at least 4,000 members.
SIHO Insurance Services, based in Columbus, Ind., expects 2,000 members.
And Indiana University Health Plans, based in Indianapolis, expects to sign up 1,462 members.•
 
Please enable JavaScript to view this content.