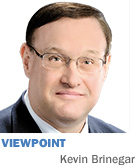 Progress is a word with very positive connotations. The mantra seems to be: If we're making progress, we can avoid criticism for not taking action.

But progress—or any of its synonyms: advance, develop, improve, evolve—comes in varying degrees. In the highly competitive business climate of 2014 and beyond, incremental progress is not good enough.

The Indiana Chamber of Commerce is keeping score through its Indiana Vision 2025 economic development plan. Our mantra, based on the first 2-1/2 years of this initiative, is: "We have to go farther and do it faster."

We must pursue our goals with commitment, urgency and great passion. Minor advancements are not good enough when major improvements are needed in so many areas. A few examples:

The two years, and counting, that was just spent battling over the Common Core Academic Standards were a colossal waste of time and money. And the waste isn't over, as the next fight will be over appropriate testing and assessments to go with our new standards. If similar amounts of energy were devoted to always ensuring our education system focused on the students first, we would have far fewer academic and societal challenges.

It's good to get the ball rolling on business personal property tax elimination after years of efforts to elevate the discussions. But this tax on business investment should already be off the books. We're once again playing catch-up to other states. We hold out hope that this summer's Blue Ribbon Commission on Taxes can dramatically increase the score on this issue while protecting the ability of local governments to provide vital services.

Some of the "replacement" funds for local government as part of the business personal property tax elimination can and should come from long-overdue local government restructuring. A bloated, wasteful and overlapping structure in some areas of local government costs hundreds of millions of dollars a year in excess tax burdens and inefficiency.

Indiana should be a reform leader, not an accepter of an outdated status quo.

Reliable water supplies and affordable electricity have historically been infrastructure advantages for all Hoosiers. Let's not wait for a crisis, though, and hopefully implement long-term water planning as the result of a soon-to-be-released Chamber/Indiana Vision 2025 research study and recommendations for next steps.

As for electricity prices, it's time for members of Congress to do their jobs and stop the current regulatory assault on coal-fired power plants. A diversified energy mix is the answer, not making it impossible to use plentiful coal resources.

When it comes to Dynamic and Creative Culture, the fourth and final driver of Indiana Vision 2025, it's OK to maintain our conservative values. But let's also embrace the innovative concepts and the bold entrepreneurs who are driving today's business climate. With proper resources and support, thriving organizations like ExactTarget will become the norm in our state rather than the exception.

The task force of statewide leaders that developed Indiana Vision 2025 knew the goals were challenging and ambitious. But no one wanted to establish easy-to-achieve measures that would not serve our state well now and into the future.

We only ask the same of all working to make Indiana a better place to work and live. For future generations, "We have to go farther and do it faster."•

__________

Brinegar is president and CEO of the Indiana Chamber of Commerce. Send comments on this column to ibjedit@ibj.com.