A police officer in Boulder, Colo., last month mistakenly shot Big Boy, a neighborhood's beloved trophy elk.
Some of the residents argued that if the officer had been required to live in the community he served, he would've known it wasn't just some nuisance wild animal.
Proponents cite plenty of advantages to encouraging law enforcement officers to live in the communities they police—most with higher stakes than avoiding the mistaken killing of small-town mascots.
But in Indianapolis, officers are not required to live in the city, and about 240, or 16 percent of the force, choose to reside elsewhere. Many of the city's highest-crime neighborhoods have the fewest police officers as residents.
As high-profile shootings fan concerns about violent crime in Indianapolis, City-County Council Democrats are rolling out a proposal aimed at getting more officers to live in crime-plagued neighborhoods.
Their plan starts with building or rehabbing five homes on empty or abandoned lots in the Mapleton-Fall Creek neighborhood using $1 million in leftover Rebuild Indy funds.
While details are yet to be worked out, the idea would be for officers to live in the homes rent free for two years, then have the opportunity to buy them under attractive terms. Proponents say their long-term goal would be to expand the program, ultimately attracting hundreds of officers to live in high-crime parts of Indianapolis.
"The proposal makes investments in struggling neighborhoods, which are needed, regardless," Democratic Councilor John Barth said. "It then adds the element of long-term sustainability and crime reduction by giving IMPD officers an opportunity to live rent free."
Added Bart Brown, the chief financial officer of the Democrat-controlled council: "This is not targeting or trying to ask an officer to uproot his family and move into these areas. We're targeting maybe the younger or the single officers that are more mobile."
Varied reactions
The housing proposal has the backing of the Indianapolis Fraternal Order of Police, but the Mayor's Office and others question its feasibility.
Jim White, a retired state police officer and IUPUI public safety lecturer, sees merit in encouraging officers to live in Indianapolis, but he questioned whether the housing incentives would have a noticeable impact on struggling neighborhoods.
"It makes a lot of sense for an officer to live in a community where they serve," White said. "But then again, you have to look at the totality of the picture. To think that one officer living in the neighborhood will drive down the crime rate and drive up the property value is a little far-fetched."
The staff of Republican Mayor Greg Ballard is taking a similar stance.
"Doesn't seem like there's much of a plan at all," said Marc Lotter, the mayor's communications director, comparing it to the Democrats' alternative to Rebuild Indy 2, the mayor's latest infrastructure-improvement program. "We've seen news releases, but that's about it."
Lotter said the mayor believes that, if officers are going to be paid with Indianapolis tax dollars, they should live in the city. He said that, rather than focusing on housing incentives, Democrats should try to change the state law that prohibits residency requirements.
Under current law, officers are required only to live in the county they serve or in a contiguous county.
The Indianapolis Fraternal Order of Police, along with the National FOP, opposes tighter restrictions. They argue that officers can become part of a community without living in it, for instance, and that attaching residency requirements hurts recruiting and retention.
The Hammond FOP rolled out similar objections in 2004, when Hammond passed a requirement that new recruits live in the city for their first-year probationary period, which is allowed under an exception to state law.
Rick Snyder, the Indianapolis FOP president, likes the Democrats' alternative approach to increasing residency.
"This is something we should consider trying," he said, because it "really highlights" three key issues: community rehabilitation, abandoned housing and community policing.
But Republican Councilor Christine Scales questions whether a patrol car parked in a driveway really deters crime.
She noted that, in Franklin Township, patrol cars have been broken into, stolen or set on fire, even though hundreds of officers live in the area.
Barth countered that the issue is not visibility of police cars.
"It's police officers being a part of the community," he said. "The intent is to strengthen long-term ties between IMPD and the neighborhoods."
Other efforts
The U.S. Department of Housing and Urban Development ran a similar initiative in 1997 called the "Officer Next Door and Teacher Next Door" program. The program provided funding allowing police officers and teachers to buy properties in high-crime areas at a 50-percent discount as long as they lived in the house three years and didn't own other property.
A 2000 investigation by HUD found more than 21 percent of homebuyers nationwide were in violation of the living requirements. At least three of the homes built outside the designated high-crime areas were in Indianapolis, accounting for $168,500 in unmerited discounts, according to the HUD inspector general's audit report.
The Indianapolis Land Bank recently offered dilapidated houses to officers for a discounted rate of $2,500 if they repaired them. One officer bought a home.
Lotter, Ballard's spokesman, cited officers' lack of interest in the Land Bank homes as further evidence the Democrats' proposal is misguided.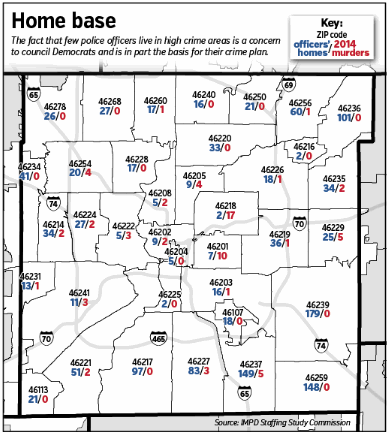 The Indianapolis Land Bank has had its own problems. Two of its former employees are facing felony charges that they participated in a kickback scheme involving the sale of city-owned properties to not-for-profits at low prices.
Ryan Kramer, the City-County Council's fiscal and policy analyst, noted that the Democrats' program would require annual financial reporting to the Mapleton-Fall Creek Development Corp.
"We were very sensitive towards the investigations of HUD and the Land Bank and the cynicism or mistrust in government that came with such proceedings," Kramer said.
Added Barth: "This is a pilot with five houses and five officers, administratively simple to monitor and ensure funds are spent as intended."
Idea's origins
Brown, the council's chief financial officer, said the Democrats' idea for the housing program came out of the IMPD Staffing Study Commission, a bipartisan panel established by the council to analyze the department's staffing needs.
"One of the things they talked about was where all these officers live," Brown said. "It was apparent that they all lived in townships like Franklin and Perry — the outer edges. And there was a very scarce number living here in downtown neighborhoods like Mapleton-Fall Creek."
Democrats zeroed in on two neighborhoods, Mapleton-Fall Creek to the north and Martindale-Brightwood to the east, analyzing such issues as the number of abandoned lots and level of crime.
Although they decided to start with Mapleton-Fall Creek, they have not ruled out expanding into Martindale-Brightwood. They hope to fund that expansion using the $1 million the city expects to save as a result of scaling back its ambitions for the World Sports Park on the east side.
Some law enforcement observers—including White, the IUPUI public safety lecturer—argue money would be better spent hiring more officers. The Mayor's Office has been pushing for three years to hire additional officers, but has not been able to reach an agreement with the council on how to pay for them.
"Just having an officer living in the neighborhood is not going to have a dramatic impact on the neighborhood or the crime rate," White said. "What's one officer going to do? If I was going to take the money, I'd have more police officers."
An IMPD study suggests the city needs about 1,800 officers and recommends reaching that number by 2018.
Snyder said the department now has fewer than 1,500 and is losing about 50 per year. While he's on board with additional hiring, he sees no downside to also pursuing the Democrats' proposal.
"The long and short of it is, what is the harm in it?" Snyder said. "At a time when we're at such a crisis with police staffing, I would think we would do everything possible to attract possible candidates to our police department."
Barth said he'd love to hire more police officers but noted that the Rebuild Indy money the Democrats' proposal taps is restricted to infrastructure purposes.
Tested elsewhere
The Democrats based their proposal, "Safe Neighborhoods Now," on similar efforts in other cities, such as Atlanta and Washington D.C., Kramer said.
The Atlanta Police Foundation developed a plan in 2010 to motivate Atlanta police to live in the city, with discounted rentals and purchase opportunities. The program includes issuing $1,000 grants to officers willing to rent or buy within the city. About 200 officers have participated.
"Increasing police visibility not only deters crime, but also improves the community's perception of safety," the foundation says on its website. But a spokeswoman said no data was yet available on the effect officers' presence has had on crime.
In Washington, D.C., the Metropolitan Police Housing Assistance Program helps officers who are first-time homebuyers, offering up to $1,500 in matched payments, deferred loans of up to $10,000, and income tax credits of $2,000 per year for five years.
But perhaps what most closely resembles Safe Neighborhoods Now is Atlanta's newest initiative.
The APF is in the process of finding a police officer for a home that's being rehabilitated in a high-crime area. The city and its land bank are arranging construction bids. Meanwhile, the foundation and police department are weighing candidates and hope to have the house occupied in November.
"We must remember that this is only a pilot program at this point in time. I would hate to put the cart before the horse," said Kramer, the council's fiscal and policy analyst. "We first must focus on refining the details of our pilot program."
The Democrats are scheduled to present their proposal at the July 14 council meeting.•
Please enable JavaScript to view this content.