Growing demand for high-end, low-maintenance living is fueling an apartment-building boom in Indianapolis' northern suburbs—and raising concerns among some leaders about the risks of adding too much too fast.
About 2,000 units are under construction north of 96th Street and another 3,500 have at least preliminary approval, according to IBJ research. Several pending proposals would add 500 or so more to the development pipeline.
"These [projects] tax our police, our fire department and our schools," said Noblesville Common Council member Steve Wood, who raised the issue in June when three multifamily proposals landed on the same meeting agenda. "Where do we draw the line?"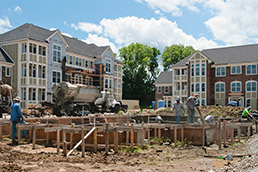 The Hamilton, at East 116th Street and Hoosier Road, in Fishers (IBJ photo/Eric Learned)
Planning officials in Carmel—where more than 1,800 new units are in the works—likewise have heard grumbling about the possibility of overbuilding.
"We'd be naïve if we weren't concerned a little bit," said Mike Hollibaugh, director of the city's Department of Community Services, which handles planning and zoning. "But the Carmel market is bigger than most people think. … There's room for more."
Indeed, experts say the fundamentals of the local multifamily market have held up well despite the influx of inventory.
Occupancy rates for the entire Indianapolis metro area averaged 92.1 percent in 2013, up from 91.7 percent in 2012, according to Tikijian Associates' annual market overview. Rents increased an average of 2.2 percent.
In the Fishers-Noblesville submarket, occupancy averaged 95.4 percent; the Carmel-Westfield-Zionsville submarket average was 94.6 percent.
"It's a phenomenal environment we're in," said Steve LaMotte, senior vice president at CBRE's Indianapolis-Cincinnati Multi-Housing Group. "I've never seen anything quite like this before."
He and others credit the increasing popularity of rentals among the massive millennial generation, which hasn't been quick to embrace the responsibilities of homeownership, and baby boomers ready to give up their quest for the perfect lawn.
The trend also is getting a boost from efforts to turn once-sleepy suburban downtowns into vibrant business and entertainment hubs—and drawing residents who want to be close to the amenities.
Flaherty & Collins Properties broke ground on Fishers' first significant downtown redevelopment last year and expects to deliver the first 80 luxury apartments at the mixed-use The Depot at Nickel Plate this fall.
All told, the $42 million project will include 242 apartments, 16,000 square feet of retail space, and a 430-space parking garage. Work is expected to be complete in April.
A preleasing office won't open until late next month, but the Indianapolis firm already has heard from more than 100 potential residents through its website, said Vice President of Development Chris Kirles. Flaherty & Collins hasn't marketed the project yet, but its location on 116th Street in front of Town Hall provides plenty of visibility.
"It seems like there are a lot of units coming online, but the numbers continue to hold," he said, citing occupancy, rents and other indicators developers use to gauge a project's potential. "We are very confident it's going to do well."
Fishers has nearly 1,500 apartments in various stages of development, but leaders aren't exactly taking all comers. They're interested in the right projects in the right locations, said Town Manager Scott Fadness.
"People demonize multifamily [housing], but it's not bad when it's done in a thoughtful way," he said.
Projects like The Depot and neighboring The Switch (planned for the current Fishers Train Station site) make sense, he said, because of their proximity to retail and entertainment options in the downtown Nickel Plate District.
"I think we're getting away from seeing apartments pop up all over the suburban landscape," Fadness said. "We need to be smart about where we put it."
Cities typically have land-use plans that identify preferred locations for certain types of development. In Noblesville, for example, multifamily housing is seen as a good buffer between commercial districts and single-family neighborhoods, said Planning Director Christy Langley.
Lately, Noblesville also has been asking developers to agree to certain stipulations, including limits on the number of three-bedroom units—which statistics suggest are more likely to draw families and add to schools' burden. Apartment developers also have to promise not to appeal their property tax bills.
"I'm not worried yet," Langley said. The planning staff works with developers as long as necessary to vet their proposals, she said, and lenders typically put plans through the financial paces. "In order to get a project off the ground, it must pass a litmus test."
The Carmel-Clay Plan Commission likewise lets the experts decide whether a project will be viable from an economic standpoint, said Vice President Brad Grabow. The 11-member panel concentrates on making sure proposals meet zoning requirements and development standards while adhering to the comprehensive plan, he said.
Although the recent rash of apartment applications has raised questions about how many such projects the city can support, Grabow said the commission can't say no if all the conditions are met.
Carmel has been lucky to draw "very-high-quality developments from very reputable"—and mostly local—developers, he said, and their success is feeding the frenzy.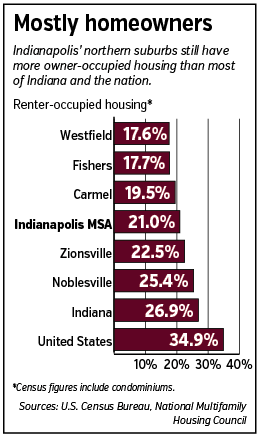 Carmel-based J.C. Hart Co.'s One One Six project at East 116th Street and College Avenue, for example, was completely leased within five months of its 2012 opening, said company President John Hart Jr. Rents range from the $1,100s for one-bedroom apartments to the $1,400s for three bedrooms.
Now the company is working on three other Carmel projects: a second phase of its condo-like LegacyTowns and Flats off 146th Street, Highpointe on Meridian at U.S. 31 and West Main Street, and Carmel Lakeside near Carmel Drive and Guilford Avenue.
Any concerns about overbuilding need to be put in the proper perspective, he said: The local housing market was under-supplied for about five years during the depths of the recession, so developers are just making up for lost time.
"All of us out there building apartments are keeping an eye on absorption and other fundamentals. We don't want to get too carried away," Hart said. "Generally speaking, the market is very stable."
The Keystone at the Crossing area in Indianapolis saw occupancy drop when new properties opened this winter, but it already has bounced back, said George Tikijian, whose firm is conducting its annual rent survey now.
"I think the market can react to the new construction," he said. "We won't be very overbuilt, and if we are, it won't last long."•
Please enable JavaScript to view this content.