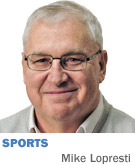 SOMEWHERE IN INDIANA—How's minor-league baseball in this state? One way to find out. Visit all five franchises in a week.

U.S. Steel Yard, July 4

It's Fireworks Friday and the first thousand adults will be handed a red, white and blue cap. No wonder the line is two blocks long, waiting to get in to see the Gary SouthShore RailCats.

Maybe downtown Gary is not the place you'd expect to find a baseball crowd, with the Indiana Toll Road rumbling past, just beyond the left-field wall. But the customers flock in from Merrillville and Valparaiso and Crown Point. The RailCats average 3,600 fans—fifth in the 12-team American Association of independent teams.

"There's probably some people who have never come, just because they don't go to Gary for entertainment purposes," team President Pete Laven explains. "But we try to portray the family entertainment and how affordable it is. Once they do come, they usually will return."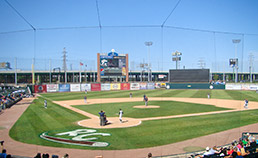 U.S. Steel Yard. (Photo courtesy of Gary RailCats)
Parking is free. Programs are free. Concessions are reasonable, the highest ticket is $10, and the ballpark is swell. There is a bungee jump for kids beyond right field—preferably before they've had the Monster Corndog. Later this month is I Need a Job Night, when employment agencies will man tables on the concourses.

The franchise might have no major-league affiliate, but it owns three league

championships, which should impress all the long-sufferers this night wearing Cubs shirts.

"Three titles in 12 years in Chicagoland," Laven says. "Amazing."

A diverse crowd of 5,921, including the mayor of Gary, watches a 7-1 win over the St. Paul Saints. Home is always sweet for the RailCats, whose American Association opponents range from 433 to 1,396 miles away. They travel every one of those miles by bus.
Four Winds Field (Photo courtesy of South Bend Tribune)
Four Winds Field, July 5

The South Bend Silver Hawks draw names every inning for a free flat-screen television. I go 0-for-9. But there are four things I have never seen before at a baseball game: The color guard for the anthem is composed of all homeless veterans. There is a taped pre-game message on the scoreboard from the mayor of South Bend, who also happens to be on Naval Reserve duty in Afghanistan. The team merchandise store beyond the left-field wall is a former synagogue, with the original chandelier and a passage from Exodus on the wall.

Oh, and President John Kennedy hits a home run for the Lake County Captains. The Silver Hawks folks, who like to have fun, marked the holiday weekend by substituting a president for the scoreboard pictures of each Lake County player. So the catcher looked like Dwight Eisenhower and the second baseman was Andrew Jackson.

Such frivolity, plus considerable stadium improvements, is a key reason the Class A affiliate of the Arizona Diamondbacks has gone from the danger of leaving town in 2011 to on pace to set an attendance record this year.

"People knew the team was here, but they had no interest in going," President Joe Hart says. "Typically, franchises aren't setting attendance records in the 27th year of their existence."

I just missed the free pony rides the night before. But there is a bubble-making machine in center field and a huge water fountain in right, where kids in swimsuits frolic.

"Everybody says you're in the baseball business," Hart says. "But really, at the end of the day, you're in the entertainment business."
Parkview Field. (Photo courtesy of Fort Wayne TinCaps)
Parkview Field, July 6

The Fort Wayne TinCaps are on the field, but the 6-year-old ballpark is the star here, a gem of a place slipped perfectly into the edge of downtown. A new complex with apartments, a law firm and retail outlets peers over the left-field wall. A parking garage with an elevated section of seats—the Treetops, an unsubtle bow to the rooftop seats at Wrigley Field—sits beyond right field. The Fort Wayne skyline is clear in center. There is somehow a bustling intimacy to it all.

The San Diego Padres affiliate leaves no TinCap unturned in appealing to the community. Every full-time employee must be involved in a charity, team President Mike Nutter mentions. They open the ballpark at 7 a.m. so citizens can come in and walk for fitness.

Then there's the food.

We're talking a spread that would make state fairs jealous, from grilled pork chop sandwiches to macaroni and cheese to the $30 Big Apple, which includes four apple dumplings and five scoops of ice cream. (Bring friends, and extra spoons.) Also salads, and veggies with hummus, which is why next to the 2009 Midwest League championship trophy is an award from PETA to honor the ballpark for being vegetarian-friendly.

The TinCaps outdrew 57 of 59 Class A teams last season. A record crowd of 9,182 showed up the other night, even with the team in the middle of a long losing streak. Somewhere between my taco salad and my apple dumpling, they blow a lead and lose this one, too.

Victory Field, July 7

It never gets old—the postcard view of the Indianapolis skyline, the immaculate ballpark, the sense of sheer comfort at an Indians game. And the crowds keep coming for Indiana's minor-league flagship.

"The best thing we've got going is Victory Field and reasonably priced family entertainment," says General Manager Cal Burleson, who vows the franchise will never lose sight of that mission. Helium is not as stable as the Indians.

There is also the strong scent of the major leagues. Take this night. Pittsburgh Pirates stalwart Francisco Liriano makes a rehab start and gives up three hits while whiffing eight in six brisk innings against Lehigh Valley.

It's also dollar night at the concession stand. Hot dogs for a buck. I confess only that I had fewer hot dogs than Liriano had strikeouts.
Bosse Field (Photo courtesy of Evansville Courier-Press)
Bosse Field, July 9

Fenway Park and Wrigley Field. Those are the only professional baseball homes older than this one, built in 1915, so the history greets you at the front gate like an usher. From the brick walls, to the steel beams, to the numbers on the scoreboard still turned by hand, to the large Racine Belles signs—leftovers from 1991, when Bosse Field was used in the movie "A League of Their Own."

You can park so close, there is a disclaimer on page 14 of the program that the Evansville Otters are not responsible for cracked windshields from foul balls. Think they have that in Yankee Stadium? There are church buses unloading by the front gate, and kids lined up to get their faces painted, sure signs of a community in tune with its Frontier League independent franchise. The Otters led the league in attendance last year at 3,200 a game and are a strong second this season.

Public Relations Director Mike Radomski mentions how the Otters "mean everything to the community, because the ballpark is literally built in the community. We have the history on our side, which we love to share with everyone. We get people that come in every day from all parts of the world that say, 'I saw this movie which featured Bosse Field, and I had to see it for myself.' It just happened today."

The Otters have an on-field contest before every half inning. You haven't seen baseball until you've seen pluck-a-polyp. Contestants pick Styrofoam polyps off a colon design and toss them over their heads, while other contestants try to catch them. Brought to you by your local Ohio Valley Colon and Rectal Surgeons.

What could beat that for the night's highlight? Well, Evansville's Chad James does throw a no-hitter.

The perfect way to end the tour. Back in Fort Wayne, Nutter had said, "Baseball's pretty alive and well in the Hoosier state. People will come out for good value." So I had seen, in every corner of Indiana.•

__________

Lopresti is a lifelong resident of Richmond and a graduate of Ball State University. He was a columnist for USA Today and Gannett newspapers for 31 years; he covered 34 Final Fours, 30 Super Bowls, 32 World Series and 16 Olympics. His column appears weekly. He can be reached at mlopresti@ibj.com.