Twenty years ago, a sleepy field near Zionsville was little more than a hangout for glider pilots and piston-powered leisure fliers. Terry Airport was also the butt of jokes by the occasional business flier.

"Businessmen came in and said to each other, 'Boy, aren't you glad you're not from here?'" recalled Dan Montgomery, who worked as a mechanic at what's now known as Indianapolis Executive Airport.

Managed by Montgomery for Hamilton County Airport Authority, Executive has grown to become the preferred corporate airport for many companies and wealthy fliers in the northern suburbs.

In fact, Executive's takeoffs and landings have swelled 20 percent over the last four years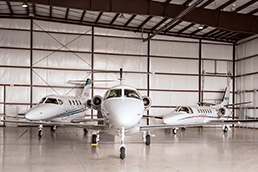 Indianapolis Executive Airport is attracting jets owned or leased by wealthy north-siders. Hamilton County Airport Authority, which owns the location, is considering extending the runway. (IBJ photo/Eric Learned)
That growth is generating competition for the four smaller airports Indianapolis Airport Authority runs locally to relieve pressure on its flagship Indianapolis International Airport: Indianapolis Regional Airport at Mount Comfort east of Indianapolis; Eagle Creek Airpark on the northwest side; Hendricks County Airport at Danville; and Metropolitan Airport at Fishers.

Most of the competition for Indianapolis International and its reliever airports comes from Executive Airport because it's large enough to handle jets.

That's forced Indianapolis Airport Authority to work harder to draw businesses and wealthy fliers based or living near Executive Airport in far-northern suburbs such as Carmel, Fishers and Zionsville.
Indianapolis Executive Airport built a sprawling canopy that shields passengers from the weather as a way to distinguish itself from competing airports. (IBJ photo/Eric Learned)
IAA is dangling lures ranging from new, long-term land leases to encourage companies to build hangars to a 500-foot runway extension to be completed this year at Indianapolis Regional.

Indianapolis Regional and Executive Airport are tied in runway length at 5,500 feet, and the extension will bring Indianapolis Regional to 6,000 feet.

"When you get to 6,000 feet, that's when the larger, corporate jets become all warm and fuzzy" to use, said Ryan Maxfield, a corporate jet pilot and general manager of Indy Jet, the company hired by IAA to operate Indianapolis Regional.

"Indianapolis Regional Airport will have the longest runway in the Indianapolis area outside of Indianapolis International," Maxfield added.

Take that, Executive Airport.

Many of the 87 aircraft parked at Executive on a recent weekday were business-related. Race car driver Michael Andretti had a Gulfstream and Indianapolis-based Denison Parking had a twin-turboprop. And no less than Lucas Oil's Forrest Lucas flies from Executive.

Indianapolis International Airport needs a little competition, said Montgomery, president of Executive Airport's fixed-base operator, Montgomery Aviation, which supplies such day-to-day services as fuel and maintenance. "Indianapolis International I'd say is our biggest competitor because a lot of people like the longer runways."

And not to be outdone, Hamilton County Airport Authority has been studying lengthening Executive's runway up to 7,000 feet.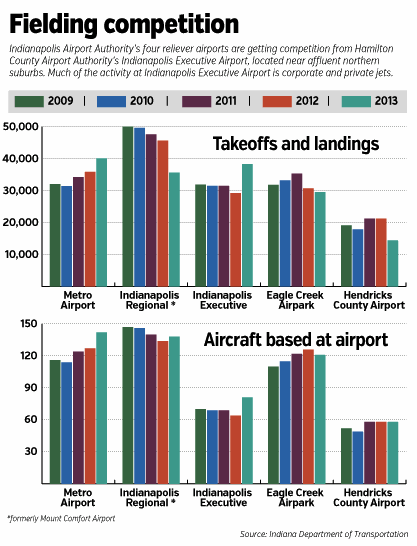 Montgomery's director of business development, Sean White, is quick to qualify what his boss said about competition: "The aviation community is small. We'd all like to see aviation in general grow."

Compete on location, service

Montgomery, working with the Hamilton County Airport Authority, has helped make Executive a formidable competitor by trying to run a better fixed-base operator.

"I knew I could do a better job of running the FBO," Montgomery said.

He went to a bank for a loan to build his own hangar.

Now, the airport has a modern, two-story terminal sandwiched between two, 18,000-square-foot hangars. Most of the aircraft inside are small jets, such as Lear jets and Cessna Citations.

"I said, 'Build it and they will come.' I took a gamble. They came," he said.

The most recent addition was a massive canopy out the back door of the terminal that resembles something out of a NASA back lot. Aircraft can pull in and shield passengers from sun or precipitation while they board or deplane. Think of the largest aircraft hangar you can think of—with two walls removed.

Montgomery's wife, Andi, who is director of operations, questioned whether such a structure would help generate cash flow. But Montgomery said the canopy is known far and wide in aviation circles for its unusual feature—the only such structure in Indiana. It's also part of a broader push to improve customer service.

"When you roll up to the [terminal], you know your passengers are getting taken care of," said Kevin Bennett, a pilot for Carmel-based Zotec Partners, a provider of radiology billing and practice management services. Zotec's jet was cooling off under the canopy on a sunny afternoon, ready for boarding.

"Dan and Andi Montgomery do a great job. Their personal touch is all over that airport," said Perry Griffith, chairman of Indianapolis-based Denison Parking.

Griffith also said airport rent is fair and, like other regional airports, "you don't have the [longer] taxiing times you have at Indianapolis International."

Montgomery lives in a house next to the airport, allowing him to run out to top off the tanks of a medical helicopter at 2 a.m. or to fire up the snowplow in a heartbeat. He reckons that if the airport isn't operating as it should, he has no one to blame but himself.

"Location is the whole key—and customer service."

Not to be outdone

Those same draws are touted by leaders of Indianapolis Airport Authority and its FBO, Indy Jet.

Indianapolis Regional is only a few miles from that other bastion of wealthy north-siders—Geist. The airport also touts its quick access to Interstate 70, which is only a couple miles south of the airport.

The marketing mantra is, "We're the fastest way to Indianapolis," Maxfield said.

Indy Jet also boasts of its designation as a Corporate Aircraft Association "preferred" FBO, which is one of those customer service designations that helps put the airport on the map.

Indianapolis Regional is home base to about 140 planes—including twice as many jets as just three years ago. Last year, 15 companies used the airport that had never operated at Indianapolis Regional, according to Indy Jet, and five relocated aircraft to the airport.

Another barometer of growth is the 14-percent increase in jet fuel sales this year over 2013. Because roughly 65 percent of aircraft get fuel at their home base, it's another indication of growing corporate jet use at Indianapolis Regional.

As further incentive to draw corporate aircraft to Indianapolis Regional and the other reliever airports, Indianapolis Airport Authority late last year announced an initiative to spur construction of "prime" private hangars.

Aircraft users, or third-party developers who could construct and then sublease hangars, may qualify for up to a year of free land rent, based on how much they invest.

Indianapolis Airport Authority is also offering more lucrative, long-term leases based on how much is invested in new hangars—up to a 40-year lease for an investment of $250,000 or more.

There have been no takers. That's no surprise, though, as "you don't see people building hangars every day," said Robert Duncan, IAA's deputy executive director.

Most of the big private hangars that house corporate aircraft—for such firms as Eli Lilly and Co. and Simon Property Group Inc.—are at Indianapolis International. Longer runways and a control tower at Indianapolis International mean those aircraft can operate more often during inclement weather.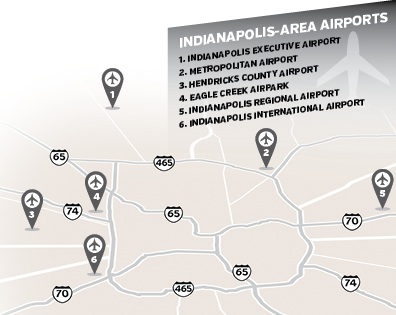 But extending Regional's runway to 6,000 feet is expected to be a game changer. Already, Indy Jet is looking at constructing a 15,000-square-foot hangar of its own in conjunction with the runway extension.

Duncan noted that FBOs at the various airports in the region also compete on such things as fuel prices, maintenance services, flight charter businesses and flight schools.

This might explain why Executive Airport's Montgomery is quick to point out during a tour that his flight school now has a full-motion simulator—something uncommon at a smaller airport.

"We have one brand new student today," Flight School Manager Becky Walker tells him, as he walks through the department.

Getting creative

But even smaller reliever airports in the metro area are holding their own—and sometimes in creative ways.

One might well do a double take at the sight of a turboprop with Colombian Army markings at Eagle Creek Airpark. It's not a scene from "Miami Vice." Rather, Eagle Creek Aviation Services, the FBO, has been refurbishing and upgrading planes for the South American country.

The FBO also sells small jets, including the Embraer Phenom, despite a relatively short runway of 4,200 feet. And its maintenance business has upward of 40 employees.

Eagle Creek Aviation also operates a jet aircraft charter service, known as First Wing, whose clients include a firm that frequently flies to West Virginia.

"It's so much more productive for [the executives] to take an airplane," said Matt Hagans, CEO of Eagle Creek Aviation. "The reason these guys use airplanes is, it multiplies their personal productivity. They spend more time with their families" rather than staying overnight.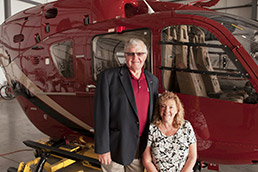 Dan and Andi Montgomery, who operate Indianapolis Executive Airport, have built the field from a place that once was the butt of jokes by occasional business fliers. (IBJ photo/Eric Learned)
Like the other FBOs, Eagle Creek also helps firms that don't want the expense of their own aircraft—offering shared ownership arrangements. It also is home to aircraft owned by company CEOs, such as Interactive Intelligence chief Donald Brown. He owns a single-engine turboprop—a TBM 850—that seats six and goes 350 mph.

"I use it for a lot of business travel because I can go non-stop anywhere east of the Rockies and just about anywhere on three hours' notice," Brown said.

He likes the ability to have "open-ended" meetings with customers, prospects or employees "and just head home when the meeting is over."

That's like the time he took five of his software developers to a remote area of Minnesota to meet a customer. "We were able to fly in and out the same day, which would have been impossible otherwise. The company just reimburses me pro-rata per passenger for the portion of the fuel used."

Several companies known to have aircraft didn't return phone calls. The use of corporate aircraft was vilified back in 2008, when the heads of the nation's automakers flew to Washington, D.C., to beg Congress for taxpayer bailouts.

Indiana corporate modesty is also the antithesis of a Donald Trump, whose own Boeing 757 sports a "TRUMP" livery.

"Let's face it, Indianapolis is not the West Coast," Hagans said.•