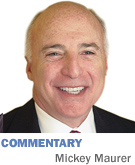 In 2006, I presided over the dedication of Intech Park at 71st Street and Interstate 465, the largest true technology park in Indiana. As secretary of commerce, I was charged with formally designating and according economic benefits to qualifying Indiana projects. Intech was the best of that lot.

The formal luncheon was a full house that included public officials and executives from the companies benefiting from the development. The keynote speaker, an exuberant Martin Jischke, then president of Purdue University (he is always exuberant), praised the innovative developer of the park, Bob Lauth.

Intech was but one of the many achievements of Lauth Group Inc. The Indianapolis company's revenue had doubled from 2004 to 2005 and then doubled again from 2005 to 2006. Bob had won awards including Ernest & Young Entrepreneur of the Year. Lauth Group was named a Best Place to Work by the Indiana Chamber of Commerce.

Bob also was busy in the community. He formed Lauth Property Group Foundation in 2004 to support community programs benefiting underprivileged youth, and he served on the boards of the Chamber of Commerce, St. Vincent Health, IU Kelley School of Business and Park Tudor School.

In 2008, Lauth Group was the 13th-largest developer in the United States. It was developing nearly $700 million in new projects a year and had a lot of chips on the table. To keep up with its growth and to reduce leverage, Lauth formed a real estate holding company, Lauth Investment Properties, contributed many of its projects and allowed outside investors to invest. Inland American Real Estate Trust opted to invest $228 million. Both parties expected to earn an appropriate return.

The ability to lease newly built space is especially important in the cyclical real estate development industry. The recession brought that to a halt. Despite Bob's efforts to reduce debt, the holding company—like many developers—was stressed. Perhaps in retrospect Bob's timing could have been better, but he did not deserve what happened next.

As nationwide demand dried up for office, industrial and retail developments, Lauth Investment Properties defaulted on payments to Inland. Rather than use good-faith efforts to assist the partnership in a situation that was becoming all too common throughout the industry, Inland attempted to take over all of the completed and leased properties and leave Bob to deal with a large portfolio of projects under construction and in lease-up—a potential disaster for him and his lenders. He resisted—forcefully.

A nasty spat ensued between Inland and Lauth Investment Properties. It was ugly and expensive. Bob fought valiantly and essentially won. He preserved the assets with value in excess of a billion dollars, completed the projects, settled with Inland and protected and paid off his lenders, the vast majority of whom demonstrated patience and support.

Lauth Group began again to grow its enterprise. Last year it purchased the Congressional office building at 116th and Pennsylvania streets, repositioned it and sold it to auto fleet insurer Baldwin & Lyons Inc. at a profit reported to be in the millions. It acquired a retail center in Avon, and it formed Lauth Communities to reenter the multifamily arena with the acquisition of Bluestone Apartments in Greenfield.

The team recently completed projects in Atlanta, Baltimore, Dallas and Indianapolis for long-time client Life Science Logistics and finished its third project locally for Vance & Hines. Its many other projects in the works range from retail developments for tenants including Gander Mountain, Dick's Sporting Goods and grocery retailer Fresh Thyme Market, to corporate headquarters and medical office buildings. It makes one wonder where Inland would have been had it used a softer glove.

Lauth Group is entrepreneurial in spirit, passionate about its clients and committed to giving back. It remains management owned and debt free, as it was throughout the recession.

Bob Lauth is creative, bright and resourceful. Add one more adjective to that list: resilient. I salute him for his achievements before, during and after his struggle with the recession, and I look forward to reading about more of his successes in the midst of a brilliant career.•

__________

Maurer is a shareholder in IBJ Corp., which owns Indianapolis Business Journal. His column appears every other week. To comment on this column, send e-mail to mmaurer@ibj.com.