Mass Ave—particularly around the intersection of Massachusetts Avenue and East Street—has been bursting lately with new dining options. First there was Pizzology, opening in the old Aesop's Tables space. Then, Nine Irish Brothers emigrated from West Lafayette to set up shop. Now, just a few steps up the block, the most creative of the three, Union 50 (620 N. East St., 610-0234), is open for business.
The latest from the Cunningham Group (already represented nearby with Mesh on Mass and Bru Burger Bar), Union 50 has turned a former union hall into a surprisingly expansive dining/entertainment space.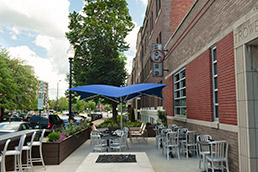 The exterior of Union 50 doesn't hint at the expansive interior (see below). (IBJ Photos/ Eric Learned)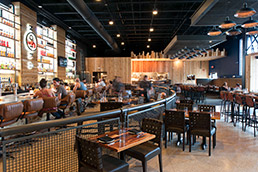 Your first impression might be the patio dwellers dining on the umbrella-adorned East Street side of the chunky brick building. The main entrance, though, is actually down a walkway where the building seems to transform into something more akin to Cunningham's suburban Stone Creek Dining Company and Boulder Creek Dining Company locations.
Inside, the large main room, which retains design elements of the 1950-vintage union hall, has a large bar and dining area and a stage for live music. In the early dinner hours, kids are welcome—although they don't have access to the Skee-Ball machines and shuffle table, which are cruelly confined to a separate lounge area reserved for grown-ups.
The menu, which will change seasonally, is divided into Petit ($6-$10), Bistro ($10-$18) and Grand ($18-$28), encouraging sharing, mixing and matching. On two visits, we liberally pieced together meals from all over the menu.
The Espresso-Porter BBQ Pork ($16) stacked shredded pork between and above slices of Cuban bread with sunflower shoots and fennel-onion soubise (a puree that goes well with the bread). Delicious—especially when paired with the Duck Fat + Rosemary Hand-Cut Fries ($5/$7). The fries are available in four styles (the duck fat beat the truffle oil we tried on a later visit) and accompanied by two of five sauces.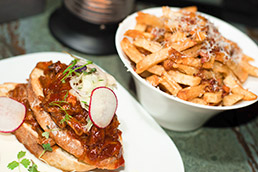 A wide variety of fries are essential sides at Union 50.
On a second visit, we started with a Board ($12 for three items/$4 each additional), opting, after much deliberation,for Chorizo, Potato-Bacon Terrine and Habanero Havarti served with crostini, grain mustard and cornichons. You can turn the decision-making over to the chef if you want to spring for the $30 Grand Board, featuring six items, artisan bread and two extras, with choices including a mustard flight, Goat Cheese Stuffed Peppadew Peppers or Edamame-Avocado Hummus.
Thick with sesame soy glaze, the Sticky Chicken Wings ($10) were true to the name and not recommended if you are on a first date. Kimchi Meatloaf ($15) was almost upstaged by the tasty Colcannon Potato Fritter and Apple-Yuzu Jam that rounded out its plate. And Seared Duck Short Rib ($18)—featuring duck breast, duck crackling, glazed baby beets and grapefruit salad—was, to my companion's taste, the best duck dish he's ever eaten.
Too late for dinner? Union 50 also offers a tempting late-night menu of the aforementioned fries and "haute" dogs. Based on what I sampled already, I look forward to discovering just what that means. Perhaps over a few games of Skee-Ball.•
—Lou Harry
Please enable JavaScript to view this content.