To hear financial planner Joe Clark tell it, putting together a successful retirement strategy is a lot like whipping up a mouth-watering meal.

Begin with the end in mind, envisioning how you want the final result to look (and taste), then take the steps necessary to get there. Make a mistake, and you have to adjust on the fly or deal with the consequences.

"The two things that seem to matter to people the most are food and money," said Clark, managing partner of Anderson-based Financial Enhancement Group and an accomplished home chef. "Never mess with someone's billfold or their belly."
Joe Clark brings all the ingredients, plus pans and knives, to client dinners. Chicken marsala is among his favorite dishes to prepare. (IBJ photo/Eric Learned)
Clark has found a way to combine the two, cooking for client families in their homes once or twice a month as he answers questions and gets to know them better. The pace has picked up since April, when The Wall Street Journal ran a story about his unusual approach.

Clark isn't fazed by the attention. An adjunct associate professor at Purdue University, "Big Joe" is a regular economic analyst on CNBC, hosts a weekly radio show on two Indiana stations, and writes a newspaper column for the Anderson Herald Bulletin.

And his cooking is no joke, either. Inspired by the gift of a "Sopranos" cookbook many years ago, Clark has taken classes at the famed Cordon Bleu culinary institute in Paris and in Tuscany.

His go-to dish for client dinners these days is chicken marsala with rustic fettuccine, a single-course meal he can put together in just over an hour.

He brings all the ingredients, along with his own pans and knives—sometimes prompting a subtle lesson on the importance of using the right tools for the job, or maybe on the value of knowing which ones are worth spending a little more to add.

"You can't necessarily tell the difference in how it tastes when you use a good knife, but we just took down an onion in less than a minute," he said while slicing and dicing in a Geist-area home one recent Wednesday evening.

He adds kosher salt to the sauté pan in stages, to accent the flavors of each ingredient. That message is more direct.

"It's like with retirement: You can't just dump it in at the end," he said. "People think as long as they get it in the pot, it doesn't matter."

Clark is a natural teacher, seamlessly weaving together food and finances as he fields questions from families and their guests. He's equally at ease discussing the market's performance, a particularly good red wine, hospital revenue or his upcoming Grand Canyon hiking trip.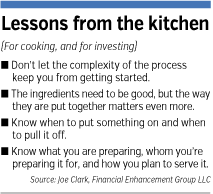 Like any good cook, he's a little more circumspect about some details, like which spices he added to the flour used to coat chicken breasts. Asked what it contained, he answered with a sly look and a big smile: "Love."

Carmel residents Tom and Dawn Waltz opened their kitchen to Clark a few months ago, inviting their two adult children and Tom's brother and sister-in-law to join them. The Waltzes have been clients for about a year, Tom said, moving their business from another planner because of Clark's down-to-earth approach. The dinner reinforced their decision.

"It made us realize we really were in a family-type situation here," said Waltz, a 59-year-old software developer for ExactTarget. "That is very important to us."

Clark values the personal connections, too. Although the dinners sometimes result in new business—Waltz's brother ended up signing on with Financial Enhancement Group, for example—he insists that isn't the primary goal.

Whether it happens at a client's home or a restaurant or a group dinner, Clark likes to "break bread" and get better acquainted with the families he serves.

"Everyone likes to eat," he said. "Some people love the idea that I go and cook at their homes. Some are appalled. … few things are as personal as cooking."

Financial planning is one of them. Given the intimacies of the industry, it's important for clients to have confidence in their advisers, Clark said.

As he teaches his students at Purdue, there are four factors a planner needs to consider when trying to land new clients. Topping the list: Do they like and trust you?

"Then I pause and say, 'Because of Madoff and Schrenker and others who have abused that trust, the other three no longer matter,'" Clark said, only half-joking.

Expertise is also important, along with establishing a clear planning process that clients both need and understand.

Clark again turned to the kitchen to make his point.

"More people are afraid of cooking for someone else than of managing their own 401(k)," he said, citing the immediate consequences of a recipe gone wrong. "But you can throw away a bad meal and order pizza. You only get one shot at retirement."•