Edward Rose Development Group is asking Carmel to issue up to $11.5 million in tax-increment financing bonds to help pay for a parking garage and infrastructure in an $80 million mixed-use project it's planning.
The Carmel City Council will consider the measure Monday evening after preliminary approvals last week from the Carmel Redevelopment Commission and Carmel Clay Plan Commission. The CRC could finalize the deal at its next public meeting.
Dubbed The District, the development spans about 30 acres southwest of the roundabout at Main and Old Meridian streets. It's expected to include multifamily housing, a senior-living facility, owner-occupied townhomes, a boutique hotel and some retail.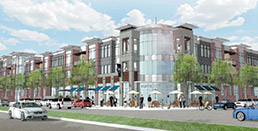 The District is expected to include apartments, retail and senior living. (Rendering courtesy of Edward Rose)
Plans call for beginning site work next year and delivering about 300 of the 400-plus apartments in June 2016, Rose's Matt Hare told the CRC. If the proposed schedule holds, construction would be complete in 2018.
Proceeds of the TIF bonds would be used to build a 500-space parking garage, to extend Grand Boulevard west and north from Old Meridian to tie into Main, and to build internal streets that enhance traffic flow.
Tax-increment financing is a tool used by governments to encourage development. It captures increases in property tax receipts due to new development to help pay for public infrastructure that supports the development.
The parking garage is needed to achieve the desired density on the relatively small site, Hare said. If the funding is approved, it would be built in conjunction with the first phase of apartments. The company would own and maintain the structure, he said.
Rose also would guarantee the bonds, agreeing to service the debt if property taxes generated by development fall short—reducing risk for the city and cash-strapped CRC.
The developer is proposing to share the so-called tax increment with the redevelopment commission, keeping just 75 percent of the TIF revenue expected to start flowing in 2018. The CRC's share would help cover payments on about $486 million in existing debt.
Hare said Rose would retain ownership of the senior-living facility and apartments and is working with other developers on the townhomes and retail. The Michigan-based company is finalizing a deal with an experienced hotel developer/manager, he said.
The hotel and at least one stand-alone commercial building are planned for Main Street, a key connection between U.S. 31 and downtown Carmel.
Please enable JavaScript to view this content.