Chris Walczak is old school, meaning that, by today's standards, he's a bit unconventional.
The 55-year-old owner of Indy Visitors Channel fuels his business with door-to-door sales calls and cements deals with hand-shakes instead of signed contracts.
But it was his new-school technological savvy that got him into the business of piping advertising into local hotel rooms through closed-circuit television channels, a venture he says has been profitable from day one.
 

Walczak
The native of Buffalo, N.Y., went to work selling satellite dishes—the big ones—in the early 1980s after graduating with a business degree from the local campus of the State University of New York system.
He worked for a number of electronics wholesalers before landing at DSI Systems Inc. in Fishers just over a decade ago. When he touched down in central Indiana, he couldn't help but notice the hotels had no closed-circuit travel channel.
"It seemed like almost every city had one, even some smaller and midsize cities," Walczak said.
He met with Visit Indy officials and realized the problem with launching such a channel locally was mostly technical.
"They simply didn't know the right middle-ware companies to get it done," Walczak said.
But years in the electronics business had filled Walczak's Rolodex with names of people who could weave an additional channel into hotels' network and cable offerings. In 2000, he had helped the people who started a similar channel in Philadelphia with broadband connections.
In 2009, Walczak launched Indy Visitors Channel, started signing deals with area hotels—Conrad Indianapolis was first—and with his own money started installing the hardware necessary to bring the channel to life.
"The hotels don't pay a dime," he said.
Though Walczak wouldn't discuss financial specifics, he said it took a five-figure sum to launch Indy Visitors Channel.
"It was the technological hurdle that was difficult," said Walczak, a self-described tech wonk who became enthralled with computers in the mid 1980s.
According to Walczak—the sole full-time employee—once a hotel is wired, there is little upkeep cost. His on-air talent, videographer and production crew are contracted.
Advertorials abound
Indy Visitors Channel produces a one-hour show that runs as a loop 24 hours a day.
The channel intersperses features on area attractions with paid advertisements. The features often mention advertisers or focus the spotlight directly on them. Walczak makes no bones about mixing news and advertising content. Advertisers can buy 15-second or 30-second spots or "advertorials," which run several minutes.
"I don't delineate between the ads and the entertainment," Walczak said. "People want to be entertained while they're being informed and that's what we do."
Walczak has only two rules: No competing hotel ads allowed in the hotel where the channel is being played, and all content must be "G-rated."
Indy Visitors Channel started by focusing primarily on downtown, but has expanded to features on attractions in places like Broad Ripple and northern suburbs.
Walczak is working on a feature on the downtown Cultural Trail and the new Indiana Pacers Bikeshare program. The feature will focus on what visitors can stop and see—including a number of the channel's advertisers—along the urban trail.
His low overhead combined with a growing client list—including the likes of Shula's, Saffron Café, South of Chicago Pizza, Kona Jack's and Good Earth—has kept his revenue increasing at a double-digit percentage year over year, Walczak said.
Rising demand
As Walczak wires the channel to more hotels, demand to air on the channel increases.
Indy Visitors Channel appears in 6,500 downtown hotel rooms, 3,500 rooms in north-side hotels, and another 1,000 at hotels near Indianapolis International Airport—the place he's most focused on developing now.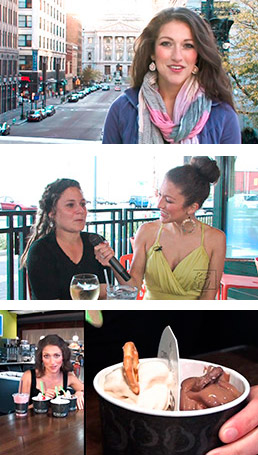 The channel intersperses features on area attractions with paid advertisements. (Photos courtesy of Indy Visitors Channel)
"It's a niche market, but it can be a good one if your business relies on travelers for business," said Bruce Bryant, president of locally based Promotus Advertising.
Pearings Café & Frozen Yogurt, 6 W. Washington St., is one of those businesses.
"In the mornings and afternoons, our clients are mostly local, but in the evenings, our customers are primarily visitors," said owner Matt Meinema, who has advertised on the channel for the last year. "If there are conventions in town, our business will double or triple. So we know there's a big potential client base in those visitors and we need to reach them."
Bryant added that the "cost to advertise on these channels usually isn't very much, so some companies find it cost-effective."
Walczak cracks a smile when asked about advertising rates. Upon the advice of a fast-talking ad veteran, he set up a simple price structure when he launched his company—$5 a day plus $50 a month in trade for gift certificates or something else he wants. And it worked.
"It was like the McDonald's value menu of advertising," Walczak said with a chortle. "Simple and inexpensive."
Constructing credibility
Bob Schultz, Indianapolis Downtown Inc. vice president of marketing and communications, remembers the early days of the channel.
"His product was new enough that there was a need to demonstrate a return on investment for the advertising," said Schultz, who was a communications executive with Visit Indy predecessor Indianapolis Convention & Visitors Association when the channel launched. "Most of the hoteliers understood the value because they had seen it in other cities, but it took the advertisers a while to catch on. It took him a while to build his credibility."
As the credibility of Walczak and his channel began to take hold, he slowly raised rates for new advertisers. But he said once a company is in, their rates usually don't go up. That means some are still paying the low introductory rate.
"I had people telling me that I should hike the rates during the [2012] Super Bowl," Walczak said. "I guess I don't have the killer instinct. A lot of my clients I consider friends, and I didn't feel like suddenly raising the rates just because a big event was coming to town was the right thing to do."
Even with the recently elevated rates, Walczak said he can "accommodate advertisers for a few hundred dollars a month."
No signature required
And, yes, there are no signed contracts.
"I'm so old school, I don't have contracts with anyone," Walczak said. "I simply go around each month, meet the [customer] and pick up a check. I don't mean to sound unsophisticated, but that's the way I do business."
But what about long-term commitments? Walczak isn't interested.
"If my clients see an increase in business and want to stay with us, that's what we want," Walczak said.
The value of advertising on travel and visitor channels in hotel rooms is on the rise, said Ball State University advertising professor Bob Gustafson, especially in a city like Indianapolis with a "definitively growing convention and tourism market."
"People constantly search for information on the cities where they travel," Gustafson said. "Sure, they can go to the Internet, but because there's one of these channels in almost every city, people know they can rely on them to get information on the sights and sounds of a city they're in. Who doesn't turn on the TV at some point in their hotel room? And, bam, there's the local visitors channel."
A visitors channel is an amenity many travelers have come to expect, said Jim Dora Jr., CEO of General Hotels Corp., which operates 11 hotels in Indianapolis, including the Crowne Plaza Hotel downtown.
"Lots of travelers are looking for places, especially quirky out-of-the-way places to go to, and this is a good portal for that type of information," Dora said.
Bigger need in Indy
For a city like Indianapolis, which doesn't have the high-profile destinations of tourism and convention cities like Orlando or Las Vegas "it's even that much more of a resource," Gustafson said.
Retired Hall of Fame baseball player Cal Ripken Jr. used the channel to locate one of those out-of-the-way destinations.
One night a couple of years ago, Hal Yeagey noticed Ripken entering his south-side restaurant, Hal's Fabulous Vegas Bar & Grille, with an entourage of a dozen people. When Yeagey asked Ripken how he discovered his restaurant on State Road 135 just south of the Marion-Johnson County line, Ripken reported he'd seen it featured on Indy Visitors Channel.
"That's quite a trek from downtown to Hal's restaurant," Walczak said. "So [the ad] must have had an impact on him."
Little research is available showing how many people watch closed-circuit travel channels, but a study commissioned by the Philadelphia Visitors Channel showed that about two-thirds of hotel guests watched that channel for an average of 25 minutes during their stay.
Indy Visitors Channel reaches 200,000 people per month, Walczak said, and there's one especially attractive feature to his channel's audience: "People who travel aren't looking for deals and discounts. They're looking for an experience."
Meinema, the Pearings Café & Frozen Yogurt owner, said there's no doubt advertising on Indy Visitors Channel has helped his business.
"Every week—every single week—people come in here and say, 'I saw you on TV,'" he said. "They saw us on the visitors channel."
Walczak is pleased with his company's performance, adding that he'd like to grow his reach from 11,000 hotel rooms to 15,000 to 18,000.
"I provide a good service for my clients and the visitors of this city and I make a comfortable living," he said. "That's all I ask."
Walczak said he has no interest in selling his operation.
"Maybe someday," he mused. "Right now, I just enjoy the heck out of what I'm doing too much."•
Please enable JavaScript to view this content.