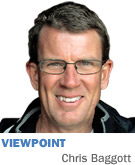 As many people know, ExactTarget started in a small room in Greenfield back in 2000 and grew into a global company with thousands of employees, an initial public offering and a $2.7 billion buyout by Salesforce.com.

What isn't commonly known is that we funded the company with basically $5,000 checks. By badgering pretty much everyone we ever met, we were able eventually to accumulate $200,000 to launch the company.

My aunt had recently divorced when we started the company, but her lump-sum settlement of about $800,000 wasn't enough to make her an accredited investor (having a net worth greater than $1 million). Therefore, she was barred from investing $5,000 in her nephews' (Scott Dorsey and me) company.

The result was that, in 2013, when those accredited investors were getting checks of around $1.5 million for their $5,000, my aunt was broke.

She had spent her settlement on a boat, a motorcycle, new cars and a lake house that depreciated; she also moved into a neighborhood she couldn't afford—pretty much anything she chose except investing in her nephews' business.

Which is why I'm compelled to publicly congratulate Secretary of State Connie Lawson and her team, including Securities Commissioner, Carol Mihalik, on the exemption added to Indiana Code 23-19-2-2 in this past legislative session.

The securities code has a terrible name, but the exemption is an amazing accomplishment that will do massive good for the Indiana startup community.

The provision basically removes the accredited-investor limits on investments of less than $5,000 in private companies. This might not seem important, but the federal government passed the Jumpstart Our Business Startups Act back in April 2012 and has yet to develop rules or guidelines to enact it. So credit must be given to Indiana for having the courage to be among the first states to take control.

The rules kept not just our aunt from investing in ExactTarget, but a lot of our families and friends. It also kept many others from investing in other small companies.

In the eyes of the government, people with less than $1 million are not sophisticated enough to invest in private companies. We always found it interesting that the government picked this area, and not others, to decide what individuals can do with their money.

The point isn't that ExactTarget was some kind of sure thing. Far from it. The odds were enormous that our investors would have never seen a dime. Investing in us back then was probably stupid. But then so is buying a motorcycle or a lake house.

All small businesses and startups in Indiana should learn more about this new crowdfunding rule and find ways to benefit from it.•

__________

Baggott, formerly chief marketing officer of ExactTarget and co-founder of Compendium Software, operates Tyner Pond Farm near Greenfield. Send comments on this column to ibjedit@ibj.com.