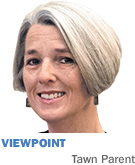 After Hurricane Katrina, I went to New Orleans to help build a house. At a fundraiser before the mission trip, I bought a button bearing a photo of a life preserver and the words "Enter the land of hope."
Last summer, I came across the button as I prepared for a major career switch. After more than 20 years in journalism, I was leaving the newsroom for the classroom. Teach For America had accepted me into its ranks as a "nontraditional corps member," and I took a job teaching English as a second language at an Indianapolis Public Schools elementary on the west side.
The move had been a few years in the making. Immigration issues became important to me after my husband and I adopted our own immigrant, a baby girl from Guatemala, in 2007. The challenges confronting new arrivals to this country became quite personal as I imagined on them the face of my daughter.
Volunteering with Latino groups and assisting at my children's schools led me to consider a second career in education. Teach For America's program enabled me to work while also pursuing my teaching certification and master's degree.
So a year ago, after some intensive training, I set up shop in my own classroom, where I had to supply every pencil, glue stick and pair of scissors. Some disadvantages of teaching were immediately obvious: I missed a decent paycheck, adult conversation and the freedom to get a cup of coffee or go out to lunch when I felt like it. I struggled with losing the confidence that I was good at my job. And, as I wilted into my chair at the end of a difficult day, I understood down to my bones why most teachers retire by age 60.
What kept me going was hope. Which brings me back to my New Orleans button. Early in the year, it became clear that some of my students had virtually given up on themselves. Kids like "Antonio," a fourth-grader who scored at a preschool reading level. And "Juanita," who had never recovered from being left in Mexico for several years while her mother journeyed to the United States to find work.
Then there was "Carlos," who got off the school bus one day with his 5-year-old sister to be greeted by a police officer on his doorstep. The police had ransacked his home and arrested his father. Carlos feared that his mother, who also was undocumented, might be arrested as well. They moved in with friends, then he and his sister went into foster care. Carlos became distracted at school. He was suspended for fighting.
These children need an education. But they also need to believe their education matters. I decided that perhaps the most important thing I could do as a teacher was to make my classroom, as the button said, "a land of hope," where the possibility of a better future seems very real indeed.
Can I develop the skills to become the excellent teacher I want to be? Can I expedite my students' progress in English so they can catch up to their grade level before it's too late? Can I inspire kids like Antonio, Juanita and Carlos to believe in themselves so fiercely that they can withstand the kicks and blows life will continue to deliver?
I don't know. But I wear my button, and I have hope.•
__________
Parent, a longtime editor at IBJ, is a teacher for Indianapolis Public Schools. Send comments on this column to ibjedit@ibj.com.
Please enable JavaScript to view this content.