Van Rooy Properties plans to convert an aging apartment complex near the IUPUI campus into market-rate units by spending about $2.5 million to renovate the property.

The project marks the second time in recent years that Van Rooy has converted a downtown property from low-income to market-rate housing.

The local apartment owner and manager bought the 44-unit Ransom Place at 1352 Dr. Martin Luther King Jr. St. in the early 1990s and has operated it since as Section 8 housing for low-income residents.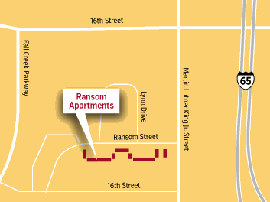 Van Rooy is set to start the rehab this month and should complete it in about six months, said Russ Seiler, the company's vice president of finance and development.

The revamped project will be known as Ransom Apartments. Two-bedroom units in the eight-building complex will rent for $950 per month, about double what they command now.

Current tenants will receive a voucher for alternative housing, Seiler said.

"Our goal by no means is to replace that population," he said. "But these properties are 50 years plus. They're older and need updates."

The rehab at Ransom Place follows a similar project at Van Rooy's Campus Apartments. The 104-unit complex at 735 W. 11th St. east of Indiana Avenue and just south of Ransom received a $5.4 million makeover in 2011.

It's now fully occupied, mostly by IUPUI undergrads, said Seiler, noting that the demand for more student housing near the campus is partly driving Van Rooy's decision to undertake the conversion projects.

Ransom is the last Section 8 housing complex the company owns.

"Some of this is driven by the market," Seiler said. "Rents in downtown allow you to be more profitable than keeping [a property] in its past form."

To be sure, downtown Indianapolis is in the midst of a multi-family housing boom. About 3,500 additional units are expected to become available in the next three years.

Van Rooy isn't the only apartment owner converting units in the IUPUI area from affordable housing to market rate.

In March 2012, urban residential specialist Axia Urban LLP bought out of foreclosure Dunbar Court at the northwest corner of 10th and MLK streets, just south of Ransom, and renovated it as well, said Michael Wernke, senior vice president of investment and multifamily services at Colliers International.

Wernke brokered the deal while at Marcus & Millichap.

"[Axia Urban] definitely took the use from lower income into more market rate and students, and raised the rates dramatically," he said.

What's driving the redevelopments are the changing demographics of the Ransom Place neighborhood, buttressed by the IUPUI campus expanding from the south and the construction of IU Health's Neuroscience Center to the north, on the south side of 16th Street.

At Ransom, Van Rooy plans to overhaul the units. It plans to install new kitchens and bathrooms, as well as new finishes, trims, doors, floor coverings and light fixtures. In addition, the buildings will receive new roofs and windows.

A city board of zoning appeals granted the company a zoning variance in late July allowing it to move forward with the redevelopment.