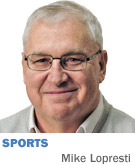 It is the third inning of the 8,417th Indianapolis Indians game of Max Schumacher's career and, yes, he'll be glad to sit down and watch awhile. Time for some baseball stories.

He is all Indianapolis, down to his last strand of DNA. From Shortridge High School to Butler, Butler to the Army, Army to the position of Indians ticket manager in 1957. By 1961, he was general manager. By 1970, team president.
The U.S. has had eight presidents since then. The Indians have had one Max Schumacher. Yeah, he must know some stories.

Take the time in the 1980s that local businessman Art Angotti tried to get a big league team to Indianapolis, which would have been the end of the Indians.

"They brought in Harry Caray, they developed a logo, they were going to call themselves the Arrows. But that never figured. The Chicago teams would never let it happen, or Cincinnati. [Reds owner] Marge Schott was very vocal about it. 'Over my dead body will Indianapolis ever get a major league team,' was her famous quote. It was a foolish statement for her to make because there was nothing really to it, anyway. All she did was alienate Reds fans who lived in central Indiana."

I mention Harmon Killebrew.

"He was playing third for us. He didn't hit much. Mr. Bush (then-Indians' president Owen Bush) didn't have a lot of patience. I remember I kept stats by hand and taking my stat sheets in and showing Mr. Bush how much better Harmon had done, and trying to convince him he was on the right track. But he had seen him strike out too many times, so he asked Washington to reassign him. We got Stanley Roseboro."
Max Schumacher on Victory Field: "We've been able to keep the honeymoon alive for 18-plus years…" (IBJ Photo/ Eric Learned)
Stanley Roseboro is lost to history. Killebrew ended up at Cooperstown with 573 home runs.

One Killebrew P.S. He had a cereal endorsement deal, and cases of Wheaties used to arrive at the ballpark. He offered them to Schumacher. "I'm newly married and not making a lot of money as ticket manager for the Indianapolis Indians," Schumacher says. So he took them home. Free breakfast!

It is the fourth inning, Toledo leads 4-0, and the subject is Bob Uecker. He was an Indian one year, until Bush got mad about his slovenly batting average. No more Uecker. Flash to 1996, when Schumacher had the idea of putting the names of past Indians greats on the new Victory Field suites.

"As kind of an afterthought, I thought there might be some interest in Bob Uecker. He wasn't a good player, but there might be somebody who'd want him. So I put him on the list and we had a debate among several of the suite holders on who was going to get Uecker. We had to have a drawing, and Ray's Trash Company got him. They still do to this day."

More Bush stories. How he would get mad if Schumacher didn't postpone at the first whiff of rain or cold. Or why the Indians had the league's best record in the league in 1962 and '63, and after each season, the manager was gone.

"He liked for his manager to come in in the morning and talk to him about the team. Managers don't like to come in in the morning because they're up late at night with games. But he would want them to come in at 10 o'clock in the morning and sit down with him. Luke Appling (1962) was old school and he didn't cotton that. He didn't do it. Rollie Hemsley (1963) didn't either."

That was the end of both.

I mention one of the most memorable Indians of all. Razor Shines bounced between Indianapolis and Montreal from 1983-85 before retiring, then changed his mind in 1986.

"He comes walking in my office on the 4th of July," Schumacher begins. "We're getting ready for a big crowd and fireworks, and he walks in and wants to unretire. I made a deal with the Expos we would bring him back as a bullpen catcher and pay him until he went on the active roster. I sat down with Razor and negotiated a two-year contract, which is unheard of in the minor leagues. I said, 'Razor, I'm not going through all this to have you retire again next year. I am going to insist you sign a two-year contract.'''

What followed were golden years, with four consecutive American Association championships, and Shines there the whole way.

On July 3, 1996, the Indians played their last game at Bush Stadium. On July 11, they opened Victory Field. Schumacher was too relieved to be sentimental about leaving the old place.

"It was falling apart literally brick by brick. So it wasn't that difficult for me to walk away from, even though I had met my wife there and my kids grew up there."

The roll of the years have been a cherished intersection of family and baseball—the loves of his life. Times were tough early on, but there the former Judith Whybrew always was, sitting behind the screen at games so the kids would be safe, teaching them how to keep score. She still keeps score, and their sons work for the Indians.

"When you look back on it, the best job was keeping the team in business," Max says. "Those were touch and go years, and there were a lot of times you weren't sure where the next payroll was coming from. Sometimes the bills were late, but they were always paid."

He convinced a Democratic governor (Evan Bayh) and Republican mayor (Stephen Goldsmith) what a new downtown park would mean to Indianapolis. And it has. Victory Field ensured blue skies. So does a veteran staff. The Indians are renowned for their stability. General Manager Cal Burleson is in his 40th year working for the club.

In right field is the Max Schumacher victory bell. A story to tell? Sure. He vowed to ring it only once, and let others do it after that. He kept waiting, the Indians kept losing. By his count, he went out there at least four times before the team finally got a victory, so he could ring his bell.

"With every new ballpark, you have a honeymoon period. Two or three years where everything is going to go well. We've been able to keep the honeymoon alive for 18-plus years now. You do it with a good staff. We know what we're doing, and it shows."

It is the eighth inning, and Schumacher gives a quick tour of the Indians' suite, with its cases of autographed baseballs, and a heartfelt jersey from 1949.

Frank McKinney. Sr. was chairman of the Indians board and the man who hired Schumacher. He also had a son, Frank Jr., who became Bank One CEO and died in the infamous mid-air collision southeast of the city that killed four civic leaders on Sept. 11, 1992. Long before 2001, 9/11 already meant tragedy to Indianapolis.

The jersey is the one Frank McKinney Jr. wore as an Indians batboy.

Schumacher could tell stories until dawn, but there was just time left for him to duck next door to another suite to chat with fans. There is where we should leave him, 81-years-young in his chosen universe, still blessed with the one certainty he learned so long ago, when his father took him to Bush Stadium: There are few things better than going to the game.

"To see the ballpark wake up each day," he says, "that never gets old."•

__________

Lopresti is a lifelong resident of Richmond and a graduate of Ball State University. He was a columnist for USA Today and Gannett newspapers for 31 years; he covered 34 Final Fours, 30 Super Bowls, 32 World Series and 16 Olympics. His column appears weekly. He can be reached at mlopresti@ibj.com.