Quick-delivery, to-your-door service used to be the domain of pizzerias and express package-transport firms.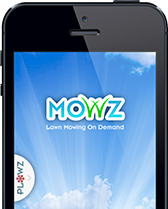 Mowing services will be launched by mid-August.
The Internet and ever improving smart-phone technology are changing all that.
Now you can order a limo ride, cleaning service or a handyman without making a phone call. And starting this month, Indianapolis area residents and business owners can order up lawn mowing and snow plowing services the same way—through an app.
Syracuse-based Plowz & Mowz launched last November—just in time for one of the worst winters in recent memory—and already has expanded to 30 U.S. cities.
It has hired 14 Indianapolis-area contractors and is launching service here in mid-August. It will start by offering mowing services but plans to have dozens of plowing contractors lined up before the first flakes fly this winter.

Mahoney
Wills Mahoney and his former Syracuse University roommate Andrew Englander, both 31, co-founded the company to answer a common problem in the northeast.
Mahoney, who operated a small Syracuse IT firm the last eight years, said the idea for Plowz & Mowz popped into his head as he struggled to find someone to plow his mother's drive.
"We get a lot of snow here, and you can never seem to find an available plow service when you need one," Mahoney explained. "I thought we could use technology to solve an all-too-common problem."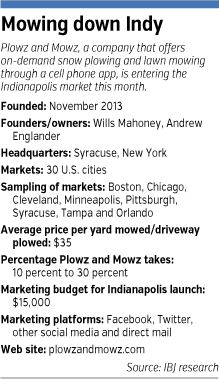 Mahoney and Englander worked with New York-based app developer Lamplighter Labs to come up with the software needed to power the company.
Local lawn care and snow plowing firms will have to react to Plowz & Mowz in the same way that local taxi cab and limo companies had to react when Uber and Lyft infiltrated the market last year, said Mark Hill, chairman of TechPoint, an Indianapolis-based group that promotes the state's technology industry.
"They'll have to improve their services," said Hill, who is also an Interactive Intelligence board member. "If they don't, they risk being left behind.
"There's a real disruption going on in a lot of places with the integration of technology across so many service sectors," added Hill. "This is a perfect example of that."
Local taxi cab companies have tried to improve how fast they get to callers and have begun to launch their own cell phone apps to compete with Uber and Lyft. Employing the latest cell phone and GPS technology may not be an option for many local lawn care and snow plowing operations.
"A lot of those are smaller companies that don't have the wherewithal to adopt technology like this," Hill said. "But it will force existing service providers to figure out how they're going to change to better serve their customers. They may have to improve customer relations, overall service, offer better pricing and better management of when they mow your lawn."
Hill also thinks that if Plowz & Mowz technology proves effective, it could give rise to more lawn mowing and plowing service providers in the market. He said that could especially be the case with snow plowing, where "everyone needs it at the same time."
How it works
What makes the system work so well, Mahoney said, is a GPS system that tracks where all Plowz & Mowz service providers are in real-time. That means Plowz & Mowz service providers can get there quickly while using as few resources as possible.
Here's how it works: Customers use a smart-phone app (or go online) to request snow plowing or lawn mowing. For plowing, they describe their drive or terrain, and for mowing the size of their yard and length of their grass. They snap a quick photo of their grass and send it off to Plowz & Mowz. The company sends back a price and a timetable to do the work—usually that same day or the next day. With snow plowing, customers can request immediate service at a premium price.
The app sends the request to service providers logged into the platform, and the company's software awards the job to the closest provider who wants the work. That's a similar approach to the popular car-sharing services Uber and Lyft.
Plowing and mowing prices usually range from $25 to $45.
The customers pay by credit card—with information submitted through the app—and the service provider receives payment within 24 hours, Mahoney said.
Customers' cards are not charged until they are sent a photo of the completed job through the app, Mahoney emphasized. Plowz & Mowz, which has eight full-time employees at its Syracuse headquarters and three in Manhattan, takes a 10 percent to 30 percent cut.
Why Indianapolis?
Indianapolis, Mahoney explained, will be a good market for Plowz & Mowz because of the density of upper-middle class homes—especially on the city's north side and in Hamilton County—the metro area's relatively compact size, Uber's sweeping success here, and its weather.
"This is the perfect market to deploy both our Plowz & Mowz services," Mahoney said. "These are the types of markets we want to focus on."
While the company doesn't discuss its financials, Wills said revenue is "way ahead of our expectations." Company officials anticipate being in 60 markets this time next year.
And it's not just good for those seeking to get out from under a snow dump or be rescued from out-of-hand fescue.
"We give [service] providers an opportunity to make a lot more money on their route," Mahoney said. "Some of our snow plow providers have made an extra $1,000 in 24 hours through our app. That's happened quite a bit this past winter."
The same benefit, he said, goes for the company's lawn mowing contractors.
In Minneapolis, the convenience of the app for home and business owners and the allure of extra cash for plowing companies spurred the company to quickly sign up 90 service providers.
While some lawn mowing and plowing service providers have grumbled about Plowz & Mowz entry into their markets, Jerry Ungerman, who operates Grassman Lawn Care in Pittsburgh, Pennsylvania, isn't complaining. This summer, he signed up to be a Plowz & Mowz contractor and says he now gets 40 percent of his business from the company's app.
"I get notified two days in advance of any jobs, and I can send them out … the work orders to my guys, and it's on the route," Ungerman explained. "It's pretty easy."
Steve Gleason, who has a lawn mowing service that covers northern Marion County and Hamilton County, doesn't think Plowz & Mowz will have much of an effect on his business.
"I've got my regular customers, and I don't think this will pull them away at all," Gleason said. "This [Plowz & Mowz] seems to be catering to a different type of clientele … maybe someone looking for the occasional lawn mowing. I could see, though, where it could take a bite out of some local snow plow companies if you're not affiliated with it. We'll have to wait and see how widely it's adopted."
Plowz & Mowz finds many of its drivers through rating services such as Yelp and Angie's List. Many providers, Mahoney said, now come to the company via word of mouth.
"We do a thorough screening of all our providers, and users have a chance to give immediate input after their job is done," Mahoney said. "If our service providers aren't stacking up, they're gone."
Fast expansion
The company started with 20 drivers in Syracuse. Demand was so great, Wills said, that two months later the company expanded to Buffalo and Rochester, New York; and Minneapolis and St. Paul, Minnesota.
Wills, who doesn't ski or enjoy other cold-weather outdoor activities, said he's "never really liked winter." These days he may be changing his tune.
"Snow is money," he said. "The demand for this service has been off the chart."
Mahoney and Englander expanded the company into lawn mowing in May. The diversification is intended to keep Plowz & Mowz humming during warmer months and maintain revenue levels during years with not-so-snowy winters.
They quickly set up shop in Orlando and Tampa, Florida; as well as Richmond, Virginia.; Raleigh, North Carolina, and others cities along the East Coast and throughout the southeast. Cleveland and Chicago are two Midwest markets where the firm is running strong, Wills said.
Plowz & Mowz has hit some divots along the way. Some markets including Buffalo, Mahoney said, haven't worked out. The ideal market has a robust upper-middle class and a knowledge of companies like Uber, which uses a cell phone app to help people find car and limo rides.
"It's a lot easier to explain our service to people who are familiar with the Uber app," Mahoney said. "That's always been a big help for us in our customers' learning curve."•
Please enable JavaScript to view this content.