There are a thousand details to deal with when opening a restaurant and a few hundred of them don't have anything to do with food. There's no set formula for the alchemy of atmosphere, attitude and eats—each new establishment has to figure that out for itself.
I hope time and smart management help fine-tune those elements at BarRio Taco & Tequila Bar (3855 E. 96th St., 218-3186), a promising spot where the elements are in play but the recipe doesn't quite work yet.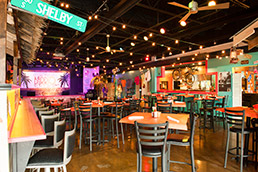 The festive interior of BarRio. (IBJ Photo/ Eric Lerned)
During the dinner hour when we visited, a staffer inexplicably offered two two-top tables to our party of four instead of any of the many larger tables. Festive decorations, rather than adding playful atmosphere, stood out artificially instead of organically in overly bright lighting—including one light shining awkwardly in my face. And the duo on stage, while talented, didn't have much presence.
Still, I found myself rooting for the latest tenant in what used to be Daddy Real's The Place.
We opened the jovially served meal with a Flight of Salsa ($6), the remains of which proved useful throughout the meal. The flight comes with Rojo, Verde, Mango and BarRio's signature fire-roasted tomato. Our foursome was all over the board in voting for our favorites. Your mileage, too, may vary.
The menu is dominated by tacos, plated in twos and threes. The Baja ($8/$10) let the lightly batter-fried Mahi Mahi control the flavor over the fresh mango pineapple salsa. The Carnitas ($8/$10) behaved similarly, with pickled red onion and salsa verde accenting but not overwhelming the slow-cooked pork. The Chorizo ($9/$11) was a bit less effective, with the sausage lacking defining flavor. All were served in double white corn tortillas and all were more satisfying—if a bit sloppier—once we removed the outer shell.
Our server had assured us that the Quesadilla ($10, with a choice of marinated skirt steak, grilled chicken or char-grilled veggies) came with a dollop of guac at its center, so we didn't order it separately. Surprise: no such addition, although the Quesadilla was just fine.
For dessert, we were told the excessively popular Peanut Butter Banana Changa ($4)—a deep-fried, cinnamon-sugared, tortilla-wrapped banana with cayenne chocolate sauce—was a sellout. Plan B meant less dramatic but happily devoured Churro Bites ($6) coated in cinnamon and sugar and served with that same chocolate cayenne dipping sauce.
BarRio offers Poker & Jazz on Sunday, $3 margaritas and karaoke on Monday, Service Industry night on Thursday, and more events throughout the week. That programming energy is to be applauded. Too few eateries offer live entertainment and encourage playful connections between patrons.
Now about the cardboard George Clooney on the stage …•
—Lou Harry
Please enable JavaScript to view this content.