The Noblesville Preservation Alliance said Friday morning that student loan firm Navient has agreed to donate two acres of land on the west side of its Fishers campus for the relocation of the historic Flanagan House.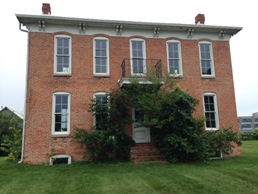 The 153-year-old house, at the southwest corner of 106th Street and Kincaid Drive, had been scheduled for demolition June 9. With the urging of Indiana Landmarks and the Noblesville Preservation Alliance, property owner Thompson Thrift agreed at the 11th hour to delay demolition. The firm also agreed to make a contribution toward the estimated $100,000 to $130,000 it would cost to move the home if a new site could be found.
Thompson Thrift and local partners acquired the house along with the rest of the 70-acre Delaware Park commercial subdivision earlier this year. Located near a planned I-69 interchange, the property is zoned for retail, office and industrial use.
With the land donation, the Noblesville Preservation Alliance is now focused on raising the funds needed to move the Flanagan House from its current location to Navient's campus on USA Parkway this fall.
Delaware-based Navient, which was spun out of Virginia-based Sallie Mae this spring, is one of Indiana's largest employers. It has 2,300 workers in the state, including 1,400 in Fishers.
"We are honored to help preserve a part of [Fishers'] history by providing the Kincaid House with the land for a permanent home," Jon Kroehler, a Navient senior vice president, said in a statement.
The site provided by Navient is less than a mile from the where the home currently sits.
The Flanagan House is an Italianate-style farmhouse built by the Peter Flanagan family in 1861 from clay bricks made on-site. The house was more recently owned by Dan Kincaid, a descendant of Loma E. Kincaid, the founder of L.E. Kincaid Meat Market in Illinois Street in Indianapolis.
 
Please enable JavaScript to view this content.