Calling longtime caterer Jack Bayt "detail oriented" would be an understatement.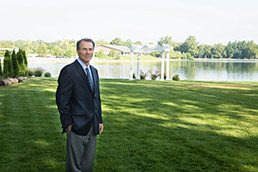 Jack Bayt's Crystal Catering is back, in leaner form than when Sun Capital sold it in 2008. (IBJ photo/Eric Learned)
When the 57-year-old founder of Crystal Catering crosses the parking lot of The Willows, his event venue on Westfield Boulevard in Broad Ripple, he stoops to pick up any stray sticks and stones he finds besmirching his blacktop. He used to compulsively pull weeds in the facility's garden area, until one day someone pointed out that he'd gathered a fistful of poison ivy.
"I can't help it," he said. "I'm a perfectionist. That's what people say about me."
His last decade in the food service industry would have been tough on anyone, let alone an admitted control freak. In 1987, he and a few family members started Crystal. In 1995, it was acquired by Marsh Supermarkets, kicking off several years of impressive growth. Unfortunately, the growth wasn't quite impressive enough for Florida-based Sun Capital, which purchased Marsh in 2006 and, in 2008, offloaded Crystal Catering's assets to a competitor.
Just like that, the company that was the centerpiece of Bayt's life vanished.
"When you don't have control, you ultimately can't control your destiny," he said. "We're just all sad at the way it ended. We wanted to see it stay together and continue to grow. But having said that, it all worked out for the best for everyone. We can still do it again, only on a different scale. And we're comfortable with that."
Today, thanks to a highly unlikely chain of events, Crystal Catering is, indeed, back in business—though it's much smaller than in the days when Bayt and his partners wanted to become a regional or even national player. Instead of managing the food service needs of everyone from the Indianapolis Zoo to the Indiana Convention Center, the new company mostly confines its activities to The Willows and downtown's The Crane Bay and Indiana Roof Ballroom.
"The difference now is that we really just want to be what we are, which is a small boutique company that manages the facilities that we control," Bayt said.
These days, Crystal does about $4 million in annual revenue, a sliver compared with the nearly $100 million it generated annually during the last years of its former incarnation, when it ranked as central Indiana's largest caterer.
The company worked with a veritable who's who of local executives, including Arthur Felsher, now president of Melvin Simon & Associates, the Simon family's private real estate company. He got to know Bayt in the late 1980s and early 1990s, when he served as liaison for the building that includes The Indiana Roof Ballroom—where, then as now, Crystal was exclusive caterer.
"It's a very tough industry," Felsher said of food service. "You've got a lot of competition, and there are only so many events. Jack put together a team of professionals that's been able to address these large events for years. I think he's got a really good name in the industry."
Nationally, about 10,000 catering firms generate some $7.1 billion in annual revenue, according to the National Association for Catering and Events.
Though companies can enjoy annual revenue in the millions, most are small, and often confined to a specific region. The catering field has grown more crowded as non-traditional players have entered the market, including celebrity chefs and restaurants branching into providing meals for events, said Bonnie Fedchock, the association's executive director.
'Hard-driven'
The original Crystal Catering, owned by Bayt, his brother Dan, his sister Antonia and a cousin, was definitely more old school.
"We were really hard-driven; we were food people," Bayt said. "Somewhere along the line, to survive, we morphed into a food-services company."
In other words, while catering weddings and other social events could be lucrative in good times, bookings nosedived whenever the economy tanked. To gain more and steadier revenue, the company picked up food service gigs for everything from businesses to museums.
"We finally found a great formula that worked," Bayt said. "That's when we really started growing."
The company hooked up with Marsh Supermarkets to learn the company's systems and figure out how to get even bigger. For a while, things looked promising. It all culminated with a 2007 deal to handle catering for the Indiana Convention Center.
"That would have been the catalyst to launch us on a national scale," Bayt said.
But it wasn't to be. The firm Crystal beat out for the contract, South Carolina-based Centerplate Inc., acquired Crystal from Sun in 2008. And just like that, it went from national contender to historic footnote.
The comeback began about three years later. A non-compete clause required Bayt to sit out the first 18 months. Then he spent another year and a half largely avoiding anything related to knives and forks. Finally, slowly, he was drawn back into food service. Mostly because his sister, Antonia Zunarelli, who was managing the Indiana Roof Ballroom, wanted his help.
"I waited tables or whatever," he said. "I did that for about a year, and then that passion I've always had for this business caught hold and I said, 'OK, I've got to do this better.' Next thing I knew, I'm doing it again."
Starting anew
In 2010, he helped reformulate a company made up of himself, his sister and two cousins. But Bayt has no formal title.
"I guess I'm the vice president of something," he said.
The new outfit initially went by the moniker Fountains Catering, after The Fountains Banquet & Conference Center in Carmel, which the company managed.
Bayt got use of the place after a complicated three-way deal among himself, Sun Capital and another investor, David Stevenson. The idea was to dispose of four facility leases left over from the Centerplate deal—the only bits of the old Crystal "that the big guys didn't want," Bayt said.
During the bargaining, Stevenson acquired the rights to the Crystal Catering name, which he sold back to Bayt for a dollar.
The company managed The Fountains for a couple of years before graduating to its current lineup. Through his sister, Bayt already had a long-term agreement with The Indiana Roof Ballroom. Then in August 2011, former Indianapolis Colt Gary Padjen took control of a dilapidated, 18,000-square-foot industrial facility at 551 Merrill St., in the shadow of Lucas Oil Stadium. Which was a pretty good place to be at the time, with the Super Bowl pending. The cavernous structure, named The Crane Bay, made headlines for hosting the Rolling Stone Super Bowl Party. It piqued Bayt's interest.
"My sister Antonia and I had always wanted to have a warehouse-type property," he said. "Something that was more industrial-looking."
The Crane Bay definitely had that gritty, industrial look. What it lacked were such niceties as central heating and cooling. After about six months of negotiation with Padjen, Bayt's company bought an ownership stake in 2012. Then it chipped in a half million dollars for renovations.
"When Jack and I got together, with the experience he had and the knowledge he had, it was a great fit," Padjen said. "Plus, he was willing to come in and buy a percentage of The Crane Bay from me. It was a fair deal and it's been a great relationship."
The final venue to come into the fold was The Willows. Bayt had owned the property for decades, but leased it in recent years to another operator, Five Star Catering, which called it The Riverwalk. When Five Star balked at making extensive upgrades and opted to leave, Crystal early this year stepped in and launched the renovations.
"It's north of half a million," Bayt said of the price. "Well north of that. Technically, we won't be finished for at least two years, because we're going to have extensive landscaping. We really want to make this a beautiful, estate-type property."
He plans to publicly relaunch The Willows this fall. It includes two 10,000-square-foot facilities, both overlooking a lake. One has a somewhat formal feel, while the other offers a "shabby chic" look. There's also a 3-1/2-acre garden area for, among other things, outdoor weddings.
The reborn company has attracted a few key employees from the old days, including T.K. Nelson, the current vice president of sales. Nelson said the new operation is more focused on staying on the culinary cutting edge than, say, putting out 10,000 sandwiches for a business meeting.
"Even though we did a great job then, we're doing an even better job now, focusing on being very trend-forward in food and service," he said.
"Having the facilities that we do, they've just got so much character to them. Down at Crane Bay, we've done over a hundred events, and I don't think we've served the same menu twice."
While the new Crystal has emerged as a significant local caterer, it's not trying to do everything, like in the old days. Bayt said he would like to slowly rebuild the company's reputation, become the city's premier caterer—and stay in control.
"We're not going to do the Indianapolis Motor Speedway anymore and serve 50,000 people in one day," he said. "We're not interested. We're just small guys flying under the radar. We're just staying low-key."•
Please enable JavaScript to view this content.