Homebuilders Brad Davis and Paul Estridge Jr. belong to a select fraternity.
They're prominent Indianapolis builders whose companies faltered during the housing downturn, only to re-emerge in another incarnation as the residential market slowly gains steam.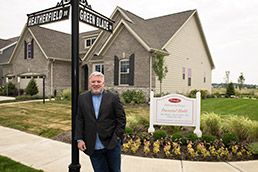 Paul Estridge Jr. says his firm employs 21 and likely won't get much bigger. (IBJ photo/Eric Learned)
Scores of builders nationally—about 40 percent—went bust during the housing meltdown, according to the Washington, D.C.-based National Association of Home Builders. But no federal data exists to track how many have bounced back, said Stephen Melman, the group's director of economic services.
"It's an industry full of very small players, and it's always churning," Melman said. "The small guys can't hold on; they don't have deep pockets."
Survivors Davis and Estridge each took a different path on their return to relevance.

Davis
Davis, 54, shut the doors to longtime family business Davis Homes in 2008, opting to focus on renovating foreclosed homes before ramping up the past year to re-enter the building market under the name Davis Building Group LLC.
Estridge, 56, merged The Estridge Group, another fixture of the area's homebuilding industry, into Houston-based David Weekley Homes in April 2011 and became the company's Indiana division president. He launched his new company, Estridge Homes LLC, last October.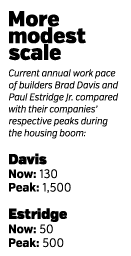 The new ventures are but a sliver of their former selves.
Davis Building Group filed permits for 130 homes in 2013 compared with a whopping 1,500 in 2001 during the run-up to the housing bust. Even so, the latest number was strong enough to rank the company as the area's ninth-largest homebuilder last year, according to IBJ statistics.
By comparison, the largest builder, California-based Ryland Homes, filed permits for 626 residences.
Estridge Homes, meanwhile, will have built or started about 50 homes in its first year of operation compared with the 500 permits The Estridge Group filed in 2001.
Veteran bankruptcy attorney Henry Efroymson of Indianapolis-based Ice Miller LLP said it's not all that unusual for businesses in the service industry to start anew.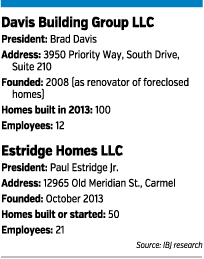 "In essence, a builder is an individual operation," he said. "So it doesn't make sense to maintain a brand or an existing entity when those businesses can start again through a new entity."
Though the numbers may seem small, the return of the two builders speaks volumes about the potential for a housing rebound, said Steve Lains, CEO of the Builders Association of Greater Indianapolis.
"It's another statement that the market's coming back, and it's providing more opportunities [for builders] than in the past," he said.
The numbers lately don't necessarily reflect that optimism: Home-sale agreements declined 13.8 percent in the nine-county area in July, the 11th straight month deals have decreased.
Pending sales of existing homes dropped from 2,725 in July 2013 to 2,350 in July 2014, according to real estate agency F.C. Tucker Co.
Picking up the pieces
The road back to building presented challenges for both Davis and Estridge, but perhaps more so for Estridge.
He lost both his parents within the past year—a blow even more devastating considering they founded the family business in 1967. The company built about 8,000 homes in 20 communities in the Indianapolis area.
Estridge filed for Chapter 7 personal bankruptcy in September 2011, which cost him his home and another in Florida.
"You just have to accept it and you have to get back on your feet and don't ever lose your confidence," he said.
Estridge filed about six months after he came aboard David Weekley Homes. The company recruited him after learning Estridge was on the cusp of closing his business due to a lack of bank financing.
The marriage lasted less than three years and ended, Estridge said, when he was replaced as division president by someone from within the company. The timing proved ideal, though, as the market began to bounce back.
Estridge in 2013 landed a $25 million loan from Charlotte, North Carolina-based Mountain Real Estate Capital, a private-equity firm, to begin acquiring land to build houses. He received a loan from Warsaw-based Lake City Bank for operational costs.
Even former suppliers and vendors of Estridge have returned to do business with the company.
"That's been the most amazing thing I've experienced," he said.
Estridge Homes has 21 employees and likely won't get much bigger, Estridge said. The company, ironically, will be building with David Weekley Homes in the 820-home development known as Harmony at 146th Street and Ditch Road in Westfield.
Estridge will offer seven home styles from 1,400 square feet to 3,600 square feet in Harmony, with starting prices ranging from $225,000 to $425,000. The size of the development should keep Estridge there for at least seven years, he said.
'The Twilight Zone'
The Davis name has been synonymous with Indiana homebuilding since Davis' grandfather and dad began building houses in the late 1950s.
The company built about 25,000 homes in the years since and was one of the metropolitan area's more prolific builders, until the market collapsed in 2008. One of the more ominous signs of trouble was when a large national builder dropped its home prices 20 percent, said Davis, who joined the company in 1985.
"I thought, 'Maybe it's temporary,'" he recalled. "It turned out to be permanent."
Davis closed the family business after whittling the workforce from 100 to about 20. The company completed construction on unfinished homes, in part, by extending payment with vendors from 30 to 60 days. Besides a few "honest" disputes, the company worked out all payments with suppliers, Davis said.
Later in 2008, he started the new venture, Davis Building Group. But instead of building homes, the company bought foreclosures and renovated them for resale.
The company eventually built a few homes, then began ramping up last year, building more than 100 houses as the market showed signs of life.
Davis Building Group is on target to increase the number by 30 this year, Davis said, with plans to ultimately build 200 to 250 homes annually that top out in the $500,000 range.
The company also has a division targeting rural areas that builds homes on large tracts, rather than in subdivisions. In addition, it wants to build the occasional apartment complex. Davis Homes constructed 1,200 apartment units over the years.
Though building has been slow to rebound, Davis Building Group is making progress. It has 12 employees, and Davis managed to rehire his old head of purchasing and operations.
"It was like Rod Serling from 'The Twilight Zone' walked in and said the housing market would drop by 80 percent overnight," Davis said. "Fortunately, it's starting to tick back up."•
Please enable JavaScript to view this content.