The empty space from the departure of one of CityWay's first retail tenants, an Orange Leaf yogurt shop, has been quickly filled thanks to Gandolfo's New York Delicatessen (309 S. Delaware St., 964-0700), a chain sandwich shop that attempts to ape New York sandwich style—even though its first location was in Utah.

While such a chain is never going to have the atmosphere of nearby, homegrown Shapiro's, there's no denying that Gandolfo's knows how to construct a satisfying sandwich.

Let's clear up some menu confusion first. Choices on the New York Favorites portion of the menu are available only as whole sandwiches and are priced accordingly. But the rest of the posted prices represent what Gandolfo's calls a half sandwich, housed on a soft hero roll (although you can sub in a Kaiser roll, rye, sourdough or wheat bread). If you are asked at the register if you want a whole sandwich, know that you're going to have to pony up an additional $3.89.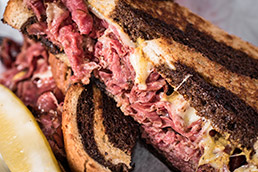 Pastrami on Rye qualifies as a New York Favorite. (IBJ Photo/ Eric Learned)
Even if that's what you want, it's not an easy figure to tack on in your head, especially if you are also figuring in the $2.79 required to kick it up to a combo. A combo, here, means a drink and a choice of deli salad, soup, chips or dessert.

The deli-salad sides we sampled on various visits (Sour Cream Potato Salad, Cucumber Salad, Broccoli and Cheese Salad, Cole Slaw, etc.) came in ample portions and were all improvements over the usual potato chip default setting.

Knowledge of the system is helpful, too, since patrons congregate near the overpopulated menu boards at the entrance before approaching one of two registers to order. If decisions take too long at peak times, backups are possible. After ordering, you take a seat in the small dining area where your food is delivered to you.

New York Favorites include The Pastrami on Rye (available for the odd price of $11.09). It features mounds of salty, not-too-fatty, moist meat with crispy edges, melted Swiss and spicy mustard loaded on grilled marble rye. The sandwich was likely large enough for two small adults, which might justify its hefty price tag to more budget-conscious diners.

Meanwhile, the traditional Rockefeller Reuben ($10.99) isn't as meaty, but it still delivers a good supply of quality corned beef, Swiss and sauerkraut on grilled marble rye.

The I [heart] New York ($10.99 for a whole) piles corned beef, pastrami and Swiss cheese and is served on rye, hot, with either spicy mustard or Russian dressing. Here's hoping you [heart] your cardiologist.

There are some less-traditional efforts. The Godfather ($6.79) is essentially a chicken parmesan sandwich, only with the pounded and breaded chicken sliced into strips. Good enough, but could use some kick in the marinara. The Philly Cream Cheese Steak ($6.69) seemed like unnecessary menu padding, with pockets of cream cheese more distracting than upgrading in an otherwise solid roast beef and mozzarella sandwich. Breakfast sandwiches ($4.29-$5.89) get the day started with various combinations of eggs, cheese, bacon, sausage, etc.

Half of the salads feature meat, including the Bridge Hampton Salad ($5.29/$7.29), where thinly sliced turkey and crisp bacon join Swiss cheese, avocado, tomato and croutons on romaine lettuce. The ingredients were fresh and pungent, and seemed to have been assembled with some care instead of just "tossed" together. A small salad pairs nicely with The Original Potato ($4.89), a freakishly large spud with, yes, bacon, plus Monterey jack cheese, butter and sour cream in ample supply.

Gandolfo's also has locations in Bloomington, Greenwood and Noblesville.•

—Lou Harry