If your early career plan includes changing Indianapolis and also the world, you'll want to meet Jennifer Burns.
The 24-year-old food activist is looking for a couple of dozen twenty-somethings who, like her, share the lofty goals of the World Economic Forum, the organization that gathers heads of state and CEOs each January in the Swiss mountain town of Davos to tackle complex global problems.
Those who join Burns in the World Economic Forum's first youth initiative—the Global Shapers Community—could gain access to prestigious, invitation-only events like the annual meeting in Davos. They'll connect with like-minded people across the country and around the world. They'll also be expected to come up with an entirely new way to make a difference in Indianapolis, a city that's brimming with volunteer outlets for up-and-comers.
 

Burns
"Sometimes it's harder when you have all the opportunity in the world," Burns said, acknowledging the open-ended nature of the Global Shapers' work.
Referred by a friend from high school at Park Tudor, Burns was chosen by the Geneva-based Global Shapers Community to serve as founding "curator" of a new "hub" in Indianapolis.
The World Economic Forum's mission is "improving the state of the world," and Global Shapers is similarly broad. Hubs can work in any arena, Global Shapers spokesman Murray Nicol said. The Manila Hub is opening libraries in hospitals across the Philippines, and the Riyadh Hub organized a job fair for women, attended by 17,000 people.
Burns is passionate about locally produced food, but she said she won't steer the Indianapolis Hub toward that cause. Her job is to scout out the right people and make them gel as a group.
"One of my other passions is bringing people together," Burns said in an interview before departing for Geneva and the annual meeting of Global Shapers curators. "That's something I love to do. That's what I'm most excited about is to be the founding curator of the Indianapolis hub."
If Burns' short but very upward career path is any indication, the Indianapolis Hub will make a mark on the city. Graduating from Davidson College in North Carolina in 2012, Burns came back to Indianapolis with the sole purpose of spending time with her mother, who died last year after battling cancer.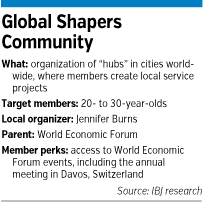 She also immersed herself in the local food scene, joining the board of Slow Food Indy and landing an internship at Green BEAN Delivery, a fast-growing provider of organic produce. This summer, she was promoted to manager of Green BEAN's corporate-wellness marketing program.
Even as an intern, Burns stood out for her ability to command a room, Vice President of Sales and Marketing John Freeland said. As the company began its corporate-wellness initiative, he didn't hesitate to take Burns to pitch meetings with corporate executives.
"I've never seen her stutter," he said.
Launching a Global Shapers hub could be a challenge even for Burns. While all the "Shapers" are young and accomplished, they come from many walks of life, Nicol said. In Kansas City, Missouri, the hub includes a surgeon and a hip hop artist, he said.
Global Shapers began in June 2011 as a way to inject the voice of youth into World Economic Forum discussions. Half the world's population is under the age of 27, Nicol noted. There are 356 hubs around the world and a growing number in the United States and the Midwest, including in Fort Wayne, Cincinnati, Detroit, Chicago and Milwaukee.
Fifty of the more than 4,000 Shapers worldwide are selected to go to Davos.
Ties to the World Economic Forum are no doubt valuable to the young Shapers and their careers, but Nicol said the Global Shapers Community, an organization apart from WEF, is trying to overcome its parent's reputation as host of the ultimate networking event.
"People see Davos as this kind of event for the elite, but the Shapers aren't Davos," Nicol said. "We strive to be different from that and shatter that notion of elitism."
Nicol said that's why Global Shapers focus on local community impact. The hubs are not just networking groups, he said.
"We don't want people thinking the Global Shapers is the World Economic Forum youth group," he said.•
Please enable JavaScript to view this content.