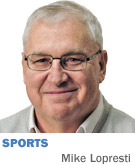 OK, so maybe you can't tell how football has come of age in this state by looking at Big Ten preseason forecasts. Indiana is picked low, and Purdue lower. Put that in your Old Oaken Bucket.
But let's go visit the smaller-print divisions. There, we'll find favorites, heavyweights, juggernauts. All aboard the powerhouse express. One day, three stops.
9 a.m., Franklin College
There are paw prints on Forsythe Street leading you to where the Franklin Grizzlies have won six Heartland Conference titles in seven years. With nine starters back from an offense that averaged 42.2 points a game, this season is predicted to be more of the same—they're No. 25 in the preseason Division III poll—though the quarterback and top receiver must be replaced.
Across the street from the stadium is the office of Mike Leonard, who came to Franklin via Japan, among other places. The Hanover College grad has a varied resume, from Tuscaloosa to Tokyo. He was a graduate assistant at mighty Alabama, spent several years at his alma mater, and was offensive coordinator with the Tokyo Recruit Seagulls, a semi-pro team that won the Japanese national championship. You haven't coached football until you've coached the Rice Bowl in the Tokyo Dome.
Leonard got that job when he was riding in an elevator in Atlanta one night at a coaches' convention, and someone—turned out to be the Seagulls' head coach—asked if anyone in the elevator knew how to tutor quarterbacks. Leonard raised his hand, and the next thing he knew, he was coaching Far East Peyton Manning-wannabes.
"I thought I would go over there and be God's gift to football," he said. "Not the case at all. I was so humbled. Some of those 24-year-old Japanese players knew more football than I did."
He also had to learn some Japanese. "Now I can speak it about like a 3-year-old."
But that was in the 1990s. He's doing fine in English at Franklin. The Grizzlies are 31-1 in the league the past four seasons.
"We've got to pinch ourselves occasionally," Leonard said, "because I remember being 2-8."
Division III is as different from Tuscaloosa as a Ford Focus is from an Escalade. Then again, it isn't. Leonard mentioned a phrase he learned from a mentor when he was at DePauw.
"The Big Time is where you are," he said. "The game is the game. To win a Division III conference championship is every bit as important to our guys as it is to A.J. McCarron winning the SEC championship at Alabama."
Speaking of titles, the defending NCAA Division III national champions from Wisconsin-Whitewater will be at Franklin Sept. 13. It's not the cushiest home opener. They've met four times since 2010, and the Grizzlies are 0-4.
"We're going to work to find a way to win. We're going to have to get creative," Leonard said. "The players who will play in that game, five years later, 20 years later, will feel good about it."
noon, University of Indianapolis
Sit by Bob Bartolomeo's desk and you can't miss the plaque that marks his Greyhounds leading all of Division II in scoring defense last season, giving up but 13.3 points a game.
"Quite a feat," he said.
So was losing only two fumbles the entire season while going 10-2, which is not by accident. It takes practice and purpose, not Super Glue.
"If you fumble," he said, "you're going to sit."
Indianapolis, No. 18 in the preseason Division II poll, returns many of its key components, which is bad news for the Great Lakes Valley Conference. The Greyhounds have been in the league two years and gone 15-0 in conference games. Perfecto.
"There's pressure. These kids don't want to be the first team to lose a conference game," Bartolomeo said. "But at the same time, the confidence to be able to beat those teams is also there."
Bartolomeo understands football in Indiana, as a Merrillville native, Butler graduate and coach, and Ball State assistant. He has seen the sport blossom—the surge that Peyton Manning built. He has seen the quality of prospects take a quantum leap. He is 33-14 in four years at Indianapolis, and he's done it by recruiting the high school fields of central Indiana. On his two-deep roster are 17 players from the metropolitan Indianapolis area.
"For us to do what we've done, we've been able to keep some of the local guys around," he said. "In terms of recruiting, we've got to win those battles.
"Do we have guys that could be playing in the lower Big Ten? Without a doubt. Maybe not at Ohio State or Nebraska, but the lower Big Ten schools. It's a numbers game. They can't take them all, so we get them."
In the lobby of the team's indoor practice bubble is a banner signed by all the New York Giants and a quote of gratitude from Tom Coughlin. The Giants used the facility to prepare to win Super Bowl XLVI. The Greyhounds plan to use it to prepare to keep their hands around the throat of the GLVC.
3 p.m., Wabash College
It takes 48 steps to get from coach Erik Raeburn's office to the Monon Bell, that 300-pound symbol of mastery over DePauw in one of the nation's most charming rivalries.
Raeburn played in Ohio and coached in Iowa, so he needed some orientation.
"When I got the job here, everybody and their brother were trying to tell me how important that game is. Every school I have been at has had a rival, but this is ratcheted up another level. It's one of those deals you can't totally appreciate until you get involved in it."
He's done fine, winning the last five Monon Bell games. He's done pretty well on other weekends, too, going 56-10 and 37-5 in North Coast Athletic Conference games. Last year, the Little Giants were 9-1, outscoring their opponents 466-113 and leading all of college football with a plus-24 turnover ratio.
Sixteen starters are back, so Wabash will still be formidable. But then, Raeburn is used to constant winning, since he played and coached for Mount Union's Larry Kehres, who went a mind-boggling 332-24-3 with 11 Division III national championships. John Wooden with headphones.
Or as Raeburn calls him, Uncle Larry. Being the nephew to a legend has its upside when a coach needs advice.
"I can pick up the phone at any time," Raeburn said. "It's like I was in computer software and Bill Gates was my uncle."
Wabash has always done well with families. The roster is dotted with relatives of former Little Giants. All-American linebacker Cody Buresh is one of four brothers to attend Wabash. There apparently is a direct pipeline from the Buresh living room in Holland, Mich., to Crawfordsville.
Note the season opener. There are only four all-male colleges left in America, and two of them—Wabash and Hampden-Sydney College of Virginia—will meet in Crawfordsville Sept. 6. It's called The Gentlemen's Classic, what else? Maybe they can share stories about life without coeds. That Wabash is No. 16 and Hampden-Sydney No. 21 in the polls makes the day that much better.
"They're one of the few schools we have a lot in common with, so it's kind of unique," Raeburn said. "But from a coach's standpoint, they're a good football team that we have to play. That supersedes anything else.
"If you're just a football fan from this part of Indiana, it'd be hard to find a better game to go watch on Sept. 6 than that one, for five bucks. You'd have to break out a couple of $20s just to get a parking spot at Ohio State."
Yep, college football royalty can be found in Indiana, for budget prices. You just have to know where to look.•
__________
Lopresti is a lifelong resident of Richmond and a graduate of Ball State University. He was a columnist for USA Today and Gannett newspapers for 31 years; he covered 34 Final Fours, 30 Super Bowls, 32 World Series and 16 Olympics. His column appears weekly. He can be reached at mlopresti@ibj.com.
Please enable JavaScript to view this content.