The Indiana Blood Center is set to lose more than one-third of its revenue early next year, as three hospital systems bolt for cheaper prices offered by the American Red Cross.
The blood center learned in August that its largest customer, the Indiana University Health hospital system, had decided to switch its blood supply contracts to the Red Cross. The not-for-profit also expects to lose its contracts with St. Vincent Health and Union Hospital in Terre Haute, due to lower prices offered by the Red Cross.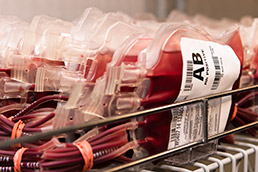 About 100,000 volunteers donate blood each year to the 62-year-old blood center. (IBJ photo/Eric Learned)
Combined, those three contracts bring the blood center $22.5 million
per year, out of its overall annual revenue of $61 million. The contracts will end between January and March of next year.
So the 62-year-old blood center, which depends on steady donations of blood from volunteers, must reinvent itself.
"We're retooling our business model," said Byron Buhner, CEO of the Indiana Blood Center, which collects and tests blood from about 100,000 donors each year, then delivers it to 60 central Indiana hospitals. It claims about half the market share in central Indiana, even more than the Red Cross.
Even before it learned of its loss of contracts, the blood center had started talks with three other centers in Illinois, Michigan and Wisconsin to join a group they formed called the Centers for Transfusion and Transplant Medicine, or CTTM.

Buhner
Joining the center would not be an outright merger because the blood center would retain its own board and executives. But it would allow the consolidation of back-office functions—such as finance, purchasing, human resources, etc.—in order to save money. That could mean the blood center reduces its staff of 345 full-time workers, although that's not certain yet.
"We know that we're going to have to bring our costs down," Buhner said.
But it could also mean the Indiana Blood Center gets access to new markets that need the blood it collects from central Indiana residents. The CTTM's members have recently won new contracts with hospitals in the Chicago area, so they need more blood, said Wendy Mehringer, the Indiana Blood Center's vice president of blood services and chief marketing officer.
"It will just mean more of our units are going to these secondary markets," she said.
The dynamics for blood suppliers around the country have changed drastically in just the past three years, as a persistent shortage of blood has turned into an excess. That excess has driven blood prices down.

Mehringer
In addition, the overall demand for blood products has dropped as medical treatments advance and fewer transfusions are necessary.
The new dynamics have prompted the Red Cross and other blood-banking organizations to look for ways to respond, Stephanie Millian, a spokeswoman for the American Red Cross at its Washington, D.C., headquarters, said in an email.
The Red Cross delivers about 40 percent of the nation's blood supply. Supplying blood generates nearly two-thirds of the organization's revenue.
But its revenue, like the Indiana Blood Center's, has been pressured as hospitals use less blood.
That trend is driven partly by studies published over the past 15 years that show too much transfused blood can be harmful, said Susann Nienhaus, director of client services and patient safety at Indianapolis-based Strategic Healthcare Group LLC, a blood management consulting firm for hospitals.
For example, it used to be standard practice that anemic patients were given two units of blood. But studies have now shown that one is usually sufficient.
In addition, joint replacement surgeons now are working to make sure their patients are not anemic before surgery, so they need less transfused blood afterward.
Another factor was a 2012 change in guidelines for cardiovascular surgeries, which call for transfused blood less frequently.
"I foresee continuing reductions in blood transfusions across the U.S. in the coming years," Nienhaus said. "I see that we're just now beginning to get traction on that."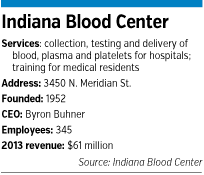 These efforts at blood management got a big boost recently, as hospitals realized Obamacare and other trends would force them to eliminate 15 percent to 20 percent of their expenses. Because hospitals don't charge for blood transfusions separately—but rather just include them in a standard charge for a surgery—using less blood gives hospitals an immediate savings.
The prices of blood vary widely across the country. As recently as last year, the Indiana Blood Center was charging $220 per unit of red blood cells.
But after St. Vincent and Union Health put out requests for proposal on their blood supply contracts, the Indiana Blood Center quickly realized its prices would have to come down.
In an effort to prevent a similar "price war" breaking out with IU Health, the Indiana Blood Center offered a substantial price cut to IU Health without being asked.
But that move backfired, because IU Health officials approached the Red Cross and asked it to bid on its blood supply business.
The Indiana Blood Center offered IU Health a price of $180 per unit, according to a letter Buhner sent to IU Health's supply chain department. All told, the Indiana Blood Center offered IU Health an annual savings of $1.1 million, or 7.5 percent, off its $16 million in annual spending on blood.
But it wasn't enough.
The American Red Cross was selected "based on best pricing and service," said IU Health spokeswoman Whitney Ertel.
Buhner worries that, as hospitals push down the price of red blood cells, the blood center will have a harder time sustaining other parts of its mission—which include paying half the cost of training Indiana University medical students in transfusion medicine, as well as providing education to hospital clients.
But he's committed to finding a way to make it work. He noted that, 30 years ago, when the federal Medicare program effectively ordered hospitals to shorten the length of patients' stays in hospitals, blood centers faced a similar crunch but figured out ways to survive.
"It's going to be painful for the next couple of months," Buhner said. "But check back with us in a year, and it's going to be a success story."•
Please enable JavaScript to view this content.