Tucked between Interstate 465 and West 96th Street is an automobile dealership that's so unusual it's the only one of its kind in the state.

There's no large sign advertising the brand or paved lot to display the expensive imports.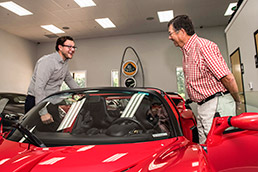 Gator Motorsport salesman Brian Henry (left) shows a used Lotus to customer Jack Banker, who owns a few of his own. (IBJ photo/Eric Learned)
But step inside the nondescript space—at the west end of an aging office/warehouse complex—and the sleek, shiny sports cars boasting the Lotus badge grab your attention.

Gator Motorsport opened in October as Indiana's sole Lotus dealer and is one of just 42 in the entire country. It's owned by 41-year-old Young Kim, a first-generation Korean immigrant and Ball State University grad who fell in love with the British hand-built brand as a youngster growing up in Chicago.

"We're a boutique dealership," he said. "It's a little harder to get to, and nobody knows what it is, but we want to be a destination."

Lotus was founded in 1952 by engineers Colin Chapman and Colin Dare to manufacture both sports and race cars. Malaysian car manufacturer Proton gained total ownership of the company in 2003.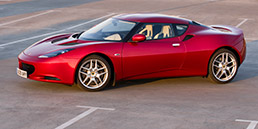 The Evora is the only model that British auto manufacturer Lotus now makes. (Photo courtesy of Lotus)
Lotus competed in the Formula One racing series from 1958 to 1994, then re-entered the series in 2010. Indianapolis 500 winner Mario Andretti drove a Lotus in the F1 series full time from 1975 to 1981. An even more interesting Lotus tidbit: Jim Clark won the 500 driving one in 1965.

Until 2005, Lotus sold only about 100 cars in the United States. By last year, the number had jumped to about 400. Kim is optimistic that a multimillion-dollar cash infusion into the company should produce more models and lead to even more sales.

"I think what you're seeing is Proton/Lotus kind of making a revival, so to speak," said Zak Brown, CEO of Zionsville-based motorsports marketing firm Just Marketing International. "It's a great car, and a cool car."

The lone model in production now, the Evora, made in four variations, fetches $78,000 to $100,000. Even so, Kim is encouraged by the numbers his dealership has produced in such a short time.

Exotic car "enthusiast" Brian Henry is Gator Motorsport's lone salesman, besides Kim, who's in the office much of the time.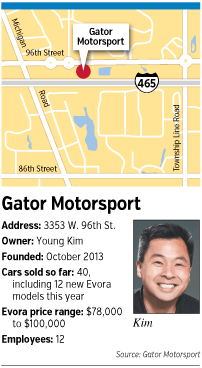 "I truly believe in it," Henry said of the vehicles.

They've sold a dozen new Lotus cars since just April, meeting Kim's goal for the entire year and emptying the dealership's inventory. Three more Evoras should arrive shortly, and Kim is confident those will sell by winter.

What sits on the showroom floor now is a mix of used Lotuses, including a red 2007 Lotus Elise, which no longer is in production, surrounded by such cars as a 2013 Porsche Boxster and a 2009 Aston Martin with fewer than 2,000 miles and a price tag of $165,000.

Overall, Gator Motorsport has sold about 40 cars since its launch in October. While the dealership might be selective in what it places on the showroom floor, its service department will take any car regardless of make or model, even for something as simple as an oil change.

A two-week wait is typical, though, due to the sought-after skills of lead technician T.J. Waszak.

Lifetime passion

Owner Kim spotted his first Lotus as a 5-year-old in Chicago, not long after arriving from Korea with his parents. A few years later, he saw another similar to the first. But this time he chased down the owner in his suburban neighborhood to ask him what kind of car it was—the Lotus Esprit, made from 1976 to 2004.

"I told him I was going to own this car," Kim recalled. "After that, it was all over; I was hooked."

He fulfilled his dream at age 18 when he purchased an Esprit for $17,000, but sold it after just one month because it wasn't practical. He had socked away money since landing his first job, at 13, at a fast-food restaurant.

"I'm the kid that put money away under the mattress," he said.

He later bought a newer, 1993 Esprit SE for $32,000 that he learned to take apart and work on.

Kim since has owned seven other Esprit models, including the one he has now. It's a 2002 25th anniversary edition with the manufacturer's number of "007"—much sought after among Lotus aficionados because of its link to "The Spy Who Loved Me" movie, in which James Bond's Esprit converted into a submarine.

Kim earned a degree in international business in 1994 from Ball State and went to work at Compaq, before Hewlett Packard bought it, staying for 10 years and ascending from customer service to director of sales.

In 2005, his passion for Lotus led him to form the Clubhouse of Indianapolis Lotus Lovers, or CHILL. It now has 150 members worldwide. He convinced the national Lotus Owners Gathering, or LOG, to hold its 2008 annual event in Indianapolis. It attracted more than 250 cars and 500 people, the largest Lotus gathering ever, he said.

Becoming an owner

Meanwhile, he befriended Arnie Johnson, director of operations at Atlanta-based Lotus Cars USA Inc., who suggested he open a dealership. Lotus often hand-picks its dealership operators, Kim said.

Kim declined to reveal how much he has invested in Gator Motorsport, or how much he expects in first-year revenue.

"We won't start making money out of the gate," he said, "but I believe in paying your dues."

Kim's company develops and manufactures after-market parts for businesses mostly in Asia, which helps to support Gator Motorsport and also limits Kim to about three hours of sleep a night because of the time difference, he said.

Before even starting the business, he bought the building three years ago from Duke Realty Corp. that now houses Gator.

Besides Lotus, Gator also sells the Rossion Q1 sports car manufactured in Florida by 1g Racing/Rossion Automotive. It retails for $88,000 to $120,000. Gator has sold two and has commitments from six more buyers whenever another shipment might arrive.

Next up is the Canadian-built Magnum MK5, which sells for more than $150,000. Only 15 are produced yearly, and Kim hopes to land five of them later next year.

Kim ultimately hopes Gator Motorsport can become a "full-blown" motorsports team, participating in perhaps the Pirelli World Challenge or Tudor United SportsCar Championship series by running its own cars.•