Nuvo has entered a long-abandoned market, Bloomington, and is eyeing other Indiana college towns, particularly Muncie and West Lafayette, for expansion.

McKinney
The alternative free weekly newspaper has been working on the plan for six months, said Publisher Kevin McKinney.
"The demand for what we do is really high down in Bloomington," he added. "We felt now is a good time to go down there."
Those familiar with the Bloomington newspaper scene said there hasn't been much of an alternative-newspaper presence since the Bloomington Voice ceased operations more than a decade ago.
Bloom Magazine, a glossy bimonthly magazine, covers some culture, arts and entertainment, as does the student-run Indiana Daily Student and the Bloomington Herald-Times.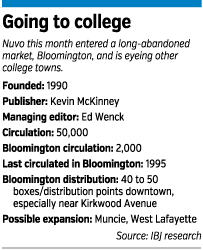 "Nuvo must see an opening in that market," said Maggie Balough Hillery, a former Indiana University adjunct journalism professor who is now managing editor of NetNewsCheck.com, a trade publication covering the digital, broadcast and print media industry. "The alternative publications covering things like arts, music and dining have never been terribly stable in Bloomington."
Brian Kelly, a former Nuvo executive, said the publication will have little trouble capturing readers and advertisers in Bloomington.
"Nuvo has done a great job of creating a brand over the years of being the No. 1 source of arts and entertainment news in the markets it covers," said Kelly, president and publisher of Current Publishing, which publishes newspapers in Hamilton and Boone counties. "Bloomington is rich with arts and entertainment outlets and nobody covers that segment like Nuvo."
Nuvo began distributing its publication in the home of Indiana University as the school year began in late August. It is distributing 2,000 newspapers weekly at more than 40 locations near downtown, especially near Kirkwood Avenue, McKinney said. Nuvo is focusing on areas with heavy foot traffic of local business owners and workers and IU students, he added. Nuvo officials also are planning to distribute the paper on the IU campus itself.
Nuvo also will circulate its City Guide, which is produced quarterly, in Bloomington.
Long term, Nuvo plans to sponsor, promote and possibly produce local arts and entertainment events in the city about 50 miles south of Indianapolis.
"We want to really be a part of the community there," McKinney said.
Nuvo already covers arts and entertainment events in the Bloomington area; McKinney promised that coverage will increase.
Founded in 1990, Nuvo distributes about 35,000 of its tabloid-size newspapers each week. It heavily covers arts and music, but also delves into politics, social justice, sports and the singles scene. It is known for a robust classified advertising section.
Nuvo was distributed in Bloomington for a few years shortly after it was launched, but pulled out of the market in 1995.
"It was great at first, but we later learned it was too difficult to support that big of a distribution operation down there," McKinney said.
Nuvo now has a growing online component, he said, and the publication has been covering Bloomington and reaching an audience there for some time.
This time around, the Bloomington distribution plan will be more tightly focused, McKinney said, adding that while it "will be an ongoing cost, it won't be a huge cost."
Not only have readers in Bloomington been calling for the publication there for some time, he said, but so have its advertisers.
"A good number of our Indianapolis advertisers would like to reach the Bloomington audience that follows us, and Bloomington arts and entertainment destinations have told us they'd like to reach our Indianapolis readership," McKinney said.
Bruce Bryant, president of Indianapolis-based Promotus Advertising said "there are some natural synergies" for Nuvo in Bloomington.
"Bloomington is definitely an artsy, fartsy bar-crawler market," Bryant said. "But it's more than that. Bloomington has a young, highly educated and mobile audience. I can see where it would be an added value for a lot of their advertisers to have Nuvo in the Bloomington market."
Kelly, of Current Publishing, said arts and entertainment advertisers will like the expanded market.
"Our research shows people will travel more than 42 miles for entertainment and dining options," he said. "My wife and I regularly go to things like art museums, live theater and dining in Bloomington. I know we're not alone."
Nuvo might not be done expanding. McKinney said the publication is eyeing other college towns, especially the home of Ball State University—Muncie—and the home of Purdue University—West Lafayette.
"Already, we have a good following for our classified network in those college communities," McKinney said. "Having a physical presence there and supporting community events in those markets makes a lot of sense. … This movement [into college towns] is part of our bigger plan to grow our company digitally and in print."•
Please enable JavaScript to view this content.