When Hoosiers start shopping on the Obamacare exchanges again in November, they'll find new, lower-priced competitors and modest price increases that are much lower than insurers initially proposed.
But that doesn't mean they'll save money.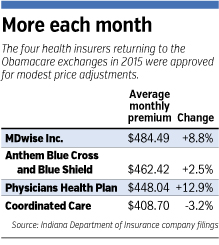 Because of wrinkles in how Obamacare's generous tax subsidies are calculated, the entrance of new insurers in the Indiana market will likely push down the size of those tax credits and push up the amount consumers receiving those credits must pay.
How much the tax credits will change—if they change at all—will vary across Indiana's 92 counties. In Marion County, it appears the credits will fall $8 to $36 a month for single coverage, based on IBJ's analysis of rates reported to the Indiana Department of Insurance by the nine health insurers that will sell on the Obamacare exchange in Indiana.
That's a range of $96 a year for the youngest customers to $432 a year for 64-year-olds who smoke.
On top of that, customers could see premium increases of as much as $24 a month—or $288 for the year—just because they're one year older than last year.
Those increases—which consumers will have to pay entirely out of their own pockets—should prompt Hoosiers to shop around on the exchange for cheaper plans. And they will find some.
Ohio-based CareSource Inc., a Medicaid HMO, appears to have the cheapest plan available in central Indiana—about 5 percent lower than the cheapest plan offered by Anthem Blue Cross and Blue Shield.
But after the technical glitches that marred enrollments in late 2013 and early 2014, many observers expect Hoosiers to avoid a repeat of that experience and instead automatically re-enroll in the health plan they bought last year.
If they do, they initially will get the same tax credit they did for their 2014 policy. But taking that option could cost them.
"Automatic renewal of 2014 plans could mean significant increases in monthly premium payments to those receiving advanced premium tax credits," Tina Korty, an attorney at the Indiana Department of Insurance told Indiana lawmakers in a presentation last month. "IDOI plans to develop … materials to help educate consumers of the need to shop around."
New competition
The big change for 2015 is the entrance of CareSource. The company, which signed up nearly 40,000 exchange members in Ohio this year, expects to enroll 10,000 Hoosiers in its HMO plans.
CareSource executives conducted focus groups in Indianapolis of its most likely customers—those with incomes less than 250 percent of the federal poverty limit. It found price was most important, by far.
"In the individual market, it's all price, price, price," said Scott Streator, CareSource's vice president of enterprise strategy. "People told us, 'We're willing to switch providers, if you give us affordable coverage.'"
Another HMO plan, Coordinated Care, which is a subsidiary of St. Louis-based Centene Corp., also filed Silver plan rates that are cheaper than Anthem's, after reducing its 2014 rates an average of 3.2 percent.
The company expects to sign up nearly 40 percent of its customers in the Indianapolis area. However, it isn't yet clear if Coordinated Care will offer its cheapest Silver plans in Marion County.
If it does, the value of tax credits available in the exchange could fall $20 to $90 per month.
Just the presence of cheaper health plans will make all the others more expensive to consumers—if those consumers are among the 89 percent of exchange buyers who qualified for tax subsidies last year.
Those tax credits, rather than lopping off a percentage of the cost of insurance, instead offer a pre-set contribution so the cost of health insurance does not exceed a certain percentage of each buyer's income.
But to figure the size of its contributions, the government focuses on health plans that fall within its Silver category. Silver plans are those that pay for 70 percent of the expected medical costs of an average member in a year—with the customer responsible for the other 30 percent.
The government sets the size of its tax credits so that the second-lowest-cost Silver plan will not exceed 2 percent of the incomes of the poorest buyers in the exchange, and no more than 9.5 percent of those with incomes of as much as $95,000 for a family of four.
"The net premium contribution a subsidy-eligible consumer pays in 2015 may increase dramatically if that person's relative position to the subsidy benchmark changes unfavorably," wrote Milliman actuaries Paul Houchens and Susan Pantely in a July report.
Modest rate hikes
CareSource initially told Indiana insurance regulators that its cheapest plan in the Silver category in Marion County would have a premium of $237 a month for 21-year-old nonsmokers.
That would have been $28 a month cheaper than the cheapest Silver plan offered for 2014 in Marion County, which was sold by Indianapolis-based Anthem. After lots of back-and-forth discussions with the Indiana Insurance Department, CareSource raised its rates an average of 7 percent overall.
If that 7-percent increase were applied to its cheaper Silver plan in Marion County, CareSource would charge $254 a month for that plan for 21-year-old nonsmokers.
Anthem's cheapest Silver plan in Marion County would cost $269 per month, according to its rate filing with the Insurance Department.
For 2014, Anthem sold the two lowest-cost Silver plans in Marion County, with its second-cheapest plan costing $277 a month for 21-year-old nonsmokers.
If for 2015, the second-lowest-cost Silver plan costs only $269 per month, tax credits would be reduced by the difference between the two plans—or $8 a month.
Premiums are higher for older Hoosiers—up to three times as much. So the reduction in tax credits would triple for 64-year-old nonsmokers, to $24 a month.
Insurers are also allowed to charge 50 percent more for smokers. So, for a 64-year-old smoker, the reduction in tax credits could be as much as $36 a month.
Anthem told Indiana regulators it needed a smaller price hike because the 83,000 Hoosiers it signed up on its exchange plans this year have been filing medical claims at slower rates than expected.
"The claims experience we've seen from that membership enabled us to offer a more competitive rate, with a lower increase," wrote Anthem spokesman Tony Felts in an email.
That's significant for Anthem and Obamacare in general, as the technical glitches on HealthCare.gov led some last fall to worry that prices would spike this year.
Local health insurance brokers, however, say Anthem brought down its rates in order to be more competitive with CareSource and Coordinated Care. Initially, Anthem asked Indiana regulators for a 9.7-percent price increase. But in August, Anthem reduced its request to just 2.5 percent.

Nefouse
Other insurers also reduced their requests. Indianapolis-based MDwise Inc. asked in May for a 35-percent premium hike, but brought that down to 8.8 percent by August.
Physicians Health Plan of Northern Indiana, based in Fort Wayne, reduced its requested 46-percent rate hike to 12.9 percent.
Tony Nefouse, an Indianapolis individual health insurance broker, said customers will be unhappy about the increases, but still eager to buy.
"The member's going to be upset about it," Nefouse said. "But it's still going to be affordable to them."•
Please enable JavaScript to view this content.