We are all busy. We all are pulled in many directions. And we all scramble sometimes (or often) to figure out what to feed ourselves and our families. On those no-ideas/no-time days, we often resort to the humble grilled cheese sandwich, sometimes accompanied by a bowl of tomato soup.
It was just a matter of time before some enterprising entrepreneur capitalized on the love affair we have with that simple combo. Thus we have Tom + Chee (5650 W. 86th St., 334-1330), a Cincinnati company that got a booster shot from investor Barbara Corcoran via TV's "Shark Tank." The deal? $600K for 30 percent of the company, turning what was just an Ohio and Kentucky favorite into a magnet for potential franchisees. The Traders Point location is the first for Indy, but more are on the way.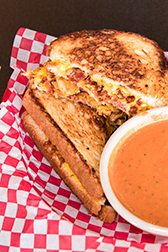 At Tom + Chee, the name defines most of the menu. (IBJ Photo/ Eric Learned)
The title pretty much sums up what's on the menu. The key initial decision is whether you want to construct your own—$4.95 lets you pick two basic cheeses and a bread (and, here, doughnuts count as a bread). "Fancy cheese" (e.g., smoked gouda, goat cheese) is an extra $1, meats are an additional $2, and veggies are a quarter each. It can add up, which might drive you to the already-concocted Fancy Grilled Cheese offerings.
Among the fancies you'll find a kicking Hot + Spicy ($4.95) with thin-sliced pepperoni, cherry peppers and pepper jack on wheat; the Flying Pig ($6.95), bringing together roasted turkey, bacon, pickles and gouda on sourdough; and the difficult-for-kids-to-resist Grilled Mac + Cheese ($5.95), packing pasta into the mix. I'll stand by those first two. The third just seems unnecessarily pandering.
For a restaurant that caters so clearly to families with kids, it would be nice if there were more room between tables. You could be hit with some flying bread if a neighboring child is being particularly bratty. And while the management staff was exceedingly friendly, the counter help could use a few more lessons in customer service. But those flaws are quickly forgotten when digging in.
On the soup side, besides a du jour offering, you've got a choice between, well, tomato, tomato and tomato. One is the classic, the second is chunky, and the third is creamy ($3, $4.50). All are full of flavor. Careful reading of the menu finds a $1.50 sampler for those who just want enough to dip their sandwich in.
All of the above could be reasonably duplicated in an adequately stocked home kitchen. The kicker comes with the Grilled Cheese doughnut. It's a dessert (at least, I hope it's supposed to be a dessert and not an entrée) that comes as a simple glazed doughnut whose halves are melted together by cheddar cheese ($3.95). Things get crazy from there with a Smore ($5.45) featuring the usual campfire ingredients enclosed by the doughnut (I prefer the chocolate in my Smores melted, although it was comforting to be able to read "Hershey"). The Mint Summer's Night ($5.45) substitutes chocolate mint candy and adds in chocolate mascarpone, fresh strawberries and mozzarella. And The King ($5.45) incorporates fresh banana slices, peanut butter mascarpone and mozzarella.
One of the pleasures of dining at Tom + Chee is watching your friends try to rationalize ordering a second dessert.•
—Lou Harry
Please enable JavaScript to view this content.