The cost, time and mess that come with brewing beer at home scares a lot of beer connoisseurs, but a Greenwood health care executive thinks he has the answer.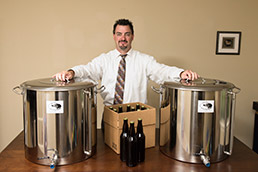 Jeremy Hough plans to use his beer-making skills to start a brew- on-premise business in Greenwood. (IBJ photo/Eric Learned)
Jeremy Hough, 42, plans to open Brew-By-U in November in a Greenwood strip center on Meridian Meadows Road south of County Line Road.

The concept: Hough provides the space, equipment and recipes for novice brewers willing to pay someone else to walk them through the process. He's touting the startup as Indiana's only brew-on-premise business.

"A lot of people consider home-brewing, but there's a fair amount of money to be spent," he said. "When you break this down, it's cheaper than buying a six-pack at a liquor store."

A batch typically brews about 15 gallons, or six cases of 24 12-ounce bottles. Hough estimates he'll charge from $160 to $200 for a full batch, not counting the cost of bottles. After the first batch, though, customers can reuse the same containers, as long as they don't have twist-off caps.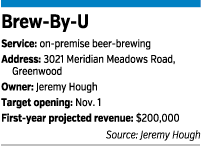 Hough earned his master's of health administration from IUPUI in 1997 and master's of business administration from the University of Indianapolis in 2001. He's been director of business operations for the Franciscan Physician Network since 2011.

Hough won't give up his day job and plans to hire three employees to launch his beer-brewing operation, which should be open Wednesday through Sunday. He's forecasting first-year revenue of $200,000. Whatever the figure, Hough doubts he'll take a salary for at least two years.

One of the biggest challenges remaining is raising a minimum of $80,000 through Localstake (see story, page 1), an Indianapolis brokerage that raises money online from accredited investors, to pay for supplies, operating costs and some equipment. He's already spent about $40,000 from savings and credit cards on equipment, build-out costs for his space and legal fees.

He's trying to spread the word through social media. So what happens if he's unsuccessful raising the necessary funds?

"I'm too far in to back out now," he said. "Plus, I want to do it. I'll find a way to raise the rest."

What Hough thinks he has going for him is the explosion of the craft-beer market. The total U.S. beer market grew by just 1 percent in 2012, according to the Boulder, Colorado-based Brewers Association. But craft brewers saw a 15-percent jump in volume.

And since 2005, membership in the American Homebrewers Association, an arm of the Brewers Association, has grown 20 percent annually, said Gary Glass, the association's director.

He said beer-brewing businesses became popular in the 1990s, simply because craft beer largely was unavailable in many retail outlets. The businesses began to die off as craft brands became more prevalent. Now brewing businesses such as Brew-By-U are coming back to serve the millennial demographic.

"A big portion [of the clientele] is under the age of 30," Glass said. "It's more of an artistic expression now, where previously they simply were into the hobby because they just couldn't get the beer they wanted."

Beginner brewing kits run about $120, in addition to the $30 to $50 for ingredients to make a typical five-gallon batch.

Brew-By-U will feature a walk-in cooler, refrigerator, sinks, and all-electric brew kettles, which are more efficient and can better control brewing temperatures. Hough purchased a lot of the equipment at sales for failed businesses.

Adam Burk, who co-owns Brew Link Supply, a supplier of home-brewing equipment on Shelby Street in Fountain Square, thinks Hough's enterprise can work, because he's offering assistance from the beginning to the end of the brewing process.

"But every day of the week you can go get a growler somewhere," he said.

Hough plans to start by offering customers the choice of about 15 beer recipes. The actual brewing process takes about two hours and between two to three weeks for the beer to ferment.

Ultimately, he also plans to sell home-brewing supplies and is obtaining his brewing license to offer beer samples.

Hough became interested in home-brewing about 10 years ago when he received a kit for a gift. The idea for Brew-By-U struck him in early 2013 after a visit to Wine & Canvas in Bloomington, where patrons can throw back a few cocktails while painting a picture under the direction of artists.

"When I used their equipment, their instructions and their supplies, I walked out with a painting that looked pretty good," he said. "I thought I could do the same thing with beer."•