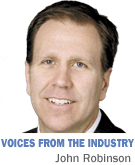 Something's happening in downtown Indianapolis that I've never seen in my 25 years as a commercial real estate broker here.
Tenants that have never considered a move downtown are touring buildings and, in a few cases, companies like Cummins are even building owner-occupied offices from the ground up. Meanwhile, firms in the burgeoning creative, media and tech sectors are looking for offices with "character," and Class B buildings are in higher demand.
This kind of thing doesn't happen overnight, but based on the signs I'm seeing, the commercial business district will have a truly healthy and vibrant office market in three years—maybe sooner—and the net effect represents a true game change.
But why now? It's a bit of a chicken-or-egg conundrum, but, much as they did in Chicago, Boston and San Francisco over the past decade, millennials are the driving force. These 20- and 30-somethings now make up 36 percent of the U.S. work force and will constitute 50 percent by 2020, just 5-1/2 years from now.
As has been well chronicled by sociologists and demographers, millennials overwhelmingly prefer to live and work in urban areas. But until recently, due to a shortage of downtown housing and necessary amenities, that's been a difficult proposition here.
Now, though, with the Great Recession fully in the rearview mirror, residential developers have gotten off the sidelines and have more than 3,200 condominiums and apartments in 18 developments under construction downtown, according to Indianapolis Downtown Inc.
Meanwhile, both Marsh and Whole Foods are opening downtown grocery stores. Trendy new chef-driven restaurants (not just chains) and retail boutiques are sprouting in abundance in Mass Ave, Fountain Square and elsewhere.
And additions like the new bike sharing program, the BlueIndy car sharing program and the Cultural Trail are making it easier for would-be urban dwellers to get around. A mass transit system is actually being seriously discussed!
Add those amenities to world-class NFL, NBA and minor-league baseball stadiums, the Indianapolis Zoo, high-end hotels like the JW Marriott and The Conrad Indianapolis, and suddenly you have a downtown rivaling those in much larger cities.
To no surprise, as this fact inspires more and more young professionals to move downtown, employers large and small are beginning to follow suit.
In addition to the Cummins project, Rolls-Royce recently leased more than 450,000 square feet downtown while ExactTarget (which hints at big hiring plans after being acquired by Salesforce.com) and Angie's List are among a variety of other companies looking to bolster their presence.
And, as IBJ reported, the ExactTarget acquisition "pushed a reservoir of new capital into Indianapolis" that is fueling a startup boom downtown. As a result, shared office providers and incubator spaces are also beginning to pop up.
Metrics that we in the real estate industry use to track this sort of thing—office vacancy and rental rates—have only begun to reflect this trend. For example, while vacancy in the commercial business district fell slightly, to 17.1 percent last quarter, it still lags far behind the Keystone submarket's 13.5 percent and the North Meridian/Carmel submarket's 12.4 percent.
This is primarily because most employers lock in long-term lease agreements with their landlords and can only re-evaluate their real estate strategy every five to 10 years. But as more and more of those leases signed in the early 2000s begin to expire, look for a lot more touring activity in the business district.
After all, downtown is an entirely different place than it was just a decade ago … and the metamorphosis is only beginning.•
__________
Robinson is managing director of the Indianapolis office of Chicago-based commercial real estate service Jones Lang LaSalle, and is a member of IBJ's Forty Under 40. Views expressed here are the writer's.
 
Please enable JavaScript to view this content.