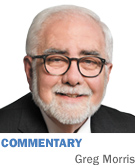 Six-hundred people packed a room at the Indianapolis Marriott Downtown recently to hear six experts discuss the Indianapolis-area commercial real estate market. The event was IBJ's annual Commercial Real Estate Power breakfast.
And there was energy in the room I hadn't seen in years. The attendees were generally upbeat. Things are moving. Land is being developed and buildings are coming out of the ground.
One of our expert panelists, Brian Sullivan, managing partner of Shiel Sexton Co., described the strength and activity across all market sectors. He jokingly followed up his positive assessment with, "I didn't know if I would live long enough to say that [again], but it looks good!"
IBJ real estate reporter Scott Olson asked for comments regarding all the activity in the downtown multifamily sector and wondered if we are reaching a saturation point. The following brief excerpt from the event is what the panelists had to say about that and public transportation.
Joe Whitsett, CEO of TWG Development LLC: We watch [apartment demand] closely. I think Midwest Real Estate News had an article recently about downtowns, the housing boom, multifamily and, "Is it going to end?" And they said, "No chance," "Not soon," and, "Of course it will someday."
They barely mentioned Indianapolis. It was Minneapolis, St. Louis, Cleveland, other cities—and we are ahead of most of those. I would say we are behind Minneapolis in downtown multifamily redevelopment in terms of just how many have been built. We're in the middle of the pack of that.
I would say we have a better downtown than almost all of those cities in terms of other amenities, thanks to groups like Downtown Indy and people who were here long before us in downtown redevelopment. And so, I don't see an end to it soon.
You do need the households to get the retailers in and the restaurants in and it seems to be working. There are a lot of really good restaurants downtown to choose from, now more than there used to be, which are going to bring more people downtown.
So we don't see an end to it in the short term, but I have lived through enough recessions and ups and downs to know that the housing market isn't dead forever, and there are young people who are going to turn 30, 35, have kids and, unfortunately, they are still going to say, "What school system do I want my kids in if I can't afford a private school?"
And we always come back to, "Is IPS the perfect school system for what we need to really keep the excitement about downtown housing?"
Brian Sullivan: This is a global trend. … People all over the world are moving to urban centers, so we are seeing the results, the pressures from that. I am kind of surprised, and disappointed even, that we don't talk about mass transit anymore in a venue like this.
Joe Whitsett: The white flag is up.
Brian Sullivan: The white flag is up? Well, it gets at everything that we have talked about here, whether it is pressure on office parking ratios or getting employees to employers.
The proof of concept has been strong in transit-oriented development with something as simple as the Cultural Trail and Bikeshare. Look at how many developers are valuing that, locating on or near it and advocating it, promoting that as one of the first things about their properties.
I think … we need to make sure [transit] gets back up on the priority list in our conversations.
Rich Forslund, partner, Summit Realty Group: It is a constant conversation—one of the things as far as demand and why folks are coming in and looking at Indy.
There are obviously a lot of reasons they are showing up, but when they are here, what is interesting is the feedback that we get. The connectivity, basically the progressive nature of where our city is going is really helping us—electric car share, Cultural Trail, bike sharing.
A full list of panelists from the event is provided inside this week's Focus section. Also, you'll find additional comments in Scott Olson's story covering the industrial sector of the market. And, for videos from the event, visit ibj.com/videos.
We're not back to the glory days yet, but it's great to see a healthy commercial real estate market again. That can only mean good things for the city.•
__________
Morris is publisher of IBJ. His column appears every other week. To comment on this column, send e-mail to gmorris@ibj.com.
Please enable JavaScript to view this content.