Twenty or so years ago, when I first visited Indianapolis, my would-be employers, eager to show me that the city did offer something resembling authentic ethnic cuisine, took me on a short ride out East Washington Street to El Sol de Tala.

The bunker-like exterior of the more-than-100-year-old building hid a colorful interior and above-average Mexican fare (I admit I had other things on my mind, specifically contract negotiations).

Through the years, I'd return to El Sol on occasion, expecting and willing to pay a bit more for a higher quality of food than was being offered at the growing number of Mexican eateries—chain and local—popping up around town.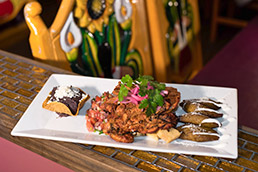 Javier's Hacienda's offerings, including Poc-chuch, go beyond standard Mexican fare. (IBJ photo/Eric Learned)
Much drama has unfolded since then, including an attempt to open a downtown El Sol outpost at Union Station, a bankruptcy, a rift between business partners, and the closing of the landmark restaurant in July.

The doors weren't locked for long, though. Original owner Javier Amezcua has reopened the same location, renaming it Javier's Hacienda (2444 E. Washington St., 636-1250). And here's hoping that some kinks I experienced on a recent visit can be worked out so the new iteration can compete in an increasingly dense marketplace.

For instance, there's no reason for our appetizer to arrive at the same time as one of our entrees, for the second entree not to make it to the table until more than 10 minutes later, for us to be informed—once entrees were nearly finished—that an ordered side dish was "on its way," and for our soda cups to be refilled with ice water. The question of dessert wasn't even raised before our check arrived.

And, no, it wasn't that the Hacienda was crowded. Just a few other tables were occupied.

I fully expect that the kitchen needs more time to come together. Most Mexican restaurants don't have the range of signature dishes that Amezcua and company create. It should take time to prepare Poc-chuch ($14), a pair of achiote-marinated pounded pork loins served with an array of plate companions including sweet plantains, xnipec (a Yucatan habaneros salsa), and yucca fries. And it proved the highlight of our meal.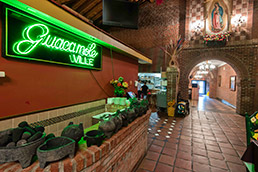 Visitors to Javier's Hacienda will find the same trappings as they did at El Sol. (IBJ photo/Eric Learned)
Alas, the kitchen stumbled on a basic Chimichanga ($8.95), which lacked seasoning and was overly deep-fried—more like a State Fair food than something you'd hope to find in an authentic Mexican restaurant.

Javier's also offers Mixiote de Borrego ($16), a braised lamb shank marinated in a guajillo-tequila sauce wrapped in banana leaves, and Chamorro al Mezcal ($16), a pork shank marinated in guajillo-mezcal sauce served with charro beans. Take that, generic haciendas!

A range of Street Tacos ($12 for four) on the menu include Pollo Pastor (marinated chicken and cilantro), Baja (breaded tilapia and Mexican slaw with a smoky chipotle aioli), and Vegetarian, with mushrooms, rajas, squash blossom or huitlacoche (a corn fungus—are you sorry you asked?). While our choice was fine, I would have preferred a mix-and-match option for the taco quartet.

The interior is the same as you may remember, echoing the new name. And don't be shy about taking a selfie with the life-size donkey on your way out.•

—Lou Harry