Lewis Ferebee arrived in Indianapolis last September from Durham, N.C., to turn around Indianapolis Public Schools. In his first year, Ferebee discovered that IPS had actually spent $38 million less in its most recent fiscal year than it had said it had, which ended a budget crisis for IPS but, as Ferebee likes to remind his staff, still didn't make the district rich. In stark contrast to his predecessor, Eugene White, Ferebee started playing nice with the 30 or so charter schools in Indianapolis, which are publicly funded but privately run competitors to IPS.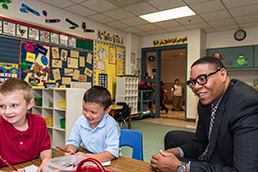 (IBJ photo/Eric Learned)
IBJ: You surprised people by publicly advocating for legislation that allows IPS to share buildings, buses and other resources with charter schools, and then forging such relationships with charters. Did you get any opposition to your détente with charter schools?
FEREBEE: People would just ask, "Why would you want to do that?" It makes good sense to me, but I think it has been ingrained in our minds, since the charter explosion in Indianapolis, that it had to be two separate systems. To me, that's an odd way to address education.
A lot of people associated choice and competition with unfriendly interactions. And I don't necessarily buy into that way of thinking. Because ultimately, when you do that, then it just creates an opportunity for students to fall through the cracks. If we can take our collective responsibility [to students] very seriously, and have a friendly choice environment, I think ultimately all students will benefit.
We share in many cases the same resources, in addition to the same community. If you ask the philanthropic community, they will tell you they have lots of calls and hands out. And so eventually you have fatigue on those that are providing resources. The same is true with taxpayers. So it's something that we think about: How we can collectively utilize those resources?
We need to maximize every facility that we have in Indianapolis that can be used for schools. And I don't think we've had that conversation. It's always been, "This is my piece of the pie and that's your piece of the pie, and you do what you do, I do what I do." I just don't think that's the best way to go forward.
IBJ: Describe what it's been like managing IPS the past year.
FEREBEE: What's great about Indianapolis is, there's a lot of interest in public education. But with that interest comes a lot of opinions about how things should be done. I think we have probably more self-proclaimed experts here than anywhere else that I've been. I jokingly say, just because you've watched an episode of "Grey's Anatomy" doesn't make you a knowledgeable surgeon. And I think that a lot of people who have had a child in school or been involved in education in some way are self-proclaimed experts about what should happen. Everybody's been to school, so they have an opinion.
IBJ: So what's with the bow tie?
FEREBEE: So many people associated that [official IPS] photo with the bow tie with Lewis Ferebee. I haven't really worn a bow tie since. When people asked about it, I told them that I would surprise them, and that they would see a bow tie again. But they don't know when. I've frequently worn bow ties and have several in my closet. It's just that since that photo, it's been something that people have talked a lot about, so I just shied away from the bow ties for a while.
But I'll bring it back.
Click here for other interviews.
Please enable JavaScript to view this content.