Ron Ellis has been CEO of the drug discovery firm Endocyte Inc. since 1996. When he moved to West Lafayette to take the job, he wouldn't let his wife paint the interior of their new house—for fear he'd be looking for a new job soon. Endocyte has yet to generate any revenue. And in May this year, just when Endocyte was about to get the green light to launch its first drug, trial results suddenly showed it worked no better than existing treatments. But Ellis is still keeping the faith.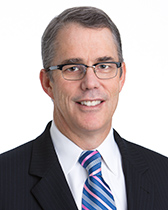 submitted photo
IBJ: Endocyte worked for 13 years on one drug, vintafolide, to treat ovarian cancer. Then in May, your clinical trials showed—contrary to all your previous tests—that the drug didn't improve on existing therapies. How did you get out of bed the next day?
ELLIS: I was on suicide watch for about a week. People wouldn't let me go up to the second floor. Of course, it was a shock. We were getting approval in Europe. It was just a matter of getting it signed. We had a commercial team all excited, ready to launch.
There were literally people that had left jobs and come to work at Endocyte for this launch. And then we had to tell them, there's nothing to launch in Europe right now. So my first focus was, let's let the commercial team (about 20 people) go; let's help them find positions. And we have landed everybody, I think.
This may be a perverse view, but I think it's right: There's been a lot of good that came out of the failure in ovarian cancer. On one hand, if we'd found out the drug didn't work at the end of Phase 3 [testing]—so a year from now—we would've had a lot less cash and we'd have had a much bigger organization.
IBJ: Before you came to Endocyte, you worked for Hill-Rom, which makes hospital beds. Do you ever wish you'd stayed in the hospital equipment business?
ELLIS: They both have pros and cons. The thing I liked about the device side at Hill-Rom is, things happen quickly. You want to develop a new product; it's about a year and a half, you launch it.
Here, you design a drug and then you wait seven years to find out if it works. So it's a business of patience. Once you put a drug in clinical trials, you can't change it. Otherwise, you've got to go start over.
Vintafolide really reflects what we knew in about 2001. Now, 1456 [Endocyte's newer drug it is trying in ovarian and other cancers] reflects what we know in 2013. A decade of research and work. And that's why we're pretty optimistic about the new drugs. I know they're better.
IBJ: Endocyte has lived during its 18 years entirely on money raised from grants and outside investors. What's it like to be always operating with no revenue?
ELLIS: It puts this—I guess pressure's the right word, or maybe reality—that you've got to make progress in a short amount of time, because you're going to run out of money. And if you're going to raise more money, you'd better show progress or improvement.
I've told our employees so many times, every month that goes by, if we're delayed in a program, about $2 million goes out the door. So there's this constant need or feeling that, "We've gotta move. We've gotta move."
I've never been able to get used to it. I'm one of those people who really care about the people that put money into Endocyte. When we don't have the success we thought we were going to have, I feel awful. So then it's hard to go back out and say, "OK, I need you to trust me again."
Click here for other interviews.
Please enable JavaScript to view this content.