When Tanya Bell left her board seat in 2008 to become president and CEO of Indiana Black Expo, she said she would be a change agent. That's not easy to do when running an organization with deep roots. A former Ice Miller attorney, Bell recalls attending her first IBE Summer Celebration while still a Terre Haute teen. "Coming from a very modest background, I had never seen that many people gathering for a concert. Ever. I was very intrigued by it."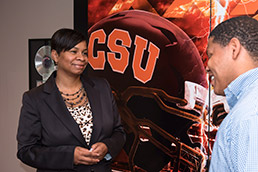 (IBJ photo/Eric Learned)
IBJ: What lessons have you taken from your predecessors?
BELL: This is the 10-year anniversary of [IBE's first paid president] Rev. Charles Williams' passing. I was very blessed to have worked with him when I served on the board. He was a people person. He had a special gift. He could relate to everyone. But he and [his successor], Joyce Rogers, taught me to walk in my own shoes. We all have our own talents and gifts.
IBJ: What misperceptions exist about IBE?
BELL: We're perceived as our largest fundraisers—Summer Celebration and the Circle City Classic. That's great, but there's so much more that we do year-round. Our mission is to be a voice and vehicle for social and economic advancement. We have 12 chapters statewide. We've been able to give more than $200,000 in scholarships. We have college fairs and leadership conferences. We look at quality-of-life issues for African-American youth. We offer direct service programs at our headquarters. And mentoring … . These are critical areas that impact our community.
IBJ: Speaking of youth, is it harder these days to get young people engaged in what IBE is doing?
BELL: I think it's a tougher sell. We have to keep ourselves up to speed on what youth want and what they are interested in. We hear, "You guys should bring this artist, this rapper." But if we don't approve of the language, we're not going to do it.
IBJ: So there are acts you would say no to. What about sponsors?
BELL: Look at the history and you'll see that, back then, we took tobacco dollars. We got a lot of money. But now we're from the school of thought that we're not going to put a sponsor on something just to make money. From an integrity standpoint, we don't do it. But it also wouldn't work. It would be short-lived.
IBJ: Who is your celebrity dream "get" for Summer Celebration?
BELL: There are so many. Oprah is one. Denzel Washington is another. Will Smith. I would love to have LeBron James—he has an impeccable story as an entrepreneur.
Click here for other interviews.
Please enable JavaScript to view this content.