Christine Altman seems an unlikely advocate for mass transit: She grew up within walking distance of her grandfather's Fort Wayne farm and remembers what year she got married (2002) by thinking back to what car she was driving then. The accountant-turned-attorney-turned-public-servant (six years on the Hamilton County Council and three terms so far as a Hamilton County commissioner) believes central Indiana communities would be well-served by embracing other transportation options together.

The Carmel resident chairs the Central Indiana Regional Transit Authority board and is president of the elected Hamilton County Commission.

IBJ: What lessons can fast-growing Hamilton County learn from Indianapolis, which is trying to repopulate its core after losing residents to the suburbs?

ALTMAN: To maintain your infrastructure, to maintain the quality of life, and to build on that. We need to plan for the generation to come. … We've got to have a place where people want to work and live, and to do that, you have to make your communities exciting and invest in things other than roads and sewers—a little more fun stuff.

IBJ: So how does transit fit in?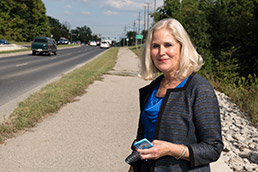 (IBJ Photo/ Eric Learned)
ALTMAN: As we look to try to bring growth to our [sub]urban cores, it's important to see that we're all connected. I just don't think it's good land-use planning to continue to push out and sprawl. Ultimately, people will realize that's not a good way to form a community.

I know how much it costs to run a sewer line one mile versus 10 miles. I know what it takes to maintain that sewer line when it starts to deteriorate over the course of years. Heck, Indianapolis has things blowing up underground. So it's not just mobility—it's also how much infrastructure you have to maintain if you don't come back to a more urbanized method of living.

I don't think anybody should be consigned to lose their mobility because they're too old to drive, and I don't think parents should have to drive themselves crazy getting kids to and from activities. Kids need to buck up and figure out how to get to and from places, which you learn if you use mass transit. Right now, we don't have that option.

IBJ: Critics point out the need for taxpayers to subsidize mass-transit options like the Indy Express commuter bus. Can it survive without subsidy?

ALTMAN: Over the past 15 years, the county has invested the same amount on roads as a transit tax would bring in. And that didn't include all the money we put in bridges, or the state money provided by motor vehicle tax [or contributions made by cities and towns].

Really, the question is, "Is that a good investment?" And is that what the millennials—the people that are going to be, we hope, living in the area and investing in our communities—want? That they will be tied to single-occupant vehicles? I truly cannot believe that is a good way to plan for the future. It's going to be a hybrid [approach], in my opinion. They'll want the flexibility of either having a vehicle—even if that's a Zip car they rent on a temporary basis—or using transit.

IBJ: What if transit isn't an option?

ALTMAN: We're going to have to do what we're doing now: Take over Grandma's porch and build more roads. … You'll see wider roads, and you'll see more traffic snarls, less time spent with families. I don't think it's sustainable.

IBJ: Indianapolis has raised the possibility of levying a commuter tax on out-of-county residents who travel into Marion County to work. Thoughts?

ALTMAN: Quite honestly, I would be offended if it's just a Marion County/Indianapolis tax. If there is to be such a tax, it should be county by county.

People would be amazed at how many Marion County residents come to the Meridian Street corridor [in Carmel] to work. … If your only choice is to live and work in one place because you're going to get taxed when you go outside, who knows what's going to happen?

If I were queen, I would rethink the whole state taxing structure and try to figure out how you allocate resources based on who has to do what. I think that would solve a lot of problems.

IBJ: Your options are fairly limited as a county official. Any plans to run for higher office?

ALTMAN: Queen might be good [laughs]. I've always wanted a scepter.

Click here for other interviews.