Peter Wilt has earned six championship rings and record business growth for professional soccer teams in four American soccer leagues. He has launched three professional soccer teams—including the Major League Soccer's Chicago Fire—and restarted three others. In 2012, Wilt was recruited by Indianapolis entrepreneur Ersal Ozdemir to launch a professional soccer team here. In its inaugural season this year, the Wilt-led Indy Eleven have sold out every home game at IUPUI's track and soccer stadium and lead the North American Soccer League in attendance.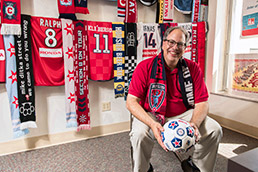 (IBJ photo/Eric Learned)
IBJ: I was looking at your Wikipedia page, and there's a lot of interesting stuff.
Wilt: Schlabst! I have seen it! I have seen it!
IBJ: How much is true?
WILT: Eighty percent. How do you get a person's birthplace wrong?! It says McHenry, Illinois, which is where I was raised. My family moved there when I was 1, but I was actually born in Woodstock, a nearby town, and spent the first year of my life in Johnsburg, Illinois. The rest of it is mostly true; I am the patron saint of the Highbury Pub [in Milwaukee].
IBJ: What was the drink you were talking about?
WILT: I invented the Schlabst! I often carry around lip balm that says Schlabst on it (fumbles around in a desk drawer of his office). It's called Schlabstick.
IBJ: What is Schlabst?
WILT: Milwaukee's black and tan, Schlitz on the bottom and Pabst on top. The joke is, it really doesn't float like that—the black and the tan. It's two of my favorite beers. At one point, I couldn't decide which to have and I told the bartender to put them together. It actually took off. We made some merchandise, some T-shirts. We had a SchlabstFest at the Highbury Pub that was very popular.
A number of bars in Milwaukee serve Schlabst now. Schlabst has been served in more than a dozen states across the country. It's a little hard to find in Indianapolis because of the lack of Schlitz. It needs to be Schlitz on the bottom. If you put Pabst on the bottom, it's Pitz.
IBJ: How did Ersal Ozdemir sell you on coming to Indianapolis?
WILT: I had been a finalist for the commissioner position, but they asked me to stick around because they'd like me to be in the league at some point. Soon after, they mentioned a gentleman in Indianapolis was interested in putting a team in the league and asked if I would help him. We exchanged emails for a while and he asked for a business plan, and proformas and ideas and such.
Then on Memorial Day weekend of 2012, he asked me to come down, the Saturday before the [Indianapolis] 500. He took me around and showed me Indianapolis.
He was a great tour guide. He really should be on the chamber's payroll. He loves this city and is a good proponent for it. He told me what a great soccer market this was.
IBJ: Did you enter the market as a skeptic?
WILT: I entered the market thinking this could be a solid NASL team, meaning average 5,000 fans a game and having the potential to build it into a team worthy of building its own stadium, at which point there would be the opportunity to break even. I told him upfront he'd be in investment mode for a while. I certainly wasn't as optimistic as perhaps reality showed.
IBJ: Lots of Indianapolis residents consider Indianapolis a major-league city. Do you consider Indianapolis a major-league city for soccer?
WILT: Oh, yeah. It's a first-division city certainly, both quantitatively and qualitatively. Young adults, soccer families and new Americans—each of those demographics is over 100,000. If you get a market where there are a half a million people whose favorite sport is yours, that makes it major-league.
IBJ: How do you convert a basketball town—which has morphed into a football town—into a soccer town?
WILT: We're seeing an evolution of interests that somewhat reflects globalization. Young adults have grown up with the sport, so it's not like Indy Eleven came in here and made them soccer fans.
IBJ: You've been known as a very fan-friendly general manager.
WILT: That's what I've heard.
IBJ: Why not remain a bit more cloistered off from the noise created by fans?
WILT: You learn a lot by talking to fans. I don't know why you would ever want to be separated from your audience. It's also about creating emotional connections. What sports are ultimately is tribal. You're trying to get fans to feel they are the team.
Click here for other interviews.
Please enable JavaScript to view this content.