Former Superintendent of Public Instruction Tony Bennett helped push through monumental changes in Indiana education policies—an expansion of charter schools, the nation's largest voucher program for private schools, an overhaul of the rules of teacher training, the rollback of teachers' collective-bargaining rights, and the institution of annual teacher evaluations that link student performance to teacher pay. But teachers revolted against Bennett, leading to his stunning re-election loss in 2012. Now he looks back.
IBJ: What was your biggest mistake as state schools chief?
BENNETT: When I was a principal in Scottsburg, one of the favorite sayings of my superintendent was this: If you sit along a circle, what you see along the circle is determined by where you sit along the circle. And I think one of my failures was, I probably failed to understand what other people were seeing when they sat along the circle.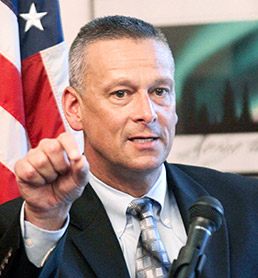 (AP Photo)
I never in my heart would want to denigrate teachers. But there were other people sitting along the circle who saw it that way. And sometimes I failed to understand that they saw it that way.
I also feel very strongly that education should be personalized and customized, which leads to my values about school choice. It's never been in my heart for that to be a knock against public education. As a matter of fact, I don't think any of us will live to see the day when a large, significant percentage of our students are educated outside public school systems. But there were people sitting along the circle that saw that very differently, that I was just trying to do something against public education.
But I still believe very strongly that the policies that we pursued were the right policies.
IBJ: In the summer of 2013, it came to light that while you were in office you had ordered a change in your A-F grading system that benefited philanthropist and campaign donor Christel DeHaan's charter school and more than 160 other schools. Do you have any regrets about that?
BENNETT: One of the greatest shortcomings in that whole thing was that we "undersold" how hard work coming up with those accountability metrics was. We kept saying these words: "You have to come up with an indicator that's easy to understand." Well, the problem was that the algorithm, the mathematical computations, to get to that easy-to-understand grade is a very complex thing. And I didn't say that very well.
We were pushing hard to do a lot of things. Did we fail to foresee that there would be great configurations of schools that didn't exactly match the rule? Yeah, we failed to see that. Now someone could say, "Well, that was negligent." But, as Gov. [Mitch] Daniels said in his book ["Keeping the Republic"], "Sometimes when you charge ground balls, you make an error."
IBJ: Earlier this year, you agreed to pay a $5,000 fine to settle ethics allegations because your re-election staff sometimes used your Statehouse office and computers for campaign work. Indiana House Minority Leader Scott Pelath said that settlement allowed you "to get off for the price of a used car." Do you feel like you got off easy?
BENNETT: I don't judge it as getting off easy. Because there was no easy day during that year. It wasn't easy on me. It wasn't easy on my family. I can tell you the cost in my life was much greater than a used car.
IBJ: In your concession speech after losing re-election in 2012, you urged state leaders to keep reforming schools. Do you think that's happened or not?
BENNETT: We all knew, and now it's come to fruition, that the pace couldn't continue. While I would have loved to have seen a continued push for even more broad-scale reform, I think local districts have gravitated to aspects of our policy agenda and used it to benefit children in their local districts. So that's what gives me the most hope—the life of education reform at the local level.
Click here for other interviews.
Please enable JavaScript to view this content.