Most of Sarah Taylor's career in government has been heavy on customer service. She served two terms, from 1995 to 2002, as Marion County clerk and more recently spent five years as director of constituent services for Indianapolis Mayor Greg Ballard, where one of her responsibilities was the Mayor's Action Center. Gov. Mike Pence appointed her last October as executive director of the Hoosier Lottery, which is trying to grow the network of retailers that sell lottery tickets.
IBJ: In your role with the city, could you go anywhere without someone mentioning a pothole?
TAYLOR: No, honestly. I've got to tell you, since I've taken this position, people still call my personal cell phone because they have that number, citizens. And I talked to a nice gentleman this winter that wanted to tell me that they had a new snowplow driver, and he hit a mailbox. "Matter of fact, not only did he hit my mailbox," the citizen says, "he hit a few others of our mailboxes."
In extreme weather, that's not totally uncommon, like on a cul-de-sac, I'll say that much. And so I'm talking to him, and at the very end he said, "You're no longer there." I said, "No, I'm not, but I'll get you to the right person."
The punch line is, I got him to the city of Indianapolis, to my friends at the Mayor's Action Center. He was a Noblesville resident!
IBJ: Did you ever play the lottery before you took this job (in which you're prohibited from playing)?
TAYLOR: I think I might've had a Powerball or scratch-off ticket once or twice.
I went through retailer training when I arrived, and that was helpful because they have voided tickets for you, and you can practice the scratch-off and learn a little bit more about the games that they have there at the time.
You can also work with the draw games, too—the jackpot draw games. So I learned a little bit more at retailer training.
IBJ: Why did you do the training?
TAYLOR: I just thought it would be important to learn the perspective of the retailer. We do ask a lot of them. They are very capable. They are used to working with multiple vendors. It's ever-changing. Whether it's a new soft drink, or whether it's a new product from us, a new ticket, they're very adept. They adapt very well. They were sharp and I enjoyed it.
IBJ: How do you motivate people in government to be good customer-service agents, especially when there are no financial incentives?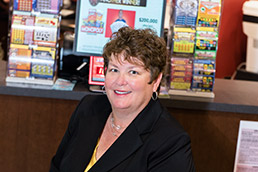 (IBJ Photo/ Eric Learned)
TAYLOR: It is a tough situation to ask folks to spend the day on the telephone taking what are essentially complaint phone calls. There's training you offer to support customer service. There's setting goals and setting expectations. And, when you tell them what's expected of them, I think most folks really want to meet your expectations. And I've been known to say for many years in my work with local government, "Treat people like you want to be treated." You know? Kind of that Golden Rule.
I suppose the other way you try to lift spirits … in a contact center like we have, is, work with the management team to make sure occasionally there's some fun with the job, too. Whether it's having a day where we celebrate achieving some of our goals with food or gift cards.
So I think giving them training and information and also trying to feed their spirit with fun days and food didn't hurt. Because it's tough to take upwards of 100 concerned or complaint calls a day, easily.
IBJ: Were there any surprises about Indianapolis citizens' priorities?
TAYLOR: I didn't realize, even though I am a customer of the city of Indianapolis services, how important trash pickup is. Yes, I know for the purpose of health and sanitary reasons, how important it is. And I know it goes on every day in our community, but I did not realize how passionate people are about trash services.
Click here for other interviews.
Please enable JavaScript to view this content.