Michael Feinstein, the multi-platinum-selling and perpetual PBS-special star, was a surprisingly high-profile choice for artistic director of the Center for the Performing Arts in Carmel. Since being named to that position, he's established the Great American Songbook Archive & Gallery at the Palladium, guided the Great American Songbook High School Vocal Competition, and turned Carmel into an international focal point for the hit-parade music, primarily from the 1920s to the 1950s.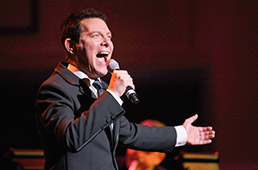 Michael Feinstein (Photo courtesy of Center for the Performing Arts)
IBJ: You were married in 2008—early in the push for legalization of same-sex marriages. Indiana has been on a roller coaster lately with Gov. Pence vehemently opposing any change. How tough is it to shake the man's hand or host the Governor's Arts Awards when he is an active force in opposing something so core to your life?
FEINSTEIN: I have many political differences from a lot of political leaders in Indiana. But there is no possibility of evolution or change if people stay in their own camps and never step outside their boundaries. Change comes from interaction. When people see how our differences are fewer than the things that are same, that's where change comes.
IBJ: Has that always been your philosophy?
FEINSTEIN: When I played at a Valentine's Day concert at the White House for President [George W.] Bush, I was criticized. A lot of people said, "How could you go there?" since they were anti-gay marriage and other things. I said, "The White House is for everybody" and I went with the understanding that I would be with my partner, Terrence, and we would be treated as a couple.
IBJ: So you think things will change … even in Indiana?
FEINSTEIN: The wisest politicians are realizing that it is more important to create laws along humanitarian lines and not towing the political party line. [Carmel Mayor Jim] Brainard, for instance, is a Republican who goes all over the world speaking about climate change. That's a man for whom I would vote. I don't vote exclusively Democrat anymore because the lines are being blurred.
IBJ: I'm sure you hear the question all the time, but I'll ask it again: Why Indiana?
FEINSTEIN: Oh, yes, people do ask that. And it's a very easy answer. Jim Brainard approached me with what was then the initiative in Carmel. I said, "Show me why you think it would be good there" and the reasons were overwhelmingly clear. Carmel is a very progressive city and Brainard recognized the effect of the arts on the soul of a city. It was a wise choice. I also wanted the Great American Songbook Archive to be in a place that wasn't New York or L.A. This classic American music is the music of our country, not exclusive to people in New York or L.A.
Click here for other interviews.
Please enable JavaScript to view this content.